Are you tired all the time? Do you drag all day even when you get enough sleep? Exhaustion is the result of imbalances in the body. Acupuncture boosts energy by correcting these imbalances, enabling you to overcome exhaustion and sustain good energy all day long.
What Causes Exhaustion?
Poor Digestion
Chinese medicine identifies a number of different triggers for exhaustion and fatigue. One imbalance involves the stomach, specifically poor digestion. We call it Stomach Qi Deficiency. People with this condition cannot digest food properly and are unable to transform food into energy.
Since food is our main source of energy, poor digestion leads to exhaustion. It's like putting 85 octane gasoline in a sports car. It just won't perform. Our bodies are the same way. In this case, the food is good quality (proper octane), but our ability to transform that food into energy is compromised. The result is poor energy performance – fatigue.
Too Much Stress
Another common trigger for fatigue is excess stress, called Liver Qi Stagnation. A healthy person manages stress fairly well, riding the waves of stress that constantly bombard our lives. Many of us, however, don't ride the waves so well, and stress lodges in our bodies. It manifests as feeling stressed out, having a tight neck or back, or getting headaches or stomach aches.
This internal stress, in addition to making us feel miserable, also weakens stomach function, triggering weak metabolism. You can see where this is leading. Once the stomach is compromised, it cannot metabolize food well, which leads to less available energy and exhaustion. It's a vicious cycle.
Hormone Imbalance
Hormone imbalances can also lead to fatigue. We see this with women going through menopause. This is called Kidney Yin Deficiency. We will discuss how to treat these three internal imbalances in the next section.
How Acupuncture Boosts Energy
Acupuncture tackles weak metabolism by improving stomach function. A strong stomach digests properly, generating energy. More energy leads to less fatigue. A healthy stomach is essential to sustain good energy over time.
For people whose stress leads to exhaustion, acupuncture is used to reduce stress by circulating the Qi better. Moving Qi energy automatically reduces stress, just like moving a wreck to the side of a highway reduces traffic.
Acupuncture gets Qi moving and also trains the body to keep Qi flowing on it's own. It's like teaching a man to fish. When the body holds less stress, it also leaves the stomach alone, allowing it to digest properly and create energy. The result is less fatigue and more energy.
In the case of hormones, acupuncture boosts energy by correcting hormone imbalance. It helps hypothyroid patients increase thyroid levels and hyperthyroid patients lower levels. Acupuncture is the ultimate balancing act.
For perimenopause patients, acupuncture helps the body adjust to the new hormone levels that come with menopause. Once the body has made this adjustment, the unpleasant side effects of menopause resolve. This includes not only exhaustion, but also hot flashes, night sweats, irritability, insomnia and poor concentration.
There are many other imbalances that can cause fatigue. During the intake exam we will identify your exhaustion triggers.
What To Expect
Your acupuncture treatment will be custom made to address the specific imbalances responsible for your exhaustion, whatever they may be. The treatments are relaxing. Afterwards you will feel refreshed and rejuvenated. When your course of treatment is complete you will no longer feel exhaustion. The process is natural, using your own healing energies. And the results are long lasting.
Next Steps
BOOK NOW to schedule an appointment online. Or call us at 919-819-8113 and we will schedule an appointment for you.
WATCH VIDEO ABOUT HOW ACUPUNCTURE BOOSTS ENERGY.
LIST OF ALL CONDITIONS WE TREAT.
If you have questions about how acupuncture boosts energy, just give us a call. We'll be happy to talk with you.
Summary
Article Name
Acupuncture Boosts Energy to Overcome Exhaustion
Description
Acupuncture boosts energy to overcome exhaustion. Safe, natural treatment resolves fatigue, providing long lasting relief.
Author
Publisher Name
Raleigh Acupuncture Associates
Publisher Logo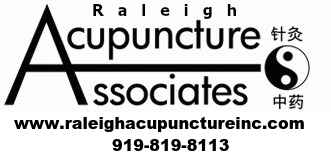 What our Clients are Saying
About six months ago I starting getting debilitating fatigue, to the point where I could not exercise and had to drag myself through the day at work.  The doctors said it must be stress, because there was nothing wrong with me.  But when I went to Raleigh Acupuncture, they said that my digestion was weak.  They said I was not getting proper energy from the food I was eating, so they treated my digestive system.  I was amazed to see my energy increase after the treatments.  Within 10 treatments I was back to my old self, exercising again and working through the day no problem.  And as a side benefit, I started losing weight.  They said this was related to my improved digestive function.  Now my friends want to go because they see my energy back and see me losing weight!
Hilary D
I am a long term patient of Raleigh Acupuncture. Prior to being under their care, I was disabled with terrible fatigue and pain all over my body. I was unable to drive, could only walk less than a block, and had numerous symptoms that mystified doctors. After countless lab work, x-rays, and MRI's, several doctors including my primary physician told me that there was nothing that could be done. According to them, it was either an illness that was undiagnosable or it was all in my head. When I came to Raleigh Acupuncture, it was a breath of fresh air. They took me very seriously and were not mystified by my condition. They assured me that my condition was treatable and manageable. They treat me with respect, dignity and care; something that I didn't receive at my primary care doctor. Thanks to their treatments I am now living a normal life. They have restored my health and taught me how to manage my condition. My family and friends can't believe how much improvement I have made. My son is grateful to have his mommy back! And I am eternally grateful to Raleigh Acupuncture! They truly have the gift of healing!
Rossina C
I still am forever in your debt for helping me through the Lymes recovery. My body pain and fatigue were overwhelming before getting acupuncture. I still tell everyone today that I am 100% positive that my recovery was a direct result of your expert care. Truly. I have very little residual effects from the disease that I can easily live with. So again,thank you not only for your amazing skills, but for the compassion and kindness that you showed me during that time.
Carol F
Summary
Article Name
Acupuncture Boosts Energy to Overcome Exhaustion
Description
Acupuncture boosts energy to overcome exhaustion. Safe, natural treatment resolves fatigue, providing long lasting relief.
Author
Publisher Name
Raleigh Acupuncture Associates
Publisher Logo