Do you have stiff ankles? When you wake up in the morning and get out of bed, do you feel your ankles calling your name? Is it difficult to walk and move your feet around? Is it uncomfortable walking long distances and standing for any length of time? Are your ankles tired and complaining by the end of the day? If you answered Yes to these questions, then read on. Acupuncture resolves ankle stiffness!
Acupuncture Magic Points for Ankle Stiffness
Over the years we have developed a treatment for resolving ankle stiffness that is second to none. We call it Ankle Gate, and it's a series of specific points on the body that work wonders for the ankle. These points move the Qi and Blood in and around the ankle, and allow deep healing. The treatment provides long term healing for the ankles.
How It Works
Most pain in the body comes from poor Qi and blood circulation. You are familiar with blood circulation.
Blood nourishes the tendons, ligaments and muscles. Injury or repetitive strain cause the blood to stagnate, making it difficult for the body to heal. Believe it or not, Qi circulation is even more important than blood circulation. And that's because blood is circulated by the Qi! You could say that everything comes down to Qi. In fact, Qi is the secret to how acupuncture resolves ankle stiffness.
Qi (pronounced Chi) is energy that moves through the body along channels or pathways. When Qi flows properly, there is no pain. However, when Qi becomes stuck or stagnant, the body feels pain in that area. Joints are notorious for causing Qi stagnation because the joints themselves are complex mechanical structures. Ankles and knees are even more vulnerable because they are weight bearing joints. Over time it is very common for the ankle and knee joints to cause Qi stagnation, resulting in stiffness and pain.
Acupuncture, properly applied, opens the free flow of Qi in the joints, alleviating pain. Acupuncture resolves ankle stiffness by using combinations of acupuncture points, specific for each patient and situation. Once the Qi flows smoothly through the joint, pain and stiffness are reduced.
What To Expect
The treatment is completely safe. We use sterile, single use, stainless steel needles that are hair thin. You will hardly feel them. Once they are in you will rest on the treatment table and become deeply relaxed. Many of our patients fall asleep during their treatment. The next day your ankles will feel better.
The number of treatments is based on the level of stiffness and pain. Minor stiffness needs fewer treatments, while more severe stiffness and pain require more treatments. Regardless, you will notice the difference right away and know that you are getting better. Best of all, the effects are long lasting.
Next Steps
BOOK NOW to schedule an appointment online.
WATCH VIDEO ABOUT OUR ANKLE PAIN TREATMENT.
LEARN ABOUT OTHER PAIN CONDITIONS WE TREAT.
Acupuncture resolves ankle stiffness. We've helped runners, fire fighters, law enforcement, tennis players and others struggling with stiff and painful ankles.
Summary
Article Name
Acupuncture Resolves Ankle Stiffness - Raleigh Acupuncture
Description
Acupuncture resolves ankle stiffness - Raleigh Acupuncture. Stiffness, pain, swelling eased with acupuncture. Safe, no side effects.
Author
Publisher Name
Raleigh Acupuncture Associates
Publisher Logo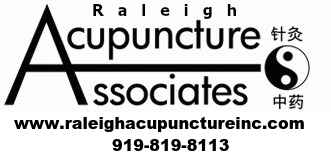 What our Clients are Saying
I'm a runner and had been dealing with Achilles tendinitis for over a year. The doctor said I would have to have surgery eventually so I was just dealing with the pain and biding my time. Then a friend suggested acupuncture and recommended Raleigh Acupuncture as specializing in Achilles issues. I made and appointment and was impressed from the very beginning. Their evaluation was very thorough and they explained everything that acupuncture could do.
The treatments were comfortable, and more importantly, they eased my pain significantly. After six treatments I was running without any Achilles pain! I've totally put the idea of surgery out of my mind since I'm running without pain again. Anyone who has Achilles issues should speak with Raleigh Acupuncture. They can definitely help you.
Sara P
I sprained my ankle playing basketball and was in terrible pain. I've had a history of ankle sprains and knew I was a slow healer. So I tried something different and went to acupuncture. The results were better than I could have ever hoped. Not only did I heal twice as fast, but the swelling went down within two days. I was back playing ball in no time. The staff at Raleigh Acupuncture were very professional and friendly. They got me better fast. I highly recommend them.
Carlos R
I was referred to Raleigh Acupuncture a few months ago because I was having a problem with a bone spur affecting my Achilles. The bone spur caused tremendous pain in my ankle and heel. Physical therapy ordered by a doctor really did not help. My doctor said that if the physical therapy did not help he could do surgery, but it would be very painful and would have an 8-9 month recovery period. Raleigh Acupuncture was my last hope. After a few treatments it was less painful when I walked. As I continued the treatments the pain totally went away. Now surgery is not even necessary. They have also helped me with my migraine headaches and restless leg issues. Acupuncture has made a huge difference in the quality of my life.
M.H.
Summary
Article Name
Acupuncture Resolves Ankle Stiffness - Raleigh Acupuncture
Description
Acupuncture resolves ankle stiffness - Raleigh Acupuncture. Stiffness, pain, swelling eased with acupuncture. Safe, no side effects.
Author
Publisher Name
Raleigh Acupuncture Associates
Publisher Logo