Acupuncture is the best treatment for most types of hip pain. In today's blog post I will share hip pain healing essentials, tips you can use while receiving acupuncture to maximize the benefits and speed up your recovery.
Hip Pain Healing Essentials
Hip pain involves big hip muscles – the Piriformis, Gluteus Maximus, Gluteus Medius and Gluteus Minimus. Most trouble comes when these muscles go into spasm. Pain will be felt in the hips, low back and often down the leg. It includes sciatica, Piriformis syndrome and glut muscle spasms. We have patients come to our practice every week with these problems, and they are always in severe pain.
Acupuncture is the BEST treatment for hip pain. We encourage you to get acupuncture as soon as this pain presents itself. For more details about our hip pain treatment CLICK HERE. Right now, let's discuss self care when you're recovering from a hip injury.
There are a number of things you can do at home to help speed up your recovery. And there are a number of things you should not do. Unfortunately, most of our patients are instructed to do the very things that are not good for them. Let's clear up some of these issues.
Hip Pain Healing Essentials #1
The first thing you should NOT do when you have a hip muscle spasm is to stretch. Western medicine promotes stretching for hip muscle spasms. Most of our patients show up for their first appointment telling us they stretch. Here's the Chinese medicine rule – don't stretch a hip muscle that's in spasm.
The goal of your acupuncture treatment is to resolve the spasm. Hip muscles don't release well by themselves. That's why your glut spasm from six months ago is still bothering you. Hip muscles are not like low back muscles, which naturally tend to unwind themselves. Hip muscles will stay in spasm if not properly treated.
A muscle in spasm is tight. It has very poor blood circulation. It hurts. Stretching just aggravates a hip muscle in spasm. You can not "work out" a hip spasm with stretching. Acupuncture is effective because it releases muscles in spasm. But if you leave our office and go home and stretch, chances are you will re-spasm the muscle. We instruct our patients to stop stretching until the muscle is no longer in spasm and is pain free.
Hip Pain Healing Essentials #2
The second thing we see on a regular basis is people icing their hip muscles. Their PT and Western docs instruct them to ice the spasm. Chinese medicine only uses ice for swelling, as with twisted ankles.
We much prefer using heat to relieve muscle spasms. Why? Heat increases blood circulation. Muscles need good blood circulation to heal. Ice slows down blood circulation. Numbing a muscle will give temporary relief, but it's not a good long term practice if your goal is to recover from a muscle spasm injury.
If your muscles hurt, put on a heating pad for 20 minutes. Take a hot bath or shower. That's a nice way to start the day when you are recovering from a muscle spasm.
Hip Pain Healing Essentials #3
The third issue involves pain medicines. Many of our patients are holistic and thoughtful. They don't like the idea of taking pain medications. Therefore, they are surprised when we tell them to take pain meds short term, until they start feeling the benefits of the acupuncture.
Pain meds are fine as a short-term therapy as long as you are receiving acupuncture to heal the injury. You don't have to suffer in between your first few treatments. It's the long-term use of pain meds as a primary treatment for injury that we don't like. Short-term use is fine.
Next Steps
We hope these hip pain healing essentials will help you. If you are suffering from a hip injury, or any other muscle injury, give us a call. You will be amazed at how acupuncture can heal your injury.
BOOK NOW to schedule an appointment online.
WATCH VIDEO ABOUT OUR HIP PAIN TREATMENT.
LEARN ABOUT OTHER PAIN CONDITIONS WE TREAT.
Summary
Article Name
Hip Pain Healing Essentials - Raleigh Acupuncture
Description
Hip pain healing essentials - Raleigh Acupuncture. Acupuncture plus these helpful tips for a speedy recovery from hip pain.
Author
Publisher Name
Raleigh Acupuncture Associates
Publisher Logo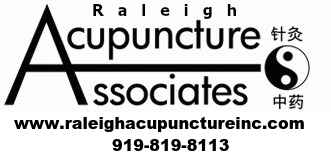 What our Clients are Saying
I'm a semi-professional weight lifter. I never had a problem until my hip went out doing squats. The pain was tremendous, like a sharp nerve pain down the back of my leg into the calf. It had sidelined me for two months while I tried unsuccessfully to work out the pain. Then a buddy suggested acupuncture. He had a similar hip pain and got relief at Raleigh Acupuncture. I went there and got treated. They told me to stop stretching until the injury was healed. I followed their instructions and got half a dozen treatments. The pain started easing after the first few treatments. I continued for another 6 treatments and was totally cured. I was able to get back to lifting with no residual effects of the injury. I've recommended this practice to a number of friends since that time and they all have had good experiences.
T.J.
Ever since my hip replacement I had terrible hip pain that radiated down my leg into my foot. They were talking about redoing the hip, which I didn't want to do, so I tried acupuncture. The doctors at Raleigh Acupuncture were wonderful. They gave me lots of time and told me what they were doing. They got rid of 90% of my pain. I can live with that!
Sylvia T
I've been suffering from sciatic pain for years, since I was in a car accident. I tried everything and nothing helped. I couldn't walk right and had a bad limp. My son made me go to Raleigh Acupuncture (I am afraid of needles!). They told me they would treat me 4 times to see how I responded. Well, I responded great. I had to get 6 treatments to get rid of the pain. Now I walk fine (no limp) and feel all better. Great place!
Linda L
Summary
Article Name
Hip Pain Healing Essentials - Raleigh Acupuncture
Description
Hip pain healing essentials - Raleigh Acupuncture. Acupuncture plus these helpful tips for a speedy recovery from hip pain.
Author
Publisher Name
Raleigh Acupuncture Associates
Publisher Logo