If you have migraine headaches triggered by neck tension and stress, acupuncture can make a huge difference. That's because our treatment is comprehensive, addressing each part of the problem at the same time. Read on to learn how acupuncture relieves neck tension migraines.
The Problem – Neck Tension Migraines
For many of us, stress causes our neck muscles to tighten. Tension in our necks can then trigger migraine headaches. To best treat this condition, acupuncture reduces your stress, releases tight neck muscles, and opens the channels of the head to prevents migraines. The treatment not only relieves pain, it prevents migraines from developing in the first place.
Treating The Root Issue
We strive to resolve your health issues by addressing the root problem, not just the symptoms. That's what makes acupuncture and Chinese medicine different, and so effective. It's the "teach a man to fish" principal applied to health care.
So when you come in suffering from migraine headaches, and you also have a tight neck and high stress, we address all three conditions together, because we know that each of them are playing a part in your pain.
The root problem of most health issues lies at the organ level. Over time, our internal organs become imbalanced, just as a car engine over time requires tune-ups to perform well. The stresses of daily life, pushing too hard, sickness, trauma all play a role in pushing our internal organs out of balance.
And when that happens, we start to feel symptoms of the imbalance. These can vary, depending on the person. Some people get tight shoulders and migraines. Others get stomach and intestinal pain, often referred to as IBS. Still others develop insomnia, anxiety or depression. No matter what the symptom, Chinese medicine always looks to discover the underlying imbalance responsible for it.
Delivering Lasting Results
And the amazing thing is that once this underlying imbalance is corrected, the symptom often disappears. It is a holistic, natural way to heal the body. Now compare this process to Western medicine, which tends to develop a pill to address the symptom rather than the root. You get temporary relief, but the problem persists, requiring more pills. This process may be good for the economy, but it's not good for your health and well being.
What To Expect
When you come in the first time we will sit down with you and take a history. This will help us identify the imbalances responsible for your current situation. The acupuncture treatments will focus on restoring your internal balance, and your internal health. The result will be to resolve your pain.
All needles are sterile, single-use and hair thin. The process is nearly painless. You will hardly feel them. And treatments are relaxing. You may fall asleep during your session!
Next Steps
If you are suffering from migraines, tight neck and high stress, try our neck tension migraine treatment.
BOOK NOW to schedule an appointment online.
WATCH VIDEO ABOUT OUR MIGRAINE TREATMENT.
LEARN MORE AND READ PATIENT TESTIMONIALS.
We treat all types of migraines, not just neck tension migraines. Yours may be triggered by sinus congestion, menstrual issues or post-concussion syndrome. No matter the cause, acupuncture can help.
Summary
Article Name
Neck Tension Migraines Resolved With Acupuncture
Description
Neck tension migraines resolved with acupuncture. This ancient treatment heals at the root level, easing stress and relieving tension to resolve migraines.
Author
Publisher Name
Raleigh Acupuncture Associates
Publisher Logo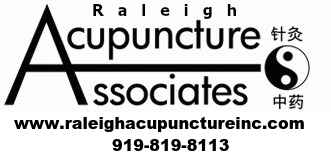 What our Clients are Saying
I saw Dr. Jade to treat my migraine headaches. I was a skeptic about acupuncture. But now, I'm a true believer in the treatment. Dr. Jade worked miracles in relieving my migraines!! She's worth her weight in gold!! Thank you Dr. Jade!
Maureen K
Raleigh Acupuncture was recommended by a friend after I mentioned my insomnia and dependency on a sleeping pill. My apprehension was short lived because of the results of my visits to Dr. Mark. With acupuncture treatments and Chinese herbs I was able to begin sleeping well and continue to do so. Dr. Mark is a good listener and encourages his patients in all health issues as well as the original purpose for treatment. Consequently, my knees are stronger and I'm walking better and with more confidence. I haven't had the need for a cortisone shot in a year and a half. Occasionally, I would use a cane and it's now somewhere gathering dust. Also, I had a persistent headache that my primary physician had no solution for, and after two acupuncture treatments it's a thing of the past. Hot flashes were another issue that was treated successfully. I am so grateful to have found a knowledgeable and caring person to treat my ailments, many of which I thought would only grow worse as I aged. Generally, I feel healthier.
Summary
Reviewer
Review Date
Reviewed Item
Acupuncture effectively treat knee pain, insomnia, headache, hot flashes
Author Rating
Rita W
I suffered a serious concussion last year riding my mountain bike. After the accident I was getting severe headaches every day. They were so bad I couldn't drive. I found Raleigh Acupuncture online. I liked their website and they said they treated post-concussion headaches. They got rid of the headaches and helped me with a number of other post-concussion issues like blurred vision, anxiety and insomnia. They really understood what was going on with me. I'm very grateful.
David M
I've gotten migraine headaches for the past thirty years. They started as a teenager and have come once or twice a week since then. Pain medication used to work for the first ten or fifteen years, but since then nothing seemed to help. I mentioned to my doctor that I wanted to try Acupuncture and he recommended Raleigh Acupuncture. That was the best decision I've ever made. They not only cured my migraines, but got rid of a chronic neck pain at the same time. They gave me Chinese herbs as well, which I took for the eight weeks that I received acupuncture. They were highly professional, easy to talk to, and very informative. They explained everything they were doing and how it was working. Once the headaches stopped, I didn't have to continue the herbs. It's been two years and they have not returned. I go back for maintenance once a month. I'll happily do that forever, not having to deal with migraines any more. I recommend this practice to anyone suffering from migraines.
Phyllis G
My 14 year old daughter started getting migraines when her period started last year. They were aweful. A friend of mine suggested we try acupuncture. She went to Raleigh Acupuncture, so we made an appointment. The doctors there were so kind to my daughter. They made her feel safe and comfortable during the treatments. They cured her migraines in just eight treatments! She does not get them anymore. And her periods are so much easier than before. Thank you Raleigh Acupuncture! We are very grateful to you!
Tonya's Mom
Summary
Article Name
Neck Tension Migraines Resolved With Acupuncture
Description
Neck tension migraines resolved with acupuncture. This ancient treatment heals at the root level, easing stress and relieving tension to resolve migraines.
Author
Publisher Name
Raleigh Acupuncture Associates
Publisher Logo