The Raleigh Acupuncture sports injuries treatment resolves pain, restores athletic ability, and quickly gets you back into competition. This safe, natural treatment delivers long-lasting results.
Raleigh Acupuncture Sports Injuries Treatment
Watch video to learn more about this treatment.

How Acupuncture Works
When you injure yourself playing sports, the pain comes from Qi stagnation in the channels. Acupuncture gets the Qi moving again. This relieves pain and boosts your healing capacity, so you get better faster.
For example, sprinters can injure their hamstrings, causing spasms and pain. Acupuncture points BL36 and BL37 open blocked channels, resolve pain, and speed healing. The same holds true for low back strain, shoulder rotator cuff injuries, hip pain, and foot pain – no matter where the injury, acupuncture resolves pain and speeds the healing process.
Acupuncture Relieves Chronic Injuries
While many injuries heal on their own, some do not. For example, piriformis syndrome can often linger for months. The piriformis is a muscle in the hip. It presses against the sciatic nerve when in spasm, sending pain down the leg. While many muscles in the body heal themselves over time, some, like the piriformis, do not.
However, acupuncture promotes healing in the piriformis by manually releasing the spasm. Following the first release, the patient feels a wave of relief as pressure eases from the inflamed sciatic nerve. With each treatment, acupuncture retrains the injured muscle to return to its normal, pre-injury state.
Injuries like piriformis syndrome require strategic intervention. For example, you could get multiple cortisone shots to release the piriformis, but these injections have adverse side effects. On the other hand, acupuncture has no side effects and delivers better outcomes for a fraction of the cost.
Some neck and hamstring injuries also follow this pattern, stubbornly refusing to heal independently. In these cases, acupuncture plays a vital role in healing these injuries.
What To Expect
We use sterile, single-use, hair-thin needles. You will hardly feel them. The treatments are relaxing – many of our patients fall asleep during their sessions. Afterward, you will feel relaxed and rejuvenated. Acupuncture works while you rest.
When you come for your first visit, we assess your injury, create a treatment plan, and give you a complete acupuncture treatment. The Raleigh Acupuncture sports injury treatment works on many levels. It opens channels, releases muscle spasms, increases blood circulation, reduces inflammation, and reduces stress.
Recent Sports Injury Case
A 36-year-old man came to our clinic complaining of lingering sciatic pain in his left hip. An avid soccer player, he had been unable to play for the past three months due to severe pain in his hip. The pain traveled down his leg and into his foot. Two cortisone shots had not helped, and he didn't know what to do.
His intake exam revealed that is gluteus medius muscle in his left hip was in severe spasm. In addition, his piriformis was also extremely tight. Together, these two muscle groups were compressing his sciatic nerve. Rest alone was not healing this injury – intervention was necessary. Yet the more invasive treatment, corticosteroid injections, had failed to work.
We treated the injured hip muscles and areas of the leg experiencing nerve pain. After the first treatment, he felt 30 percent less pain. He received five more treatments over the next month, resulting in complete healing. He was back playing soccer soon after that. Acupuncture identified and treated the root issue of his pain and got him better quickly.
Next Steps
BOOK NOW to schedule an appointment online.
Video – Raleigh Acupuncture Sports Injuries Treatment.
Learn about all the conditions we treat.
Summary
Article Name
Raleigh Acupuncture Sports Injuries Treatment Works Best
Description
Raleigh Acupuncture sports injuries treatment works best to resolve pain and restore athletic ability. Natural, safe, long-lasting results.
Author
Publisher Name
Raleigh Acupuncture Associates
Publisher Logo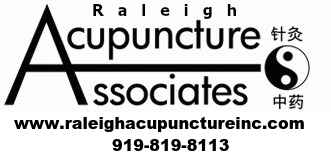 What our Clients are Saying
I'm a runner and had been dealing with Achilles tendinitis for over a year. The doctor said I would have to have surgery eventually so I was just dealing with the pain and biding my time. Then a friend suggested acupuncture and recommended Raleigh Acupuncture as specializing in Achilles issues. I made and appointment and was impressed from the very beginning. Their evaluation was very thorough and they explained everything that acupuncture could do.
The treatments were comfortable, and more importantly, they eased my pain significantly. After six treatments I was running without any Achilles pain! I've totally put the idea of surgery out of my mind since I'm running without pain again. Anyone who has Achilles issues should speak with Raleigh Acupuncture. They can definitely help you.
Sara P
I'm a semi-professional weight lifter. I never had a problem until my hip went out doing squats. The pain was tremendous, like a sharp nerve pain down the back of my leg into the calf. It had sidelined me for two months while I tried unsuccessfully to work out the pain. Then a buddy suggested acupuncture. He had a similar hip pain and got relief at Raleigh Acupuncture. I went there and got treated. They told me to stop stretching until the injury was healed. I followed their instructions and got half a dozen treatments. The pain started easing after the first few treatments. I continued for another 6 treatments and was totally cured. I was able to get back to lifting with no residual effects of the injury. I've recommended this practice to a number of friends since that time and they all have had good experiences.
T.J.
Summary
Article Name
Raleigh Acupuncture Sports Injuries Treatment Works Best
Description
Raleigh Acupuncture sports injuries treatment works best to resolve pain and restore athletic ability. Natural, safe, long-lasting results.
Author
Publisher Name
Raleigh Acupuncture Associates
Publisher Logo