Have You Got Stomach and Intestinal Pain?
Do you have bloating or stomach pain? Are your mornings a series of rushes to the bathroom with urgency and discomfort? Are your bowels consistently either too loose or too hard? Does stress trigger stomach and intestinal pain? These are typical symptoms of irritable bowel syndrome (IBS), a fancy name for stomach and intestine trouble. Chinese medicine has been successfully treating this group of symptoms for a long time with great success. This stomach pain acupuncture solution brings natural, long lasting relief.
What Is IBS?
IBS is a highly generalized diagnosis given by Western doctors covering a variety of stomach and intestinal pain issues. In reality, the many variations of IBS require different treatments. For example, one IBS patient may have constant bloating with frequent, urgent loose stools, worse with stress. Another may have chronic bloating with constipation and sharp stabbing stomach pain, worse with stress. Both went to the doctor and were told they had IBS. In Chinese medicine, both need to be treated differently.
Stomach Pain Acupuncture Solution
The root of these conditions lies with the functioning of the stomach and intestines. If stress aggravates the condition, then the liver is involved as well. Some conditions involve heat, others cold. In some, the patient's constitution is strong, in others weak. Some conditions are acute (meaning they have come on recently), others are chronic. All of these factors are critical in properly treating the patient. And if properly treated, their symptoms can be greatly improved.
Treating the root cause of illness to promote deeper healing is a concept that is difficult to grasp for most Americans. We are so used to being told there is a medicine that can help our symptoms – but we have to take it forever. Chinese medicine focuses on correcting the underlying problems responsible for the condition. When you correct these problems, the solution can be longer lasting. Our bodies are quite capable of healing themselves with the right assistance.
What To Expect
Needles are sterile, single-use and hair thin. You will hardly feel them. And treatments are relaxing. Many of our patients fall asleep during their sessions. Afterwards you will feel refreshed and rejuvenated. If you suffer from stomach and intestinal pain, try the stomach pain acupuncture solution. Experience the deeper level of healing that acupuncture provides.
Next Steps
BOOK NOW to schedule an appointment online. Or call us at 919-819-8113 and we will schedule an appointment for you.
WATCH VIDEO ON OUR IBS TREATMENT.
LEARN ABOUT OUR OTHER DIGESTIVE TREATMENTS.
LIST OF ALL CONDITIONS WE TREAT.
Summary
Article Name
Stomach Pain Acupuncture Solution - Raleigh Acupuncture Associates
Description
Stomach pain acupuncture solution - Raleigh Acupuncture Associates. Safe, natural treatment for long term stomach and intestinal pain relief.
Author
Publisher Name
Raleigh Acupuncture Associates
Publisher Logo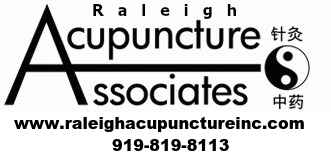 What our Clients are Saying
Thanks Mark for helping me to get rid of my gastritis! With you help and dedication I'm feeling so much better. Recommended!
Vivian A
My IBS triggered diarrhea every day, all day long, but especially in the mornings.  It would be triggered by the foods I ate, stress at work, or nothing at all.  I was getting to the point where I was going to give up my job and try to find a job where I could work out of the house.  As a last resort I went to Raleigh Acupuncture.  I started seeing changes right away, less attacks in the morning, less triggers during the day.  Over the duration of my treatments it seemed like my intestines were getting stronger and less sensitive.  After about a month of treatment I was just having problems in the morning, going about three times.  After about another month I was having normal bowel movements just once in the morning.  As far as I can tell, my IBS is completely healed.
Ian M
My husband Arthur and I have used Raleigh Acupuncture bi-weekly for at least 4 years, for a variety of treatments, including general well-being. Both of us felt our ailments healed with the treatment. I initially visited for Irritable Bowel Syndrome – and had immediate relief… the practitioners are very professional and learned, and we have every confidence in them. Even though we pay out of pocket, we obviously feel that the acupuncture is worth it. We both highly recommend Raleigh Acupuncture – you won't regret it!
Anya G
I have always had a nervous stomach.  Some people get headaches, I get stomach aches.  It's always worse with stress and eases up on the weekends when I can relax.  I did not think of getting treatment until I stumbled on an article saying how acupuncture was excellent for treating stomach pain.  I went to Raleigh Acupuncture and described my condition.  They explained why my stomach hurt.  It totally made sense to me.  It's all about internal balance.  So they went to work on me to get my stomach balanced.  And I'm pleased to say that it worked.  I no longer have a nervous stomach and stomach pain, even in stressful situations.  I've made some changes to my diet, based on their recommendations, and took chinese herbs for a while, but don't need to take them now.  I'm convinced that I would have lived with stomach pain for the rest of my life had it not been for acupuncture.
Polly B
I'm totally afraid of needles, but my wife convinced me to try acupuncture for my IBS.  It was really hampering my life.  I'd have to go to the bathroom 5 times before leaving for work.  Then at work I'd be sitting in a meeting and all of a sudden have to go again.  Any type of stress set me off.  At first they could only use 2 needles, that's all I would let them do.  But after a few treatments I started relaxing and felt more comfortable with the needles.  The effect has been amazing.  I'm so much better now.  Mornings are easy, no problems at work.  It's hard to believe, because I've had this for my entire adult life.  Now I just go in for maintenance and have some herbs I take when I need them.  Raleigh Acupuncture is a great outfit.
Samuel N
Summary
Article Name
Stomach Pain Acupuncture Solution - Raleigh Acupuncture Associates
Description
Stomach pain acupuncture solution - Raleigh Acupuncture Associates. Safe, natural treatment for long term stomach and intestinal pain relief.
Author
Publisher Name
Raleigh Acupuncture Associates
Publisher Logo