What is your Achilles heel? We all have "weak links" that make us vulnerable. From a health perspective, it's good to know where we are at risk, so we can take measures to strengthen our weakness. Acupuncture is a powerful tool to accomplish this feat.
Achilles And His Heel
Wikipedia states, "Achilles was a hero of the Trojan War, the greatest of all the Greek warriors. He was killed by Paris, who shot him in the heel with an arrow. Achilles was invulnerable in all of his body except for his heel because, when his mother dipped him in the river Styx as an infant, she held him by one of his heels. Alluding to these legends, the term "Achilles heel" has come to mean a point of weakness, especially in someone or something with an otherwise strong constitution."
What Is Your Achilles Heel?
Don't let your weakness fool you. You may have a stronger constitution than you realize. Just because you have a nagging health issue does not mean you're falling apart at the seams. Take the time to investigate your condition. Learn about treatment options. Most of all, don't be discouraged. Your Achilles heel may be easier to resolve than you image.
What is your Achilles heel? For some, it's their neck. Chronic neck pain is one of the most common health conditions for people who sit in front of a computer all day. Many years ago we participated in a health fair at the Environmental Protection Agency in the Research Triangle. We spoke with hundreds of employees that day, giving mini-treatments. Every single one of them had the same main complaint – neck pain from working on the computer! That was their Achilles heel.
For others, their Achilles heal may be low back pain, generalized anxiety, insomnia or sciatica. These conditions are often chronic, or flare up when stress levels are high. They have been constant companions in our life up until this point. But they don't have to be moving forward.
Say Goodbye To Your Achilles Heel
You don't have to put up with these chronic, constant pains and worries. Ironically, most of them are not deep rooted. In other words, given the right treatment it won't take long to resolve them. In fact, chronic conditions like migraines, back pain, depression and insomnia, can often be reduced with a minimal investment of acupuncture.
Many debilitating health conditions are often due to slight imbalances. You see this with infertility. A woman came to our office having tried to get pregnant for two years without success. Then, after just six acupuncture sessions, she got pregnant. The reason was that she had an imbalance called Liver/Spleen disharmony. It's straightforward to treat and resolves quickly.
Another example is insomnia. We treated an eighty year old woman who had been taking Ambien for over twenty years. When it stopped working she tried acupuncture out of desperation. Two months later she was sleeping on her own, without any medications. Her imbalance was a combination of Liver Qi stagnation and Kidney yin deficiency, which responds brilliantly to acupuncture and Chinese herbs.
In both of these examples, minor imbalances with organ function resulted in severe health issues. Acupuncture was able to restore that balance, and in the process restored their health. Acupuncture was the antidote to their Achilles heels!
What Ails You?
What are your health concerns? Is there a Western medical solution to your problem? If not, consider trying acupuncture. Take a look at our "Conditions We Treat" page and click on your condition. Our website devotes hundreds of pages of information, videos and testimonials on a vast number of health issues that respond positively to acupuncture.
Most of us have "problem areas" (Achilles heels) with our health. We manage them as best we can. There comes a point, however, when it becomes more difficult to manage. Our insomnia patient reaches this point when her sleeping medication stopped working. For another person it might be when their migraine headaches increase from once a month to twice a week. Or when intermittent constipation becomes entrenched.
Next Steps
If you've come to that point, it's time to think out of the box and explore alternative medicine. Acupuncture is a good place to start. It's safe, natural and effective. Regarding safety, all our needles are sterile, single-use and hair thin. Treatments are quite relaxing. Many of our patients fall asleep during their session.
Use this website to explore your treatment options. Then book an appointment and give acupuncture a try.
BOOK NOW to schedule an appointment online.
MEET THE PRACTITIONERS (VIDEO).
LEARN ABOUT THE CONDITIONS WE TREAT.
Summary
Article Name
What Is Your Achilles Heel? Raleigh Acupuncture Can Help
Description
What is your Achilles heel? Raleigh Acupuncture can help resolve chronic health conditions safely and naturally, with long-lasting relief.
Author
Publisher Name
Raleigh Acupuncture Associates
Publisher Logo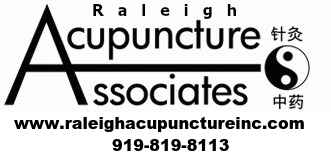 What our Clients are Saying
Turning to acupuncture was my last resort to battling insomnia. I had been prescribed two heavy sleep aids with no success. After the third appointment, I went from averaging less than 2.5 hours of sleep to over seven, without any sleep aids. I still go and pretty sure I wouldn't be here today without success from Raleigh Acupuncture.
Melissa H
Raleigh Acupuncture was recommended by a friend after I mentioned my insomnia and dependency on a sleeping pill. My apprehension was short lived because of the results of my visits to Dr. Mark. With acupuncture treatments and Chinese herbs I was able to begin sleeping well and continue to do so. Dr. Mark is a good listener and encourages his patients in all health issues as well as the original purpose for treatment. Consequently, my knees are stronger and I'm walking better and with more confidence. I haven't had the need for a cortisone shot in a year and a half. Occasionally, I would use a cane and it's now somewhere gathering dust. Also, I had a persistent headache that my primary physician had no solution for, and after two acupuncture treatments it's a thing of the past. Hot flashes were another issue that was treated successfully. I am so grateful to have found a knowledgeable and caring person to treat my ailments, many of which I thought would only grow worse as I aged. Generally, I feel healthier.
Summary
Reviewer
Review Date
Reviewed Item
Acupuncture effectively treat knee pain, insomnia, headache, hot flashes
Author Rating
Rita W
I was scheduled for IVF and they suggested I get acupuncture beforehand to increase my chances of success.  I went to Raleigh Acupuncture for a month before the procedure.  It was very relaxing and definitely reduced my stress levels.  My uterine lining also increased more than ever before.  The IVF was a success and I'm now pregnant.  It was definitely worth doing the acupuncture.  I did not want to have to repeat IVF for $25K a pop.  And when I got morning sickness, they cured that too!
Maria T
I sought Raleigh Acupuncture's help in 2010 following a miscarriage. Happily, in 2011, I had a very healthy little boy. My son is 11 months old. I tell everyone how much you got me back on track after my miscarriage – it was truly amazing. I had a great pregnancy too.
Jen D
My husband and I had been trying to get pregnant for the past two years.  I had undergone three rounds of Clomid with no success and the doctor was talking about IVF.  We didn't have the money for that, so we tried acupuncture.  They took a lot of time to explain what they were doing with the acupuncture and Chinese herbs.  I learned so much about my cycle and the reasons I was having trouble getting pregnant.  They said it would take 3 to 6 months to get pregnant, and sure enough, after 3 months I was pregnant!  It seems like a miracle to me.  I'm so grateful to Raleigh Acupuncture.  Thank you!!!
Sonya B
I would like to thank Raleigh Acupuncture for the wonderful and very helpful treatments. I had been seeing them for my insomnia, which was making excellent progress at the time and has since been cured. On a previous Monday I was involved in a minor traffic accident. Due to the stress of the accident on Tuesday I awoke in a severe flare-up of my fibromyalgia. The pain was so bad I took pain killers and stayed in bed for the day. The following day I had an appointment with Dr. Mark which I wanted to cancel. My husband suggested I keep the appointment and tell Dr. Mark about the pain. After our discussion, he modified the treatment he had planned for me and treated the pain. I came home, took another pain pill and went back to bed. The following morning I woke pain free and have been since, which is about 2 to 3 months. Thanks again Raleigh Acupuncture!
Ann E
I became a patient of Raleigh Acupuncture in 2007. I did a lot of research prior to selecting them and I never regretted it. Over the years, I have been treated for various conditions – insomnia, an auto-immune disease, a herniated disk, etc. I have recommended Raleigh Acupuncture to various friends and family members.
Gail W
I highly recommend the practitioners of Raleigh Acupuncture. I've seen them for several years and have always recommended them highly and without hesitation to many of my friends, all of whom have been equally thrilled with the care provided. They are genuinely interested in your health and general well-being, with a focus on getting you healed quickly and gently. My hot flashes are GONE! and the Chinese herbs for sleeplessness are awesome too!
Becky W
I haven't slept well for 20 years.  That all changed when I was treated at Raleigh Acupuncture for my insomnia.  They said it would take 12 treatments, so I took a leap of faith and tried it.  I saw changes start to happen after just a few treatments.  Over the course of three months I was able to sleep better and better.  I weaned myself off of Ambien, and am now sleeping like a baby again.  I never thought I'd see the day!  It really worked.  And guess what?  I've got more energy now.  Imagine that – a good night sleep gives you more energy!  Rocket science!  Thanks guys!
Chris E
Summary
Article Name
What Is Your Achilles Heel? Raleigh Acupuncture Can Help
Description
What is your Achilles heel? Raleigh Acupuncture can help resolve chronic health conditions safely and naturally, with long-lasting relief.
Author
Publisher Name
Raleigh Acupuncture Associates
Publisher Logo