The Raleigh Acupuncture Achilles pain acupuncture solution is nothing short of amazing. We treat many conditions with great success, and Achilles tendon pain falls into this category. Whether your pain comes from running, working long shifts on hard surfaces, or a traumatic injury, acupuncture is the safest, most effective treatment to relieve your pain.
What is Achilles Tendinitis?
Achilles tendinitis is inflammation of the Achilles tendon, which causes pain. The pain usually starts as a mild ache in the back of the leg above the heel after running or other sports activity. The pain worsens after prolonged activities like running, tennis, playing basketball, climbing stairs, or sprinting. It is common to experience tenderness and stiffness in the morning, which improves with mild activity.
Running, Tennis and Golf
It doesn't take much to aggravate your Achilles tendon. Overuse is a common trigger experienced by runners, tennis players, and golfers. The orthopedist will most likely offer a cortisone injection to relieve the pain. Acupuncture resolves inflammation and pain without the need for steroids. The needles dramatically increase blood circulation to the area. This response is essential because tendons in general, and the Achilles in particular, have poor blood circulation.
Tendons, by their nature, are slow to heal. Unlike muscles, tendons are rigid and inflexible, with poor blood flow. And the Achilles, located at the far end of the body, makes blood circulation even more challenging. At Raleigh Acupuncture, we use a technique developed and refined over nearly 20 years to restore normal Achilles tendon function. Patients typically start feeling better after their first treatment.
Achilles Pain Acupuncture Solution
Acupuncture heals inflamed tendons. We insert sterile, single-use, hair-thin needles along the channels that run up and down along the tendon. While small, these needles activate your body's natural healing response, sending qi and blood to the area of injury. The increased qi and blood circulation act as a healing pool, draining inflammation and prompting the tendon to be restored to its normal state.
Our Achilles tendinitis treatment utilizes electroacupuncture, where a gentle electric stimulation travels down the needle into the body. This technique, developed in China in the 1950s, speeds up recovery time and allows for even faster recovery. Unlike dry needling, which is painful and ineffective for treating tendinitis, acupuncture highly effective and delivers fast, long-lasting results.
Case Study – Long Distance Achilles Pain
A patient came to our clinic last year with severe Achilles pain. He was a long-distance runner currently sidelined due to pain in his left lower leg. In addition, he had developed a large bump, the size of a grape, on the back of his Achilles tendon, which added even more pain to his ankle. This "cyst" was hard, almost feeling like bone, and had appeared in the past three months.
We treated him with our standard Achilles pain acupuncture solution and treated the cyst on the back of his heel. The treatment utilized electroacupuncture and incorporated a unique technique for healing cysts. After the first treatment, our patient was amazed to see 50% of his pain resolved. Not only that, the cyst had decreased in size! We continued to treat him four more times, at which point his pain was gone entirely, and the cyst was 90% smaller. It was now just a tiny bump on the back of his heel.
He came in a month later for follow-up and reported no pain, even as he had returned to his regular running schedule. There was no sign of the cyst on the back of his ankle. This response is typical with our Achilles pain acupuncture solution – full recovery in fewer than six treatments. The reason is that acupuncture is highly effective at resolving tendinitis.
Next Steps
If you have Achilles tendinitis, try acupuncture. You'll know after just a few treatments if your body is responding well. You owe it to yourself to always try acupuncture first.
Book Now to schedule an appointment online.
Watch Video About Our Achilles tendinitis treatment.
Learn About All The Conditions We Treat.
Summary
Article Name
Achilles Pain Acupuncture Solution - Raleigh Acupuncture
Description
Achilles pain acupuncture solution - Raleigh Acupuncture. Fast, long-term relief from Achilles pain due to running, injury or overwork.
Author
Publisher Name
Raleigh Acupuncture Associates
Publisher Logo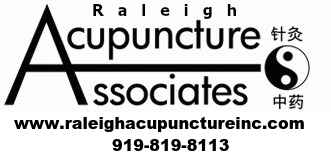 What our Clients are Saying
I had terrible Achilles tendinitis for six months from playing too much tennis. The surgeon was pressing for surgery to "clean up" the tendon, but I just didn't want to go there. I was referred to Raleigh Acupuncture by my sister, who went there for hip pain. She had great results so I tried. Thank goodness I did. They had my Achilles back to normal in less than a dozen treatments. I'm playing tennis again with absolutely no pain! I highly recommend them for Achilles issues.
Risa J
I'm a runner and had been dealing with Achilles tendinitis for over a year. The doctor said I would have to have surgery eventually so I was just dealing with the pain and biding my time. Then a friend suggested acupuncture and recommended Raleigh Acupuncture as specializing in Achilles issues. I made and appointment and was impressed from the very beginning. Their evaluation was very thorough and they explained everything that acupuncture could do.
The treatments were comfortable, and more importantly, they eased my pain significantly. After six treatments I was running without any Achilles pain! I've totally put the idea of surgery out of my mind since I'm running without pain again. Anyone who has Achilles issues should speak with Raleigh Acupuncture. They can definitely help you.
Sara P
Summary
Article Name
Achilles Pain Acupuncture Solution - Raleigh Acupuncture
Description
Achilles pain acupuncture solution - Raleigh Acupuncture. Fast, long-term relief from Achilles pain due to running, injury or overwork.
Author
Publisher Name
Raleigh Acupuncture Associates
Publisher Logo