Acupuncture for grief heals deep. A patient came in yesterday for back pain. She was visiting your son and daughter-in-law, who had just had a baby. As part of her treatment I added a few balancing points. These are acupuncture points designed to restore balance in the body. When treating pain conditions we often add a few points to balance the internal organs, based on how we read the pulse. Think of it as giving the person's body a small tune-up while you're fixing a flat tire.
At the end of the session, when I came in to take out her needles, she asked for a tissue. She had been crying. I asked if she was alright. She shared that her husband had died 5 months earlier, and for some reason the acupuncture treatment had brought up deep emotions. I explained to her that acupuncture was helpful in the grieving process. This made sense to her, as she felt relief from the treatment. I joked that she had gotten more from the treatment than she bargained for. She laughed, with tears still in her eyes.
How Acupuncture Helps the Grieving Process
In Chinese medicine the Lungs are responsible for processing grief. By strengthening your Lung function, the grieving process can move forward more smoothly. In addition, grief, like any trauma, will cause the energy in our bodies to stagnate. We call this Qi stagnation.
When Qi is not flowing well, everything in our lives becomes more difficult. Severe Qi stagnation causes depression, and everyone knows how debilitating that condition is. It's hard enough to suffer from grief. Add depression into the mix and you simply don't want to live another day.
Simply adding some balancing points to my patient's treatment for back pain served to nourish her lung qi, enabling her to process through another layer of grief. This brought her deep emotional relief. In all likelihood, her back pain was also a side effect of her grieving process. She faced many difficult months ahead, but acupuncture helped ease the challenge.
What To Expect
When you come for treatment we will conduct an intake exam. It is not intrusive. We just want to get a sense about what is going on in your life emotionally and physically. Then you will receive a treatment. If you have physical pain along with your grief, we can treat that at the same time. As you saw in the case above, many times the two are linked.
The treatments are relaxing. Many of our patients fall asleep during their sessions. Afterwards you will have a sense of peacefulness. Acupuncture is not a pill that will take away your pain from grief. But it will smooth the edges, keep you strong, and help you through the very important process of grieving a loved one. We will be honored to help you through this process and share with you during this difficult time.
Next Steps
BOOK NOW to schedule an appointment online.
LEARN ABOUT OTHER EMOTIONAL CONDITIONS WE TREAT
Acupuncture For Grief Heals Deep
If you are grieving, try acupuncture for support. Treatment works at the physical level, yet provides deep emotional healing.
Summary
Article Name
Acupuncture For Grief Heals Deep - Raleigh Acupuncture
Description
Acupuncture for grief heals deep - Raleigh Acupuncture. Safe, natural treatment nourishes lungs to aid in grieving process.
Author
Publisher Name
Raleigh Acupuncture Associates
Publisher Logo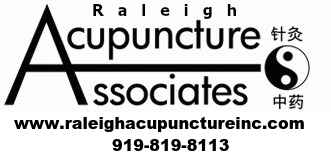 What our Clients are Saying
I was feeling depressed and stressed because I didn't like my job and didn't know what to do with my life.  I started taking Lexipro but it really affected my libido so I stopped taking it.  I tried acupuncture because my husband said it helped him when he was depressed years earlier (before he met me!)  I went to Raleigh Acupuncture and started treatments.  They were really knowledgeable about Chinese medicine and explained how the body gets stuck in depression, and how the acupuncture gets the body unstuck.  They really listened to me and helped me figure stuff out.  I started feeling less depressed.  Then I actually started getting more clear about what I wanted to do with my life career-wise.  I decided to go back to school and now I'm almost done with my degree.  I haven't felt depressed at all since I was treated and I'm really excited about my life.  I'm very grateful to them for being such great healers and such a great support to me when I really needed it.
Tracy B
I had very severe depression after my son was born.  The doctors put me on medication, which helped, but I still had no motivation and felt very sad.  I tried acupuncture and it really improved my mood.  I would say that within four weeks of starting treatment I was no longer depressed.  My motivation returned, I was able to get out of bed in the morning ready to go, and I started enjoying my son for the first time.  I think the combination of medications and acupuncture worked great for me.  I appreciate the caring and skill at Raleigh Acupuncture and recommend them highly for treating depression.
Ari S
Summary
Article Name
Acupuncture For Grief Heals Deep - Raleigh Acupuncture
Description
Acupuncture for grief heals deep - Raleigh Acupuncture. Safe, natural treatment nourishes lungs to aid in grieving process.
Author
Publisher Name
Raleigh Acupuncture Associates
Publisher Logo