Pursuing acupuncture for health in our lives may not be the first choice, but it is the smartest choice. Robert Frost, a great American poet, wrote:
"Two roads diverged in a wood, and I—
I took the one less traveled by,
And that has made all the difference."*
When you come to acupuncture with an ailment we ask about your symptoms, then feel your pulse and look at your tongue to figure out what imbalance is responsible for your condition. We use this information to make a Chinese medicine diagnosis and create a treatment plan to correct the imbalance. We then give you a medical treatment (acupuncture) to start healing your health problem.
In other words, you come in with a problem and we actually treat you for that problem. After your very first appointment you leave a different person. Changes are already taking place in your body after just one session that are pointing you more in the direction of health.
It's not magic, and we don't claim to fix every health condition 100%. But it's amazing how many conditions we can improve, and in many cases resolve. Acupuncture for health uses the body's innate healing capacity to restore balance. This process is able to alleviate many health issues, including pain, digestive issues, women's health problems, sleep conditions and emotional imbalances.
Acupuncture For Health
The following is a list of conditions we treat at Raleigh Acupuncture. Many of these conditions are resolved with acupuncture (i.e., neck pain, dysmenorrhea, vertigo), while others are managed ( i.e., autoimmune conditions, hypertension, diabetes).
PAIN
Neck pain, back pain, coccyx (tailbone) pain, rib pain, shoulder pain, frozen shoulder, arm pain, elbow pain, carpal tunnel syndrome, wrist pain, sciatica, hip pain, leg pain, knee pain, calf pain, shin splints, ankle pain, plantar fasciitis, arthritis, fibromyalgia, Achilles tendinitis, jaw pain, TMJ, muscle cramps, bursitis.
ENERGY/THINKING
EMOTIONAL/NEUROLOGICAL CONDITIONS
Depression, anxiety, stress, Bell's Palsy (facial paralysis), insomnia, headaches, migraines, trigeminal neuralgia, nerve pain, neuropathy, restless leg syndrome, dizziness, vertigo, tinnitus.
WOMEN'S HEALTH ISSUES
PMS, menstrual headaches, menstrual irregularity, painful periods, uterine bleeding, perimenopause & menopause symptoms, spotting between period, endometriosis, fibroids, amenorrhea, dysmenorrhea, anemia, leukorrhea, vaginitis, cystic breast, infertility, frequent miscarriage, morning sickness, breech presentation, induce labor, PCOS, hot flashes, night sweats.
Men's Health Issues
Erectile dysfunction (ED), low libido, low sperm count, testicle pain, male infertility. Acupuncture for health.
Circulatory Disorders
Hypertension, arrhythmia, peripheral vascular disease, cold hands and feet, Raynaud's disease, edema.
Skin and Hair Disorders
Facial rejuvenation, eczema, shingles, psoriasis, acne, rosacea, alopecia, hives, itchy skin, dermatitis, skin rash.
Respiratory Disorders
Seasonal allergies, bronchitis, asthma, chronic cough, sore throat, shortness of breath, weak voice, vocal cord damage.
Eye, Ear, Nose and Throat Disorders
Dry eyes, teary eyes, blurred vision, macular degeneration, toothaches, gum pain, burning tongue syndrome, ear aches, sinusitis, epistaxis, rhinitis, laryngitis.
Digestive Disorders
nausea, indigestion, acid reflux, GERD, belching, diarrhea, constipation, colitis, abdominal pain, bloating, Irritable Bowel Disease (IBD), Crohn's disease, Leaky Gut Syndrome. Acupuncture for health.
Urogenital Disorders
Incontinence, urinary retention, overactive bladder, interstitial cystitis, UTI, incontinence.
Abnormal Movements
Abnormal sensations, abnormal movements, abnormal functions in the body which you have not found a effective treatment for.
Other Conditions
Autoimmune conditions, lupus, multiple sclerosis, chronic fatigue syndrome, diabetes symptoms, excessive sweating, hyperhidrosis (excessive sweating of hands/feet), hypothyroid, hyperthyroid, Lyme disease, Parkinson's symptoms, Chemotherapy side effects.
Is Acupuncture Right For You?
Ask yourself these questions to help determine if acupuncture for health is right for you:
1. Are you satisfied with the level of your health right now?
2. Are you taking medications to manage health conditions, but would rather resolve the issue at the root level?
3. Is your sleep quality good?
4. Is your energy level good?
5. Do you have pain in your body?
6. Have you been diagnosed with a "medical condition" and feeling frustrated about the medical care you are receiving?
If you answered YES to any of these questions, give acupuncture a try. Within four to six visits you will know that it can make a positive difference in your life. We all need the right tools in our toolbox of health. See if acupuncture is a tool that's been missing from your health care strategy. It just may be the thing you need to get the job done of restoring your health.
Next Steps
BOOK NOW to schedule an appointment online.
MEET OUR PRACTITIONERS (VIDEO).
Better Wellness
Acupuncture for health. It's a road less traveled, but just may be the right path to follow.
*The Road Not Taken, Robert Frost, 1916.
Summary
Article Name
Acupuncture For Health - The Road Less Traveled
Description
Acupuncture for health - the road less traveled. Acupuncture may not be well known in this country, but is a powerful healing therapy.
Author
Publisher Name
Raleigh Acupuncture Associates
Publisher Logo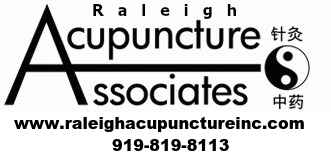 Summary
Article Name
Acupuncture For Health - The Road Less Traveled
Description
Acupuncture for health - the road less traveled. Acupuncture may not be well known in this country, but is a powerful healing therapy.
Author
Publisher Name
Raleigh Acupuncture Associates
Publisher Logo