There is a simple explanation for how acupuncture helps stop smoking. The answer lies in the nature of how acupuncture works. This blog post describes the secret ingredient in acupuncture that makes it so effective for smoking cessation.
The Challenge of Stopping Smoking
Smoking cessation is challenging for a number of reasons. First, your body is addicted to the nicotine found in the tobacco. Second, your emotions are used to the stress relief benefits that smoking brings. People underestimate the relaxation benefits from smoking. Smokers go outside every hour and do deep breathing exercises in the fresh air. How good is that? It's basically meditation all day, every day. And when you quit smoking, you give all that up. Not to mention the nicotine benefits for stress.
How Acupuncture Works
One of the things acupuncture does best is restore balance to the body. Imbalance occurs from trauma, injury and through chemical or hormonal changes. Classic examples of chemical and hormone changes include stop smoking (change in nicotine levels), menopause (change in estrogen and progesterone levels) and morning sickness (change in pregnancy related hormone levels). In each of these cases, acupuncture speeds up the body's ability to restore balance, bringing dramatic relief.
Women come to our office in the throws of severe hot flashes and night sweats due to the drop in hormones that comes with perimenopause. They have two options. First, they can start taking hormone replacement therapy so their body gets what it expects. Second, they can receive acupuncture, which helps their body adjust to the new hormone levels that come with the aging process. Both options bring symptom relief, but only acupuncture provides a natural remedy without the need for continued medication.
Pregnant women struggling with morning sickness present another example of imbalance caused by new circumstances in the body. Pregnancy hormones in the first trimester trigger severe nausea and sometimes even vomiting. Again, women have two choices in this situation. They can take anti-nausea medication or they can receive acupuncture, which trains their stomach to adjust to the pregnancy naturally and efficiently.
Acupuncture Helps Stop Smoking
Stopping smoking is another major imbalance-creator. The day you stop smoking you are removing chemicals like nicotine from your body, chemicals that your body has been utilizing for years, chemicals that are a part of your body as much as blood, food and hormones. Withdrawing these essential components of your day-to-day body chemistry is guaranteed to throw your body out of balance.
This imbalance causes typical withdrawal symptoms like agitation, irritability, cravings for nicotine, restlessness, and stress. Acupuncture is all about restoring balance. So when a patient comes in for smoking cessation, we immediately help the body adjust to the new chemical environment. Your brain says, "Where's my nicotine???" Acupuncture responds, "You don't need that nicotine any longer."
It's seems like a Jedi mind trick from Star Wars ("These aren't the droids you're looking for"). But in reality, acupuncture is not fooling your brain. It's satisfying your brain and your body, helping them adjust to the new chemical composition in the bloodstream. The quicker that balance is restored, the sooner you will feel better, at peace internally and externally.
And this is just one of the things acupuncture does in a stop smoking treatment. In addition, acupuncture helps stop smoking by reducing stress, food cravings, irritability and mood swings.
Next Steps
BOOK NOW to schedule an appointment online.
WATCH VIDEO ABOUT OUR STOP SMOKING TREATMENT.
LEARN ABOUT OTHER CONDITIONS WE TREAT.
Smoking Cessation With Acupuncture
Acupuncture helps stop smoking safely, naturally and cost effectively. Give us a call and find out more details about the treatment. We've helped hundreds of people stop smoking and we can help you too.
Summary
Article Name
Acupuncture Helps Stop Smoking - Raleigh Acupuncture
Description
Acupuncture helps stop smoking - Raleigh Acupuncture. Learn how acupuncture gets the job done quickly, safely and effectively.
Author
Publisher Name
Raleigh Acupuncture Associates
Publisher Logo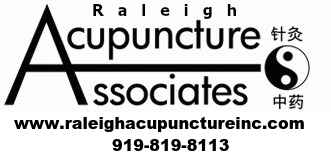 What our Clients are Saying
I was smoking a pack a day when I started acupuncture.  Within two weeks I was down to a single cigarette in the morning.  I told them I didn't want to give up the last cigarette and they said, no problem.  It's been three months and I'm still just smoking one cigarette a day.  I can live with that.  They didn't try to push me or make me feel bad.  They just met me where I was.  I appreciate that.  I recommend Raleigh Acupuncture as a practice.  They are good.
Joe F
I thought I would smoke cigarettes forever, until my doctor gave me the ultimatum. Tried cold turkey. No go.  Tried the patch. Ditto.  Just about gave up trying when my cousin dragged me to acupuncture.  I won't lie to you and say it was easy, but on the other hand I am convinced there is not a single other thing in this world that could have got me off cigarettes.  That's the honest truth. I'm sure now something else is gonna kill me, but at least it won't be smokes!
Johnny P
I stopped smoking from going to Raleigh Acupuncture.  The treatments were comfortable.  They put needles in my ears that took away the cravings.  I went from 10 cigarettes a day to 2 in the first week. It took another week to go to zero cigarettes.  There's no way I could have stopped without this.  I tried the patch and welbutrin before, but it didn't work.  The acupuncture actually made the cigarettes taste bad to me.  I never thought that would happen.  These guys are good.  If you're a smoker and can't quit, try acupuncture with them.  It really works.
John T
Summary
Article Name
Acupuncture Helps Stop Smoking - Raleigh Acupuncture
Description
Acupuncture helps stop smoking - Raleigh Acupuncture. Learn how acupuncture gets the job done quickly, safely and effectively.
Author
Publisher Name
Raleigh Acupuncture Associates
Publisher Logo