Researchers at Harvard University School of Medicine recently discovered that increased levels of a protein found in the brain promote human longevity*. The protein works by suppressing neural cell excitement and is aptly named the REST protein. We see this protein in the highest concentrations within the brains of people who live into their 90s and 100s. Additional research has found that acupuncture also suppresses neural cell excitement. Today's blog post describes these studies and explains how their findings support the notion that acupuncture promotes longevity.
The REST Protein
Wikipedia states that the REST (RE1-Silencing Transcription factor) protein acts as a transcription repressor. A transcription repressor is a protein that inhibits the expression of one or more genes by binding to the operator. This Harvard study is groundbreaking because it postulates that REST expression strongly correlates with increased longevity. Humanity has been looking for the secret to longevity.
Linking REST Protein To Acupuncture
Here's where acupuncture comes in. A 2014 study** concluded that acupuncture relieved the excessive excitation of the hypothalamic-pituitary-adrenal cortex axis (HPA) function induced by stress stimulation. Neural mechanisms drive the HPA axis stress response. In other words, acupuncture also suppresses neural cell excitement in the brain, just like the REST protein.
These studies correlate acupuncture and longevity. Both acupuncture and the REST protein calm neural networks in the brain. And calm neural networks lead to a long, healthy life. Future research will most likely find that acupuncture promotes and supports REST protein development, leading to the conclusion that acupuncture fosters longevity.
Longevity Pill vs. Acupuncture
Within the next few years, we will likely see a new pill at the pharmacy claiming boost REST protein production in the human body. The TV ads for this new pharmaceutical product will show healthy older adults enjoying their lives into their 90s and 100s. The end of the ad will feature a quick-talking voice stating, "Adverse side effects may include diarrhea, spontaneous bleeding, and sudden death"!
We have a better option. Acupuncture has been around for thousands of years. It is one of the safest forms of medicine on the planet, with adverse side effects. You can get acupuncture right now to improve your life span. Research has already established that acupuncture suppresses neural cell excitement in the brain, similar to the REST protein. Acupuncture works by restoring balance to your body. A balanced body functions better, leading to better health and longer life. Acupuncture promotes longevity.
Science and Better Health
Research is a great thing. But we have to be thoughtful about how to incorporate it into our daily lives. The REST protein may play a role in longevity. People in their 100s have an abundance of the protein in their brains. But that does not mean that taking a REST supplement will translate into a longer life. Filling our bodies with unnecessary medications and supplements can do damage to our health, so we have to be careful about what we ingest.
Acupuncture Promotes Longevity
Since opening our doors in 2005, Raleigh Acupuncture has treated hundreds of people who are in their eighties and nineties, and thousands in their 50s, 60s, and 70s. Acupuncture resolved their pain, improved their sleep, boosted their immune system, and promoted their longevity. This ancient healing medicine restores balance to the body, allowing it to thrive. Come in and experience it for yourself.
Next Steps
BOOK NOW to schedule an appointment online.
MEET OUR PRACTITIONERS (VIDEO)
LEARN ABOUT THE CONDITIONS WE TREAT.
References
*https://www.sciencedaily.com/releases/2019/10/191016131224.htm
**Wang, S. J., Zhang, J. J., & Qie, L. L. (2014). Acupuncture Relieves the Excessive Excitation of Hypothalamic-Pituitary-Adrenal Cortex Axis Function and Correlates with the Regulatory Mechanism of GR, CRH, and ACTHR. Evidence-based complementary and alternative medicine : eCAM, 2014, 495379. doi:10.1155/2014/495379
Summary
Article Name
Acupuncture Promotes Longevity - Raleigh Acupuncture
Description
Acupuncture promotes longevity - Raleigh Acupuncture. New research confirms acupuncture ability to improve health and longevity.
Author
Publisher Name
Raleigh Acupuncture Associates
Publisher Logo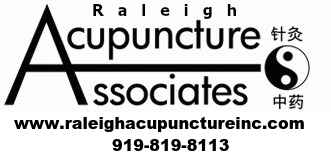 What our Clients are Saying
I'm 88 years old and still ride my bike around Raleigh, take exercise classes, and swim. I've done acupuncture for years. I believe it helps me stay young. Raleigh Acupuncture is a good practice. They're well trained and work hard at what they do. I've tried to get my bridge friends to try it, but they're all chicken. Their loss.
Sylvia B
Great practice! I get a tune-up every month and keeps me feeling younger (I'm 75). Wish Medicare covered, but it's still worth it.
Jordan T
I'm 62 and have always been active. I ran marathons until two years ago, when I just didn't have the stamina any longer. I know they say you have to adjust as you get older, but I was not ready to do that. So I tried acupuncture to see if it would help in this area. Not only did I increase energy, but my stamina increased and I felt stronger. I trained for and ran another marathon and felt like I did ten years ago. My time wasn't faster, but my body handled the stress of the race much better. I recommend this practice for athletes as they get older.
Stan J
Summary
Article Name
Acupuncture Promotes Longevity - Raleigh Acupuncture
Description
Acupuncture promotes longevity - Raleigh Acupuncture. New research confirms acupuncture ability to improve health and longevity.
Author
Publisher Name
Raleigh Acupuncture Associates
Publisher Logo