Acupuncture resolves Bell's Palsy safely and naturally. The sooner you come in, the better the outcome. However, we've successfully treated patients who had paralysis for years and could still improve their condition with acupuncture. Typically, if you get acupuncture within the first month of having Bell's Palsy, we can resolve it completely.
What Is Bell's Palsy?
In a nutshell, Bell's Palsy is paralysis affecting one side of the face. People typically wake up with the condition after having the wind blowing on their face during the night. An open window or room fan is the usual culprit. Chinese medicine explains the condition as a form of "wind stroke," with hemiplegia (paralysis on one side of the face only), accompanied by numbness, pain, and tingling.
Acupuncture and Chinese herbs resolve wind stroke by expelling wind from the channels in the face. Channels are pathways, like nerves and blood vessels. Energy flows through the body's channels, which we call "qi" (pronounced Chee). We also strengthen the body to fight off the pathogenic wind and restore normal function to the face muscles.
Western medicine does not understand the cause of Bell's Palsy. It may be viral, and it may affect facial nerves, resulting in facial paralysis. Doctors usually prescribe antiviral medication and steroids and instruct patients to go home and rest. That's where the Western medical treatment ends. Some patients get better, and some do not.
Chinese medicine offers more comprehensive treatment, helping your body recover naturally and safely. It's good to get the Western medicine described above. But the real work begins with your first acupuncture treatment. Let's take a look at what happens.
Acupuncture Resolves Bell's Palsy
On your first visit we ask you a series of questions. How long have you had Bell's Palsy? What was happening at the time of onset? Are you able to close your eye, smile at all, or lift your eyebrow? What medications have you taken? Also, we ask about your sleep, digestion, bowel function, and emotional state. Then we feel your pulse and look at your tongue. Tongue and pulse diagnosis are helpful in determining underlying organ imbalance.
You then lay back on the treatment table and get your first acupuncture treatment. We use sterile, single-use, hair-thin needles. Some acupoints will be placed on the affected side of your face. Other points will be located on your arms and legs, depending on your specific pattern imbalance.
The treatment is very relaxing. Many of our patients fall asleep during their session. Afterward, you will feel relaxed and rejuvenated. Most importantly, your healing will have begun to resolve the Bell's Palsy. The strategically placed needles work to correct the imbalance in your body caused by the pathogenic wind.
Treatment Details
Most patients will start feeling a difference in their condition after just a few treatments. Their face pain and numbness will start diminishing. They will be able to close their eye better and smile more completely. Their forehead muscles will start reactivating as well. As treatment continues, their face will return more and more to normal. Patients typically need six to ten treatments to recover fully.
In addition to acupuncture, we may prescribe Chinese herbs as well. Herbs strengthen the patient's body, helping them overcome the pathogenic wind that has lodged into the muscles of their face.
Next Steps
If you, or someone you love, have Bell's Palsy, come in for acupuncture. It has been used for thousands of years to treat this condition, with great success.
BOOK NOW to schedule an appointment online.
WATCH VIDEO ABOUT OUR BELL'S PALSY TREATMENT.
LEARN ABOUT ALL THE CONDITIONS WE TREAT.
Facial Paralysis Resolved
There is no better, safer, natural treatment for Bell's Palsy and facial paralysis. If you have just gotten the condition, come in soon. Patient outcomes are better the sooner treatment starts. But even if you have had Bell's Palsy for a long time, it's worth trying acupuncture. We can often improve muscle tone even years later.
Summary
Article Name
Acupuncture Resolves Bell's Palsy - Raleigh Acupuncture
Description
Acupuncture resolves Bell's Palsy best. Safe, natural treatment for facial paralysis restores normal function for long-term relief.
Author
Publisher Name
Raleigh Acupuncture Associates
Publisher Logo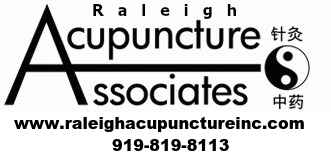 What our Clients are Saying
My jaw was broken 20 years ago and never healed right. I had constant pain all the time. Finally tried acupuncture for a lark. Ended up getting rid of 90% of the pain. Couldn't believe it. I highly recommend Raleigh Acupuncture Associates.
Geoff R
My sister recommended Raleigh Acupuncture for my TMJ, after no luck with other types of treatment. I was surprised and pleased to see that acupuncture helped. My jaw pain is gone after 6 treatments. No pain at all. I recommend this practice to anyone with TMJ.
J.C.
My dentist damaged a nerve in my face that triggered terrible trigeminal neuralgia. The pain in my face was way more than 10 out of 10. I could not think, could not work, could not sleep. I truly thought my life was over. But thanks to Raleigh Acupuncture Associates I am 95% better. It took three months of treatment, but it was worth it. My regular doctor had no solution for me. His pain medicine did not work. I tried an $8000 procedure of laser cutting, and that did not work. But acupuncture DID work. I'm telling you, if you have trigeminal neuralgia in your face, come to these guys. I love them!
Lorraine P
I woke up one morning and started getting these excruciatingly painful shooting electric pains on the left side of my face. My wife took me to the emergency room and they said I had trigeminal neuralgia. They gave me some pain medicine, but a nurse there suggested I try acupuncture. She had this pain once and it was cured by acupuncture. She gave me the name of Raleigh Acupuncture. When I explained the situation they took me in the same day. After just one treatment I started feeling better. They saw me every day for six days, at which point the pain was completely gone. What a life saver. I strongly recommend getting acupuncture for trigeminal neuralgia.
Anthony W
Summary
Article Name
Acupuncture Resolves Bell's Palsy - Raleigh Acupuncture
Description
Acupuncture resolves Bell's Palsy best. Safe, natural treatment for facial paralysis restores normal function for long-term relief.
Author
Publisher Name
Raleigh Acupuncture Associates
Publisher Logo