If you have eczema you know the battle is not about a permanent cure, but about control.  You also know dermatologists offer corticosteroids for the itch, which are essential at times, but not something you want to use every day.  Further, you know that scratching is the worst thing you can do, as it damages the skin and makes the eczema worse.  You know that stress makes eczema worse.  Here's what you may not know – acupuncture resolves eczema best!
Acupuncture Resolves Eczema Best
Acupuncture resolves eczema flares and helps prevent future flares.  It controls eczema so you can dramatically reduce the use of corticosteroids.  Acupuncture needs to be one of the tools you use to manage your condition.
How Does Acupuncture Control Eczema?
At Raleigh Acupuncture we have developed a powerful treatment to resolve and manage eczema.  While every treatment is custom made to the particular patient's condition, in general we focus on the following things. 
First, we use acupuncture points that clear heat from the skin.  Eczema most always involves heat in the skin level which damages the skin.  Clearing heat from the skin resolves this important issue, taking the fire out of the eczema and allowing the body to heal itself.
Second, for people who have dry-type eczema, we use points to moisten the skin.  In acupuncture terms this means the points actually promote the body to generate more moisture for the skin, healing dryness from within.  You all know the importance for using moisturizer on damaged skin.  Acupuncture prompts the body to moisturize itself from the inside out.
Third, some people have a damp-type eczema.  This involves skin that weeps with moisture.  In these cases we use acupuncture to address and resolve the internal dampness.  Dampness and internal heat always cause trouble for the skin.  Addressing these issues brings amazing relief.
What To Expect
We use sterile, single-use, hair thin needles. You will hardly feel them. The first thing you will see after starting acupuncture is that your current flares will resolve. You will need less corticosteroids and have less flares.  Second, new flares will not come on as easily. And when they do, they will be less severe. This is because your skin (which is an organ) is stronger.
Stress Makes Eczema Worse
We all know that stress makes all health conditions worse.  It is no different with eczema.  Your acupuncture treatment for eczema will include points to help you manage stress better.  In Chinese medicine terms, we boost your "Chinese" Liver function.  The Liver, in Chinese medicine, is responsible for moving Qi (energy) through the body.  When the Qi is flowing, you are much less susceptible to feeling stress.  When stress impacts you less, your eczema will flare less.  It's a simple concept, but it works. Acupuncture resolves eczema best.
Next Steps
If you suffer from eczema, come in for some acupuncture treatments.  You'll be amazed at how much better you feel.
BOOK NOW to schedule an appointment online. Or call us at 919-819-8113 and we will schedule an appointment for you.
WATCH VIDEO ABOUT OUR ECZEMA TREATMENT.
READ TESTIMONIALS ABOUT OUR ECZEMA TREATMENT.
LEARN ABOUT OTHER SKIN CONDITIONS WE TREAT.
LEARN ABOUT ALL THE CONDITIONS WE TREAT WITH ACUPUNCTURE.
Acupuncture resolves eczema best. Call to set up your appointment today.
Summary
Article Name
Acupuncture Resolves Eczema Best - Raleigh Acupuncture
Description
Acupuncture resolves eczema best - Raleigh Acupuncture. Safe, natural treatment delivers long lasting relief. Control your eczema naturally with acupuncture.
Author
Publisher Name
Raleigh Acupuncture Associates
Publisher Logo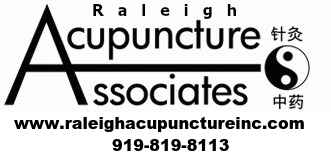 What our Clients are Saying
I developed eczema as a child and have managed the condition for years with steroid creams. Recently my stress level went up from a work situation, and the itching became intolerable. The creams didn't help and I was desperate. Research online led me to Raleigh Acupuncture. They treated the itching by reducing my eczema. It worked better than the cream ever did. I wish I had done this 15 years ago, as my skin and itching is 90% better.
Craig H
I've had eczema all my adult life and had resigned myself to managing it with steroid creams. I would have done this forever had my father-in-law not suggested that acupuncture could help. I was quite skeptical, knowing how stubborn this skin condition was. I have seen close to a dozen dermatologists over the years, and none of them have ever been able to do anything more than prescribe steroids. Over the counter creams never worked for me.
Pardon the long introduction, but I wanted you to know my situation. That's why I was surprised and more than pleased to see my eczema improve substantially after receiving acupuncture treatment. After two treatments my then current flare settled down. With continued treatment my chronic patches started to recede. Itching was substantially reduced as well. I now receive what they call maintenance treatment for my eczema, which I will happily do each month.
I researched all of the top acupuncture practices in Raleigh before selecting Raleigh Acupuncture. The doctors there were thoughtful, knowledgeable, and well versed in treating eczema. They delivered on what they promised, to control and substantially resolve my eczema. I highly recommend them.
Jonathan T
Summary
Article Name
Acupuncture Resolves Eczema Best - Raleigh Acupuncture
Description
Acupuncture resolves eczema best - Raleigh Acupuncture. Safe, natural treatment delivers long lasting relief. Control your eczema naturally with acupuncture.
Author
Publisher Name
Raleigh Acupuncture Associates
Publisher Logo