Many patients have discovered the benefits of acupuncture shoulder pain relief. Today's blog post will describe four shoulder pain patients to give you an idea about the types of cases that can benefit from acupuncture treatment.
Chronic right shoulder pain – college athlete
Chronic left shoulder blade pain – computer programmer
Frozen shoulder – pain and limited range of motion
Chronic right trapezius tightness, worse with stress
Chronic Shoulder Pain – Former College Athelete
A 42-year-old woman came to our clinic complaining of constant pain in her right shoulder. She played lacrosse in college and had suffered many injuries during four years of highly competitive play. Yet, despite her pain, she remained active in the sport, playing in high-power leagues. However, her shoulder always hurt, and she was tired of taking ibuprofen. Her intake exam revealed chronically tight musculature in her trapezius (top of the shoulder) and rhomboids (inside of her shoulder blade).
Our patient's treatment included acupuncture points in the areas of pain, as well as points to increase qi and blood circulation in her body. For example, acupoints BL15 and BL17 worked well to encourage strong blood circulation, which is essential to healing chronically injured muscles. Furthermore, at the end of each treatment, we applied cupping to the areas of tightness, which also promoted blood circulation.
Our acupuncture shoulder pain relief treatment took just four sessions to relieve 90 percent of her pain. She could not believe the difference in how she felt – she had been living with chronic pain for so long that a part of her thought it would be with her forever. While she didn't quite understand "how" acupuncture got rid of her pain, she became a believer due to the results.
Chronic Shoulder Pain – Computer Programmer
A 39-year-old man arrived at our clinic with chronic left shoulder pain. The first time we cupped his shoulder, all of the cupping marks turned dark purple, a clear sign of blood stasis. Cupping healthy muscles does not cause discoloration. His response was a clear indication that his shoulder muscles were not getting the proper blood flow needed for normal functioning.
Our patient felt pain around his entire shoulder blade, on the top, bottom, inside, and outside portions. He believed the pain was from using a computer mouse for 10 hours a day at his job – he was left-handed.
We treated all of the muscles around his left shoulder blade with electroacupuncture, which sent a gentle electric pulse through the needle to the belly of the muscle. This technique releases tension and prompts tight muscles to return to homeostasis. In addition, we followed each treatment with cupping. As his healing progressed, there were fewer bruises, indicating that his body had much better qi and blood circulation. Each session resolved more and more pain until, following the eighth session, he was pain-free.
A central characteristic of acupuncture shoulder pain relief is the reeducation of muscles surrounding the shoulder blade. For example, our patient's muscles had been in spasm for so many years that they had lost the ability to self-regulate. Yet, acupuncture restored their normal function, resolving pain in the process. Once restored, our patient performed regular stretching to retain healthy muscle function.
Frozen Shoulder Acupuncture Relief
A 55-year-old woman came to Raleigh Acupuncture complaining of a frozen shoulder on her right side. She had limited range of motion (she could only lift her arm halfway up), had difficulty putting on a shirt, and got stabbing pains in her shoulder joint throughout the day. While her doctor offered surgery, she wanted to avoid invasive procedures, so she did research online and found that acupuncture was an effective treatment for frozen shoulder.
The practitioners at Raleigh Acupuncture have developed a highly effective treatment for frozen shoulder. When she read about our success, she jumped at the opportunity. Specifically, our frozen shoulder treatment consists of a three-part protocol that begins with acupuncture to the surrounding shoulder muscles. Next, we inserted a "shoulder point" to her lower leg, which breaks up adhesions in the shoulder's joint capsule. Finally, the last phase of her treatment involved applying cups to the tight muscles around her shoulder.
By the end of her first treatment, our patient had 30 percent more mobility and felt significantly less pain. The results startled her, as she literally felt the shoulder joint "open up" before her very eyes. She continued treatment another five times. Following her sixth session, our patient's frozen shoulder had healed entirely. Without a doubt, acupuncture is the best way to resolve frozen a shoulder.
Chronic Trapezius Tightness
A 38-year-old woman had right shoulder pain at the top of her trapezius muscle. That's the place where people always want you to rub their shoulders. She worked at a desk for eight hours a day, and it seemed like all her stress focused on that one point at the top of her shoulder. Her pain was 4 out of 10, not severe by any standard, but enough to bother her all day and night. While she tried using the mouse with her left hand, but it was just not a viable option.
Our treatment strategy for this patient was two-fold. First, we focused on releasing her tight trapezius muscles to restore normal function. Acupoints like GB21, TW15, LI16, and Bailao worked great to release tightness on the top of her shoulders. Second, we added points to reduce her stress. Since our patient's shoulder pain got worse when she was under pressure, we knew that reducing stress would naturally ease her shoulder discomfort. Therefore, we selected acupoints LV3 and BL18 nourish the liver, the organ responsible for keeping qi energy circulating freely in the body.
Good Qi Circulation Improves Health
When qi flows in our bodies, the world's problems don't impact us as much. It's as if good qi circulation creates a hedge of protection around us, protecting us from the bombardment of deadlines, traffic jams, angry customers, and family feuds. Of course, good qi flow will not make those problems disappear, but it helps us manage them with more grace.
After the first treatment, our patient's shoulder felt significantly better. In addition, she could feel the positive effects on her stress levels. She handled situations better at work and home, laughing more and worrying less. To her delight, after four sessions, her pain was gone, and she felt the best she had in years. Her sleep was better, her mood lighter, and her outlook brighter.
Next Steps
Try the acupuncture shoulder pain relief treatment for shoulder discomfort. Regardless of whether your pain is acute (recent) or chronic (old injury), acupuncture can restore the normal functioning of the joint capsule, ligaments, tendons, and muscles.
BOOK NOW to schedule an appointment online.
Additional Shoulder Pain Relief Resources
Video Describing our Shoulder Pain Treatment.
Acupuncture Shoulder Pain Research Study.
Acupuncture Shoulder Pain Case Study.
Learn about all the conditions we treat.
Focus Keyphrase: acupuncture shoulder pain relief
Photo by RODNAE Productions: https://www.pexels.com/photo/a-group-of-people-sitting-on-wooden-chairs-5756580/
Summary
Article Name
Acupuncture Shoulder Pain Relief - Raleigh Acupuncture
Description
Acupuncture shoulder pain relief - Raleigh Acupuncture. Today's post describes four shoulder pain cases & how acupuncture resolved the pain.
Author
Publisher Name
Raleigh Acupuncture Associates
Publisher Logo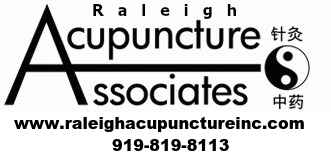 What our Clients are Saying
Tennis player with shoulder pain. Getting worse to the point of freezing up. Went to acupuncture. Starting easing immediately. Now back to tennis full force with no shoulder pain. I recommend this practice.
Alfonzo D
After shoulder surgery following a car accident, my shoulder was always stiff and achy. PT helped, but I suffered every day from shoulder pain. I went to Raleigh Acupuncture and they really helped. I did four treatments and my shoulder pain was completely gone.
Nora S.
I'm a golfer and started having trouble with my left shoulder over a year ago. My doctor wanted to do surgery, but I wanted to try other alternatives first. So I tried acupuncture. The folks at Raleigh Acupuncture were very professional, reasonably priced and did excellent work. They resolved my shoulder pain completely. I use them now for other pains in my post-50 body! Thank you Raleigh Acupuncture.
Tony J
Summary
Article Name
Acupuncture Shoulder Pain Relief - Raleigh Acupuncture
Description
Acupuncture shoulder pain relief - Raleigh Acupuncture. Today's post describes four shoulder pain cases & how acupuncture resolved the pain.
Author
Publisher Name
Raleigh Acupuncture Associates
Publisher Logo