A 2016 allergy acupuncture research study concluded that acupuncture soothes nasal allergy symptoms. Investigators at Beijing University of Traditional Chinese Medicine conducted a meta-analysis of 30 clinical trials involving 2,602 allergic rhinitis patients. The researchers concluded, "Acupuncture, either used alone or combined with other treatments such as moxibustion, herbal medicine, and western medicine, was proven to have both short and long-term clinical benefits to allergic rhinitis sufferers."
Key Acupuncture Points
The following overview contains common acupuncture points used in the treatment of allergic rhinitis across the multiple studies in the meta-analysis:
LI20
Yintang
LI4
ST36
Bitong
Background
Allergic rhinitis is an inflammatory condition involving the nasal mucosa triggered by allergen exposure. In the US, approximately 40 to 60 million people suffer from allergic rhinitis each year. Allergic rhinitis presents as thin, clear nasal discharge, sneezing, an itchy nose, and nasal congestion. Allergies also decrease concentration and increase irritability, sleep disturbances, and fatigue.
Common medications used to treat allergic rhinitis include nasal corticosteroid sprays, oral antihistamines, and leukotriene receptor antagonists. These medications often have adverse effects and may be contraindicated during pregnancy and for children, the elderly, and patients with other medical conditions.
Allergy Meta-Analysis Details
The most common acupuncture point utilized in this allergy acupuncture research was LI20, found in 27 out of 30 studies. This point is located on the side of the nose on either side. Needling LI20 smooths the flow of qi in the meridians and clears obstructions from the nasal passages. Acupuncturists traditionally utilize this point to treat nasal congestion, runny nose, and nosebleeds. According to Traditional Chinese Medicine, the lungs and large intestine have an interior-exterior relationship (functionally interconnected). As a result, diseases of the lungs can be treated by needling acupuncture points on both the lung meridian and large intestine channels.
23 of the 30 studies incorporate the acupoint Yintang. Located on the forehead between the eyebrows, Yintang opens the orifices (nose and sinuses) and regulates the spirit (calming). It is nicknamed the "Valium" point for its natural relaxing properties. Yintang also promotes qi and blood circulation to the head and stabilizes the mind and spirit.
A total of 17 studies used the point LI4. LI4 is the Yuan-source point of the hand Yangming large intestine meridian. Needling this point opens blockages in the face, reducing congestion and pain (sinus headaches).
Fourteen allergy acupuncture research studies utilized the powerful point ST36, which is the confluence point of the foot Yangming stomach meridian. This meridian begins at the side of the nose and ascends upward where it intersects with the inner corner of the eye. ST36 activates qi and blood circulation and removes local obstructions affecting the channels. Needling this point also strengthens the internal organs related to allergic rhinitis.
Eleven studies used Bitong to promote local qi and blood circulation around the nose and relieve nasal congestion. This acupoint is near the upper end of the nasolabial groove, just above LI20.
Allergy Acupuncture Research Conclusions
The researchers concluded that acupuncture provided both long and short-term relief on its own, combined with other Chinese medicine modalities and combined with medications.
NIH Approval
The National Institutes of Health website has given their reserved blessing, stating, "There is data from randomized controlled trials that suggests acupuncture may improve symptoms of allergic rhinitis, as well as quality of life." The NIH website goes on to mention that a clinical practice guideline issued by the American Academy of Otolaryngology states, "Clinicians may offer acupuncture, or refer to a clinician who can offer acupuncture, for patients with allergic rhinitis who are interested in non-pharmacologic therapy."
The NIH website references a meta-analysis comprising 2,365 allergic rhinitis patients, stating, "compared with a control group, the acupuncture treatment group had a significant reduction in nasal symptom scores, medication scores, and serum IgE, and an increase in quality of life scores." They went on to say, "these are high-quality randomized controlled trials that demonstrate efficacy for acupuncture in the treatment of both seasonal and perennial allergic rhinitis…."
Next Steps
If you have allergic rhinitis or seasonal allergies, try acupuncture. Allergy acupuncture research confirms the benefits of this safe, natural treatment.
BOOK NOW to schedule an appointment online.
Watch Video About Our Allergy Treatment.
Learn about all the conditions we treat.
Allergy Acupuncture Research References
Qu SH, Liu YX. Systematic Review and Meta-analysis of the Randomized Controlled Trial of Acupuncture for Allergic Rhinitis [J]. World Journal of Integrated Traditional and Western Medicine, 2016,11(07):900-906+948.
ncbi.nlm.nih.gov/pubmedhealth/PMH0072670/
Xia J, Peng D. Acupuncture Combined with Herbal Medicine for Treatment of Allergic Rhinitis and Its Effectiveness on Downregulating Ig E、TNF-α、IL-4, and IL-12 [J]. International Journal of Laboratory Medicine, 2018,39(03):374-377.
nccih.nih.gov/health/providers/digest/allergies-science.documented 4-25-18.
Feng, Shaoyan, Miaomiao Han, Yunping Fan, Guangwei Yang, Zhenpeng Liao, Wei Liao, and Huabin Li. "Acupuncture for the treatment of allergic rhinitis: a systematic review and meta-analysis." American journal of rhinology & allergy 29, no. 1 (2015): 57-62.
Summary
Article Name
Allergy Acupuncture Research - Raleigh Acupuncture
Description
Allergy acupuncture research concludes acupuncture effective for treating allergic rhinitis and seasonal allergies with no adverse effects.
Author
Publisher Name
Raleigh Acupuncture Associates
Publisher Logo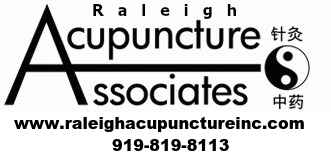 What our Clients are Saying
My allergies got very bad ever since I moved to Raleigh. I don't like how the medicines make me feel. So I tried acupuncture. The effect was excellent. My allergies got 90% better. I also like the Chinese pills. I take them with me when I travel. They're not kidding about relaxing treatments. I fall asleep every time I got a session.
Enrique M
My wife made me try acupuncture because she was sick and tired of me complaining about my allergies every summer. Pine pollen made my nose run like a faucet. The pills from the doctor didn't work so I figured it was worth a try. What a difference the acupuncture made. If you are allergic to pine pollen you've got to try this stuff. My staff at Raleigh Acupuncture even put up with my sense of humor. You can't beat that.
Timothy R
Acupuncture really helped my seasonal allergies. I'm grateful to Raleigh Acupuncture for helping me. Every year from spring through the fall I had terrible allergies. Now after their treatment I hardly have them at all. Thank you!
Robert L
Summary
Article Name
Allergy Acupuncture Research - Raleigh Acupuncture
Description
Allergy acupuncture research concludes acupuncture effective for treating allergic rhinitis and seasonal allergies with no adverse effects.
Author
Publisher Name
Raleigh Acupuncture Associates
Publisher Logo