Most of us don't think about our ankles. That is until they hurt. Then it's all we think about. This blog post describes how acupuncture provides safe, natural, and effective ankle pain relief.
Common Types of Ankle Pain
Some of the ankle pain cases we've treated this year include:
17-year-old dancer with repetitive ankle injuries preventing her from dancing at all.
42-year-old computer engineer struggling with lateral (outside) ankle pain following a car accident.
Runner in his mid-thirties sidelined with ankle pain from Achilles tendinitis.
Woman in her 60s who never fully recovered from ankle surgery, still walking with a limp.
Young man in his early 20s with an acute ankle sprain accompanied with severe swelling and pain.
In each of these cases, acupuncture provided lasting ankle pain relief within four to eight treatments.
How Acupuncture Works
Unlike modern medicine, acupuncture works by activating the patient's innate healing ability. Acupuncture increases qi (energy) and blood circulation, boosts the immune system, reduces inflammation, and direct's the body's attention to the area of injury. All of this is done by the insertion of single-use, sterile, hair-thin needles.
What does it mean to direct the body's attention to the area of injury? Imagine that an injury occurs in the ankle. There is some initial swelling and then after a week, all that is left is constant, nagging pain. The pain lingers week after week. This means the body is unable to fully recover. Why? Our bodies are designed to heal, yet sometimes they lack the force needed. Acupuncture mobilizes the body's healing energy and directs (focuses) it in a particular place. With this assistancemthe body is able to push through and fully heal.
Needle placement is critical for success. Acupuncturists are trained for 3500 hours to master the skills of proper needle technique. Unlike dry needling, which is performed by physical therapists with less than 30 hours of training, nationally board-certified acupuncturists have the skill required to treat pain all over the body.
Ankle Pain Relief With Acupuncture
In the case of ankle pain, we have a three-prong approach. First, we select healing points on the ankle. Next, we add points along the affected channel. All pain comes from stagnant qi in the channels. Restoring proper qi circulation is essential for long-term healing.
Finally, and equally important, we add points to increase blood circulation and reduce inflammation. These are system-wide points (we call them organ points) that influence the entire body. Unlike aspirin and Tylenol, acupuncture points for reducing inflammation have superior effect without adverse side effects.
Ankles Slow To Heal On Their Own
Anyone with ankle pain will tell you that it is slow to heal. Pain from ankle injuries can last months and sometimes years. One reason for this is because blood circulation to the extremities is poor. The reason your feet are always cold is that they are so far from your heart. Ankles are just as far away – and injuries need good blood flow to heal.
Acupuncture improves blood circulation through the body, giving you the resources to heal. The older we get, the more restrictive our blood flow. Good blood circulation is critically important not only for healing injuries but for staying healthy as well.
Next Steps
If you have an ankle injury, try acupuncture. It is the single most effective therapy for healing ankles and resolving ankle pain.
Book Now to schedule an appointment online.
Watch video about our ankle pain treatment.
Learn about all the conditions we treat.
Summary
Article Name
Ankle Pain Relief With Acupuncture - Raleigh Acupuncture
Description
Ankle pain relief with acupuncture. Best solution for all types of ankle pain. Safe, natural treatment delivers long-lasting relief.
Author
Publisher Name
Raleigh Acupuncture Associates
Publisher Logo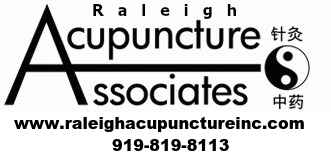 What our Clients are Saying
I'm a runner and had been dealing with Achilles tendinitis for over a year. The doctor said I would have to have surgery eventually so I was just dealing with the pain and biding my time. Then a friend suggested acupuncture and recommended Raleigh Acupuncture as specializing in Achilles issues. I made and appointment and was impressed from the very beginning. Their evaluation was very thorough and they explained everything that acupuncture could do.
The treatments were comfortable, and more importantly, they eased my pain significantly. After six treatments I was running without any Achilles pain! I've totally put the idea of surgery out of my mind since I'm running without pain again. Anyone who has Achilles issues should speak with Raleigh Acupuncture. They can definitely help you.
Sara P
I sprained my ankle playing basketball and was in terrible pain. I've had a history of ankle sprains and knew I was a slow healer. So I tried something different and went to acupuncture. The results were better than I could have ever hoped. Not only did I heal twice as fast, but the swelling went down within two days. I was back playing ball in no time. The staff at Raleigh Acupuncture were very professional and friendly. They got me better fast. I highly recommend them.
Carlos R
I was referred to Raleigh Acupuncture a few months ago because I was having a problem with a bone spur affecting my Achilles. The bone spur caused tremendous pain in my ankle and heel. Physical therapy ordered by a doctor really did not help. My doctor said that if the physical therapy did not help he could do surgery, but it would be very painful and would have an 8-9 month recovery period. Raleigh Acupuncture was my last hope. After a few treatments it was less painful when I walked. As I continued the treatments the pain totally went away. Now surgery is not even necessary. They have also helped me with my migraine headaches and restless leg issues. Acupuncture has made a huge difference in the quality of my life.
M.H.
Summary
Article Name
Ankle Pain Relief With Acupuncture - Raleigh Acupuncture
Description
Ankle pain relief with acupuncture. Best solution for all types of ankle pain. Safe, natural treatment delivers long-lasting relief.
Author
Publisher Name
Raleigh Acupuncture Associates
Publisher Logo