Never before in recorded history has the concept of balance been more vital to the successful day-to-day operations of human life. The world we inhabit today places many factors into our lives each moment which threaten to undo our harmony. Achieving balance through harmony sustains our bodies and minds. The balance through yin yang theory addresses the ancient idea of "qi"–the original mode of the universe.
From the motion of "qi" emerged the two opposing poles of "yin" and "yang." These poles represent all of the sunshine and shadow sides of life respectively. Yin yang theory embraces opposition and interdependence, waning and waxing, and mutual transformation. For this reason the globally recognized yin yang symbol depicts a bi-color circle of black and white, containing a little bit of black inside the white part and a small speck of white within the black.
How Acupuncture Relates to Yin Yang Theory
Physical and mental health are also ruled by the balance through yin yang theory. An understanding of the vital forces in and around your body which relate to this theory improves everything in your life. Your yoga practice, the way that you run your business, and even the relationships you have with loved ones benefit. In the realm of medicine, Chinese practices recognize that disease occurs when yin and yang fall out of balance within the body. Treatment of ailments, therefore, springs from an awareness of how to restore equilibrium to the body.
Acupuncture strives to bring balance to yin and yang within the body. The therapeutic application of acupuncture and Chinese herbal medicine address a great variety of systems within the body which possess direct correspondence to yin and yang. Yang classifies the organs of your body. Yin relates to the body's fluids. The upper part of the body conjoins with yang, while the lower part of the body shares an evenness with yin. The body's exterior (such as skin, hair, and nails) correlates with yang, while its interior workings (such as blood, bile, and mucus) fall under the governance of yin.
Identifying Signs of Yin Yang Imbalance
Finding balance through yin yang theory involves early recognition of warning signs. Too much yin presents in feelings of cold, lack of thirst, frequent urination, edema and low energy. Health problems linked to excess yang in the body include heavy respiration, dark urine, cracked lips, powerful body odor, or constipation.
Even your complexion reveals information about the balance or imbalance of yin and yang in your body. A clear and bright complexion connotes yang and a gray or dim complexion suggests yin. Any overabundance or predominance of yin or yang anywhere within the body has the potential to become a pathogenic factor. Pathogenic factors adversely affect your health.
Finding Yin Yang Balance in the Everyday
Cause and effect in Chinese medicine are not separate entities, but rather parts of a correlated whole. This means that finding balance through yin yang theory remains a continuous journey rather than a destination. Yin can become yang, and yang can transform to yin rapidly. The very nature of yin and yang determine that there can be no absolutes in either.
Recognizing the yin in your yang and the yang in your yin creates all the difference in finding parity in your health. As your yin yang balance goes, so goes your overall health and well being. This explains the crucial nature of maintaining awareness of your body's balance through yin yang theory. Adhere to a diet and exercise program that supports the unity of these powerful forces overseeing your health vitality.
Next Steps
BOOK NOW to schedule an acupuncture appointment online with Raleigh Acupuncture.
MEET OUR PRACTITIONERS (WELCOME VIDEO)
Summary
Article Name
Understanding The Vitality of Balance Through Yin Yang Theory
Description
Understanding the vitality of balance through yin yang theory. This ancient Chinese concept holds the key to living a healthy, happy life.
Author
Publisher Name
Raleigh Acupuncture Associates
Publisher Logo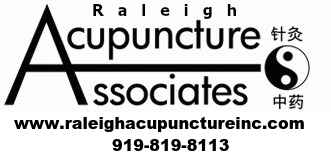 What our Clients are Saying
I'm a golfer and started having trouble with my left shoulder over a year ago. My doctor wanted to do surgery, but I wanted to try other alternatives first. So I tried acupuncture. The folks at Raleigh Acupuncture were very professional, reasonably priced and did excellent work. They resolved my shoulder pain completely. I use them now for other pains in my post-50 body! Thank you Raleigh Acupuncture.
Tony J
I'm a dentist and over the last 20 years the nature of my work and positions required by my work had resulted in chronic neck pain. It affected my sleep, limited my ability to exercise, and was just a real pain in the neck! A friend at church recommended Raleigh Acupuncture and I gave it a try. I have to say that I was a bit skeptical, but gave it a try because I had tried a number other therapies with no success. I'm glad I did. They resolved my neck pain completely!
Brent W
All of my joints were hurting. I've got fibromyalgia and it effects me by making my joints hurt. The pain would move around from place to place, first the hip, the next day the shoulder, then the knee, etc. The practitioner at Raleigh Acupuncture explained that the best way to treat my kind of moving joint pain was to treat me holistically. Instead of treating the hip one day, the shoulder the next, they treated the root of the pain. They said this type of treatment would also improve my mood and my sleep. Right on all counts. I started feeling better after the second treatment. It's like all of the joints just settled down and stopped giving me trouble. I had less flares and the intensity of the pain went way down. My sleep is better, not just because I have less pain. I'm more relaxed and less stressed. I've made this treatment a regular part of my life. I'm very grateful.
Beth C
I suffered from low back pain for years and tried many different remedies. When I came to Raleigh Acupuncture, they really listened to understand my issues. I can honestly say that they cured my chronic back pain. I didn't think it was possible, after all these years. I highly recommend this practice. The doctors take the time and do good work.
Jake P
Summary
Article Name
Understanding The Vitality of Balance Through Yin Yang Theory
Description
Understanding the vitality of balance through yin yang theory. This ancient Chinese concept holds the key to living a healthy, happy life.
Author
Publisher Name
Raleigh Acupuncture Associates
Publisher Logo