You may have heard people say that acupuncture brings stress relief. Well, it does. But why? This article explains why the Cary Acupuncture stress relief treatment works so well.
Emotions Tied To Organ Function
Stress is an emotion. If the emotions were a family, stress would have brothers and sisters called anxiety, panic, sadness, depression, worry, over thinking and fear. In Chinese medicine, emotions are often connected to a particular organ. For example, anxiety involves the heart. Grief involves the lungs. In the case of stress, it's all about the liver. It follows that each emotion can be treated with acupuncture by addressing its particular organ.
Stress Triggers
Stress triggers are all around us. They are like germs, lurking by every corner, waiting to jump on us. Stress triggers include conflicts at work and at home, health issues, fights, arguments, driving home in rush hour traffic. They also include the pressures we put on ourselves from self-judgment, pushing too hard, or trying to juggle too many things at once. It's pretty much impossible to get through a day without something triggering stress.
What Stress Does To Our Bodies
To understand how stress affects our bodies, we need to talk about "qi". Qi is a form of energy that flows through us. You cannot see qi, and cannot cut someone open to look at their qi. Qi is like an electric pulse working through the body, nourishing organs, circulating blood, converting food into energy.
Qi is a big deal in Chinese medicine. Good health requires strong, well functioning qi, and all disease involves some form of qi dysfunction. It follows that the Cary Acupuncture stress relief treatment involves working with the qi.
When stressors hit us during the day (like driving in rush hour traffic) something happens to the flow of qi in our bodies. The stressor causes our qi to stagnate. Qi stagnation means the qi in our body slows down, becoming sluggish or constrained. This constraint causes the feeling of being "stressed out". Other common feelings include frustration, irritability or feeling stuck. Depending on the person it might also cause headaches, a rise in blood pressure, stomach pain, bowel urgency or irritability.
Stress Causes Pain Too
Different people manifest stress in different ways. Qi stagnation can also light up pain in a previously injured area. For example, someone with a history of neck pain might be managing that pain fine until a stressful situation arises. All of a sudden their neck will start hurting again. It's due to the qi stagnation triggered by stress.
Cary Acupuncture Stress Relief To The Rescue
So how does acupuncture help with stress relief? Quite simply, there are specific acupuncture points on the surface of the body that improve qi circulation. A series of acupuncture treatments will literally get your qi flowing better and keep it flowing.
That way, when stress triggers hits, your body will be able to keep the qi flowing despite the natural inclination to stagnate. If you're already stressed, acupuncture can kick start the qi flow, causing a big reduction in the emotional feeling of stress and the physical feeling of pain triggered by stress.
Keeps You Healthier Too
Once your body is tuned up for moving the qi, not only will you feel less stress, you will stay healthier. Stress is a big cause of reduced immune function. Less stress means stronger immune function, which means staying healthier. If you want to be that happy person at work who never gets sick, a good place to start is with strong qi circulation.
A Call To Action
For all of you folks in need of stress relief, there is a simple solution. Get some acupuncture! You will start feeling the benefits of acupuncture right away. You will be happier and healthier.
BOOK NOW to schedule an appointment online. Or call us at 919-819-8113 and we will schedule an appointment for you. We are located just up the road from the Crabtree Valley Mall – convenient to Cary and Raleigh.
WATCH VIDEO about the Cary Acupuncture stress relief treatment.
For a list of all the emotional health conditions we treat click EMOTIONAL HEALTH CONDITIONS WE TREAT.
Curious about other conditions acupuncture can treat? Click ALL CONDITIONS WE TREAT WITH ACUPUNCTURE.
Summary
Article Name
Cary Acupuncture Stress Relief Treatment Works Best
Description
Cary Acupuncture stress relief treatment works best. Improves health and quality of life. Safe, natural, long lasting results.
Author
Publisher Name
Raleigh Acupuncture Associates
Publisher Logo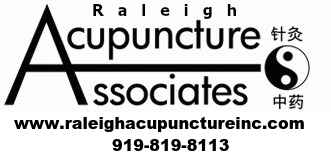 What our Clients are Saying
I was feeling depressed and stressed because I didn't like my job and didn't know what to do with my life.  I started taking Lexipro but it really affected my libido so I stopped taking it.  I tried acupuncture because my husband said it helped him when he was depressed years earlier (before he met me!)  I went to Raleigh Acupuncture and started treatments.  They were really knowledgeable about Chinese medicine and explained how the body gets stuck in depression, and how the acupuncture gets the body unstuck.  They really listened to me and helped me figure stuff out.  I started feeling less depressed.  Then I actually started getting more clear about what I wanted to do with my life career-wise.  I decided to go back to school and now I'm almost done with my degree.  I haven't felt depressed at all since I was treated and I'm really excited about my life.  I'm very grateful to them for being such great healers and such a great support to me when I really needed it.
Tracy B
Thank you for your gentle healing spirit. May God bless you as you help others in the healing methods of acupuncture.. My sessions for stress relief were very helpful. In gratitude.
Susie W
I just started acupuncture and I can really see the benefits. I've done massages and all the Western style treatments but this is amazing! It relaxes me in ways I didn't know could happen and I feel immediate results. I would recommend acupuncture as a treatment. The doctor was great in my initial meeting more thorough than my regular doctor. Highly recommend this!
Lynn S
Summary
Article Name
Cary Acupuncture Stress Relief Treatment Works Best
Description
Cary Acupuncture stress relief treatment works best. Improves health and quality of life. Safe, natural, long lasting results.
Author
Publisher Name
Raleigh Acupuncture Associates
Publisher Logo