One of the most challenging situations in life is dealing with chronic pain. It is exhausting, overwhelming, and depressing to wake up every morning in physical pain. Modern medicine's options for addressing pain are limited to prescription medications, steroid injections, or surgery – and they often don't work. The chronic pain acupuncture solution is highly effective, has no adverse side effects, and provides long-term relief. Today's blog post explores this ancient medicine and its modern ramifications for treating chronic pain.
Frozen Shoulder Chronic Pain
Last month a woman came to our clinic complaining of chronic shoulder pain in her right shoulder. She had been to our office before, back in 2019, where we helped her with hip pain. On this day, she described debilitating, stabbing shoulder pain for the past fourteen months. She could barely move her arm, and putting on a shirt, let alone working, was almost impossible. Her doctors had given her two steroid injections, which provided, in her words, about a day's relief before having the pain returned full blast.
At Raleigh Acupuncture, we have an excellent frozen shoulder protocol developed by the co-director of the clinic, Jinmei Xu. It is a three-part treatment involving electroacupuncture, Dong Qi, and cupping. These three techniques are applied during each treatment, promoting healing in the rotator cuff muscles surrounding the shoulder as well as the shoulder joint itself. After just one treatment, our patient moved her arm 20 percent better, and her pain levels diminished 30 percent. At the time of this writing, she has received four acupuncture treatments and is 70 percent better. She will most likely be 100% better after another four or five treatments.
Chronic Low Back Pain After Car Accident
Two months ago, a 70-year-old man came to our clinic sidelined by chronic back pain. He had been in a severe car accident the previous year and, based on the pictures he showed me of the accident scene, was lucky to be alive. Previously, he swam every day, was still working, and lived a vibrant, full life. Now, a year after the accident, he was unable to exercise, had constant back pain, and was depressed. Not only that, but since the accident, his blood pressure had skyrocketed, and he had developed tachycardia. This, from someone whose resting heart rate had always been below 50.
I assessed his condition and gave him a treatment that addressed the chronic back pain, depression, and racing heart condition. After six treatments, his pain levels had dropped 80 percent, his heart rate had stabilized, and he was back swimming. I am confident acupuncture will resolve 100 percent of his back pain, and he will be feeling "normal" again after another four or five treatments.
Chronic Pain Acupuncture Solution
This blog post highlighted just two of our recent chronic pain cases. In the course of a single week at Raleigh Acupuncture, we likely address thirty different kinds of chronic pain. Each case is unique, as every person has their specific injuries and needs. We customize treatments to address those needs, and treatments evolve as the patient recovers. When we cannot help a patient, we help them decide the next steps and refer them to another healing modality.
Don't let chronic pain get you down. Give acupuncture a try and see what it can do for you. If you live outside the Raleigh area, check out the website of our national certifying board. They have a "find a practitioner" search tool that will help you identify properly trained acupuncturists in your area. Click National Certification Commission For Acupuncture And Oriental Medicine.
Next Steps
Book Now to schedule an appointment online.
Watch a video about our approach to treating chronic pain.
Learn about all the conditions we treat.
Summary
Article Name
Chronic Pain Acupuncture Solution - Raleigh Acupuncture
Description
Chronic pain acupuncture solution - Raleigh Acupuncture. Don't let chronic pain get you down. Acupuncture resolves chronic pain best.
Author
Publisher Name
Raleigh Acupuncture Associates
Publisher Logo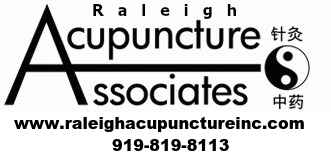 What our Clients are Saying
I'm a golfer and started having trouble with my left shoulder over a year ago. My doctor wanted to do surgery, but I wanted to try other alternatives first. So I tried acupuncture. The folks at Raleigh Acupuncture were very professional, reasonably priced and did excellent work. They resolved my shoulder pain completely. I use them now for other pains in my post-50 body! Thank you Raleigh Acupuncture.
Tony J
I'm a dentist and over the last 20 years the nature of my work and positions required by my work had resulted in chronic neck pain. It affected my sleep, limited my ability to exercise, and was just a real pain in the neck! A friend at church recommended Raleigh Acupuncture and I gave it a try. I have to say that I was a bit skeptical, but gave it a try because I had tried a number other therapies with no success. I'm glad I did. They resolved my neck pain completely!
Brent W
All of my joints were hurting. I've got fibromyalgia and it effects me by making my joints hurt. The pain would move around from place to place, first the hip, the next day the shoulder, then the knee, etc. The practitioner at Raleigh Acupuncture explained that the best way to treat my kind of moving joint pain was to treat me holistically. Instead of treating the hip one day, the shoulder the next, they treated the root of the pain. They said this type of treatment would also improve my mood and my sleep. Right on all counts. I started feeling better after the second treatment. It's like all of the joints just settled down and stopped giving me trouble. I had less flares and the intensity of the pain went way down. My sleep is better, not just because I have less pain. I'm more relaxed and less stressed. I've made this treatment a regular part of my life. I'm very grateful.
Beth C
I suffered from low back pain for years and tried many different remedies. When I came to Raleigh Acupuncture, they really listened to understand my issues. I can honestly say that they cured my chronic back pain. I didn't think it was possible, after all these years. I highly recommend this practice. The doctors take the time and do good work.
Jake P
Summary
Article Name
Chronic Pain Acupuncture Solution - Raleigh Acupuncture
Description
Chronic pain acupuncture solution - Raleigh Acupuncture. Don't let chronic pain get you down. Acupuncture resolves chronic pain best.
Author
Publisher Name
Raleigh Acupuncture Associates
Publisher Logo