Today's blog post discusses fibromyalgia and Traditional Chinese Medicine (TCM). Fibromyalgia is a complex and often misunderstood condition characterized by chronic pain, fatigue, sleep disturbances, and a range of other symptoms.
Conventional medicine struggles to offer definitive treatments for fibromyalgia, leaving many patients searching for alternative approaches. Traditional Chinese Medicine, which includes acupuncture and Chinese herbs, has a holistic perspective on health and has shown promise in managing fibromyalgia and improving patients' quality of life.
Understanding Fibromyalgia
Fibromyalgia affects millions of people worldwide, yet its exact cause remains unclear. It is often associated with widespread pain, tender points on the body, and symptoms like fatigue, headaches, and cognitive difficulties. Conventional treatments typically involve medications to manage symptoms but don't address the condition's root causes. TCM and acupuncture offer a different approach.
TCM's View of Fibromyalgia
In TCM, we view fibromyalgia as a result of imbalances within the body's energy system. These imbalances can be due to factors like stagnant Qi (vital energy), blood circulation issues, and the accumulation of dampness or cold in the body. TCM practitioners assess these imbalances through a process called pattern differentiation, which involves understanding the patient's unique symptoms and constitution.
TCM's Strategies for Managing Fibromyalgia
The dynamic between fibromyalgia and traditional Chinese medicine (TCM) is fascinating and quite different than what you see in allopathic medicine. Let's take a look at the different components of TCM treatment.
Acupuncture – Restoring Balance
Acupuncture, one of the most well-known TCM practices, involves inserting thin needles into specific points along the body's meridians. It stimulates the flow of Qi, relieves pain, and restores balance in the body. For fibromyalgia patients, acupuncture targets pain points and addresses the underlying imbalances identified through pattern differentiation.
Herbal Medicine – Customized Formulas
Chinese herbal medicine offers a vast array of herbal formulations designed to address the specific patterns of fibromyalgia. Commonly used herbs include Dong Gui (Angelica sinensis) for improving blood circulation and Bai Shao (White Peony Root) for relieving muscle tension. We typically combine single herbs into customized formulas tailored to the patient's unique pattern.
Diet and Nutrition
TCM places significant importance on diet and nutrition in managing fibromyalgia. We advise patients to avoid foods that can exacerbate dampness and cold in the body, such as dairy and raw, cold foods. Instead, we recommend warming and nourishing foods like ginger, garlic, and lean meats.
Stress Reduction
Emotional factors can play a significant role in fibromyalgia. TCM emphasizes stress reduction techniques such as meditation, Tai Chi, and Qigong to calm the mind, reduce anxiety, and improve sleep patterns. Acupuncture trains the body to release stress, even when a person is dealing with stress all around them. Maintaining good Qi (energy) circulation is key, and stress will not lodge in the body.
Holistic Approach
TCM views the body as a whole, interconnected system. Treating fibromyalgia isn't just about managing pain; it's about restoring overall balance and well-being. Practitioners consider the patient's physical, mental, and emotional health in their treatment approach.
Long-Term Management
TCM focuses on short-term relief and long-term management and prevention. Fibromyalgia patients are encouraged to work closely with their TCM practitioner to monitor their progress and make necessary adjustments to their treatment plan.
Fibromyalgia and Traditional Chinese Medicine
In conclusion, Traditional Chinese Medicine offers a holistic and personalized approach to managing fibromyalgia. By addressing the underlying imbalances through acupuncture, herbal medicine, dietary modifications, and stress reduction techniques, TCM can empower individuals to take control of their condition and improve their overall quality of life. For those seeking alternative or complementary treatments for fibromyalgia, TCM presents a promising avenue for relief and healing.
Next Steps
Today's post described fibromyalgia and Traditional Chinese Medicine (TCM). If the information resonates with you, seek an acupuncturist for acupuncture, Chinese herbs, and nutrition advice. If you live in the Raleigh area, visit our clinic.
BOOK NOW to schedule an appointment online.
Watch Video About Our Fibromyalgia Treatment.
Learn about all the conditions we treat.
Focus Keyphrase: Combat Fibromyalgia and Traditional Chinese Medicine
Photo by Lucas Pezeta: https://www.pexels.com/photo/woman-spreading-both-her-arms-2529375/
Summary
Article Name
Fibromyalgia and Traditional Chinese Medicine (TCM)
Description
Fibromyalgia and Traditional Chinese Medicine. TCM manages fibromyalgia, reduces pain, and improves patients' quality of life.
Author
Publisher Name
Raleigh Acupuncture Associates
Publisher Logo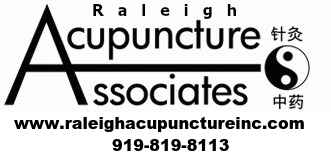 What our Clients are Saying
I am a long term patient of Raleigh Acupuncture. Prior to being under their care, I was disabled with terrible fatigue and pain all over my body. I was unable to drive, could only walk less than a block, and had numerous symptoms that mystified doctors. After countless lab work, x-rays, and MRI's, several doctors including my primary physician told me that there was nothing that could be done. According to them, it was either an illness that was undiagnosable or it was all in my head. When I came to Raleigh Acupuncture, it was a breath of fresh air. They took me very seriously and were not mystified by my condition. They assured me that my condition was treatable and manageable. They treat me with respect, dignity and care; something that I didn't receive at my primary care doctor. Thanks to their treatments I am now living a normal life. They have restored my health and taught me how to manage my condition. My family and friends can't believe how much improvement I have made. My son is grateful to have his mommy back! And I am eternally grateful to Raleigh Acupuncture! They truly have the gift of healing!
Rossina C
I would like to thank Raleigh Acupuncture for the wonderful and very helpful treatments. I had been seeing them for my insomnia, which was making excellent progress at the time and has since been cured. On a previous Monday I was involved in a minor traffic accident. Due to the stress of the accident on Tuesday I awoke in a severe flare-up of my fibromyalgia. The pain was so bad I took pain killers and stayed in bed for the day. The following day I had an appointment with Dr. Mark which I wanted to cancel. My husband suggested I keep the appointment and tell Dr. Mark about the pain. After our discussion, he modified the treatment he had planned for me and treated the pain. I came home, took another pain pill and went back to bed. The following morning I woke pain free and have been since, which is about 2 to 3 months. Thanks again Raleigh Acupuncture!
Ann E
I still am forever in your debt for helping me through the Lymes recovery. My body pain and fatigue were overwhelming before getting acupuncture. I still tell everyone today that I am 100% positive that my recovery was a direct result of your expert care. Truly. I have very little residual effects from the disease that I can easily live with. So again,thank you not only for your amazing skills, but for the compassion and kindness that you showed me during that time.
Carol F
All of my joints were hurting. I've got fibromyalgia and it effects me by making my joints hurt. The pain would move around from place to place, first the hip, the next day the shoulder, then the knee, etc. The practitioner at Raleigh Acupuncture explained that the best way to treat my kind of moving joint pain was to treat me holistically. Instead of treating the hip one day, the shoulder the next, they treated the root of the pain. They said this type of treatment would also improve my mood and my sleep. Right on all counts. I started feeling better after the second treatment. It's like all of the joints just settled down and stopped giving me trouble. I had less flares and the intensity of the pain went way down. My sleep is better, not just because I have less pain. I'm more relaxed and less stressed. I've made this treatment a regular part of my life. I'm very grateful.
Beth C
I've been going to Raleigh Acupuncture for 4+ years. I first went to them because I was having problems with my monthly period lasting two weeks or more, hot flashes that were extreme, and all over pain from fibromyalgia, which is a chronic pain condition. I was in a state of depression and despair, unable to work, or do things I love to do, like working in my yard. On a good day, I could perform simple household chores, perhaps a little yoga, and that was all. My first few visits brought relief from hot flashes, terrible neck pain, and wrap-around pain in my ribs that restricted my ability to breathe comfortably. I felt this was a miracle as I had suffered for many years, and had no idea it was so easily remedied. This miraculous ride continued as I took Chinese herbs for aiding my menopausal symptoms, sinus problems, anxiety, and general pain. As time went on I began to depend on Raleigh Acupuncture for psychological strengthening as well. Nowhere else have I found anyone that really listens to what I have to say without thinking I was crazy. Today, as I sit and reflect, I am about to graduate from an intense two year program for Landscape Architecture Technology. I took a huge leap when I signed up for full-time classes when I was 50 years old. I have enjoyed great success, making one B in 64 credit hours, the rest were A's! In February of 2011, I was in a car accident where I was sandwiched between a van and a school bus. I was able to continue school and finish the semester, I believe because of my acupuncture treatments. I contribute most of my academic success, emotional well-being, and diminished pain to Raleigh Acupuncture.
Patricia C
Summary
Article Name
Fibromyalgia and Traditional Chinese Medicine (TCM)
Description
Fibromyalgia and Traditional Chinese Medicine. TCM manages fibromyalgia, reduces pain, and improves patients' quality of life.
Author
Publisher Name
Raleigh Acupuncture Associates
Publisher Logo