Do your heels hurt? It's often diagnosed as plantar fasciitis. Other times it is blamed on the Achilles tendon. In any event, it's painful and makes walking and exercising almost impossible. The good news is heel pain acupuncture works fast, providing long lasting results.
Heel Pain Acupuncture
The heel pain acupuncture treatment at Raleigh Acupuncture corrects all types of heel pain, no matter what the source. That's because the acupuncture resolves multiple conditions at once. If plantar fasciitis is active, acupuncture invigorates the Qi in the foot, alleviating pain. If there is inflammation in the Achilles tendon, acupuncture drains the heat, resolving tendinitis.
We treat runners and other athletes all the time with heel pain. They often do not have to reduce their training schedule. The acupuncture allows healing while they train.
What About Other Parts Of The Foot?
If your arches hurt, don't worry. Acupuncture resolves arch pain too. How about toe pain? We can address that as well. Here in Raleigh we see a lot of toe pain with runners. Toe pain is resolved quickly and effectively with electric acupuncture.
Case Study
We are currently treating about a dozen patients with heel pain. Many times they are completely better after just 4 treatments. The alternative treatments available with Western medicine are not attractive and do not have nearly the success rate that we have. Injections are painful and do not provide lasting relief. Acupuncture is clearly the superior treatment for heel pain.
One of our current cases involves a man in his 50s with heel pain. He thought he had plantar fasciitis, however we determined that his pain came from Achilles tendinitis. His heel pain was reduced 80% after just two treatments focused on clearing inflammation from his Achilles. He will be completely better after six sessions.
What To Expect
All needles are sterile, single-use and hair thin. You will hardly feel them. And treatments are very relaxing. Many of our patients fall asleep during their sessions.
Next Steps
If you suffer from heel pain, book an appointment online. Click BOOK NOW. Or call us at 919-819-8113 and we will schedule an appointment for you.
WATCH HEEL PAIN TREATMENT VIDEO.
Learn more about our foot pain treatment by clicking RALEIGH ACUPUNCTURE FOOT PAIN TREATMENT.
Summary
Article Name
Heel Pain Acupuncture Delivers Results - Raleigh Acupuncture
Description
Heel pain acupuncture delivers results - Raleigh Acupuncture. Safe, natural treatment resolves heel and foot pain with long lasting results.
Author
Publisher Name
Raleigh Acupuncture Associates
Publisher Logo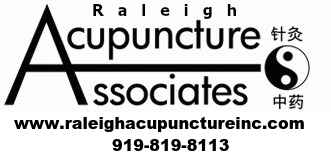 What our Clients are Saying
I was referred to Raleigh Acupuncture a few months ago because I was having a problem with a bone spur affecting my Achilles. The bone spur caused tremendous pain in my ankle and heel. Physical therapy ordered by a doctor really did not help. My doctor said that if the physical therapy did not help he could do surgery, but it would be very painful and would have an 8-9 month recovery period. Raleigh Acupuncture was my last hope. After a few treatments it was less painful when I walked. As I continued the treatments the pain totally went away. Now surgery is not even necessary. They have also helped me with my migraine headaches and restless leg issues. Acupuncture has made a huge difference in the quality of my life.
M.H.
For the past 13 years I suffered from peripheral neuropathy in my calf, ankle and foot. I tried numerous medications, therapy with lights, neuromuscular massages and back decompression. I felt like I had stones under the ball of my foot. After the first couple of sessions with Dr. Mark, feelings returned to my calf, ankle and the "stone like feeling" under the ball of my foot began subsiding. Thanks to Dr. Mark, I am able now to walk without pain and discomfort. The extraordinary care and attentiveness I am receiving from Raleigh Acupuncture in treating my neuropathy is remarkable and I recommend them without reserve!
Lou R.
My husband Arthur and I have used Mark and Jinmei bi-weekly for at least 4 years, for a variety of treatments, including general well-being. Both of us felt our ailments healed with the treatment. I had a sprained hip flexor which a sports doctor told me would take 6 weeks to heal… it was gone after 2 visits! Mark and Jinmei are very professional and learned, and we have every confidence in them. Even though we pay out of pocket, we obviously feel that the acupuncture is worth it. We both highly recommend Raleigh Acupuncture. You won't regret it!
Anya G.
Last month when I was working out at the gym I injured my hip. It was diagnosed as sciatica. Two cortisone shots later the pain was still there, so I came to Raleigh Acupuncture. I was skeptical that it would work because the pain was so bad. But sure enough, they got rid of the pain. And it never came back. These guys are good. I highly recommend them.
Peter S
I LOVE this place! I LOVE these people. Caring and professional, great at what they do. Living with foot pain for SO LONG now, and it was cleared up after just a couple of sessions. Very reasonable on the price, too. Did I mention I LOVE this place!!
Beth H
My husband is a runner and came to Raleigh Acupuncture with a bad case of plantar fasciitis. He runs about 25 miles a week and does half marathons. In 3 treatments he was pain-free. And they told him he didn't even have to stop running while they were treating him. It's been six months and the pain has not returned.
Susan M
Summary
Article Name
Heel Pain Acupuncture Delivers Results - Raleigh Acupuncture
Description
Heel pain acupuncture delivers results - Raleigh Acupuncture. Safe, natural treatment resolves heel and foot pain with long lasting results.
Author
Publisher Name
Raleigh Acupuncture Associates
Publisher Logo