Today's blog post will discuss three ways you can approach holiday stress management and stay healthy this holiday season. I'll list them first. Then I'll elaborate.
Step One: Keep Breathing!
One trick to help you remember to keep breathing is to imagine you're a smoker. Every 45 minutes you need to go outside. Instead of smoking you will breath for a few minutes. This is called intentional breathing. If you want to impress your friends you can call it meditation. It's crucial for keeping your stress levels low. I'll explain why below.
Step Two: Take The High Road
When someone triggers you, walk away from the situation and count to 10. The person giving you trouble is guaranteed to be just as stressed out as you, maybe more. And remember, it's not about you. If you don't take it personally it won't bother you as much. This also has an explanation in Chinese medicine. See below.
Step Three: Remember The Joy
If you're married, remember the time you met your spouse and fell in love. If you're single, remember a happy memory of your family or best friend. Dwell on these joyful memories for a moment. These happy thoughts are medicine for the heart and soul. We are bombarded with trouble and pain every day. This world gives us endless grief. Yet we have to live in the world. It's easy to forget the good stuff. Let's remember it just for a moment.
How Does Chinese Medicine Help?
Step One: Breathing and Chinese Medicine
Chinese medicine practitioners are always talking about Qi. Qi is a form of energy. It's what makes life possible, nourishes the organs, muscles and joints, and allows us to function. Just as our cars need gas to run, our bodies need qi. We make qi from the food we eat and the air we breathe.
It's incredibly easy to breath poorly. During stressful situation we sometimes forget to breath at all. Or at least, we're not getting the proper breathes. Intentional breathing, as described above, helps train our bodies to remember to breath properly, even in times of stress. Better breathing results in more qi to run our bodies and minds. That makes for a happier us.
Step Two: The High Road and Chinese Medicine
Our natural reaction to hostility is to meet it with hostility. When someone cuts us off on the road we curse at them, or at a minimum call them an idiot. At the moment we are being cut off, or the moment a loved one loses their temper with us, or the moment we drop and break a dish at home, something very specific is happening inside our bodies.
In Chinese medicine we call it qi stagnation. The qi that flows continuously through our bodies becomes stuck or stagnant. The problem with qi stagnation is that it doesn't just cause the feeling of stress. It also stresses our body, our organs, our health. Qi stagnation is not good for us. It lowers our immune system, triggers pains in the body, and messes with our system as a whole.
Less qi stagnation equals a happier, healthier life. That's where taking the high road comes in. Anything we can do to reduce qi stagnation helps us. So if we can be less triggered, even a fraction of the time, we're better off.
Step Three: Joy and Chinese Medicine
We all grew up as kids knowing that joy was an emotion of the heart. It was only when we got older that we were told the heart had nothing to do with it. The heart was just an organ that pumped blood. Well, in Chinese medicine joy is related to the heart. All organs, in Chinese medicine, have an associated emotion. Liver is anger, spleen is worry, lungs are grief, and the heart is joy.
Feeling more joy in life is therefore good medicine for the heart. On an intuitive level you know this is true. Now you know that it's medically based – with Chinese medicine. So when we focus on joy, we nourish our hearts. In our fast paced, harried lives it's easy to go through a day, a week or even a month without tapping into joy. So it's a good habit to remember past joyful times in order to activate the feeling. Start remembering past joyful times and next thing you know you'll be feeling a bit more joyful.
We here at Raleigh Acupuncture Associates wish all of you a happy and healthy holiday season. See you next year!!
WATCH VIDEO ABOUT OUR STRESS REDUCTION TREATMENT.
Next Steps
For more information about holiday stress management, give us a call at 919-819-8113. Or book an appointment online by clicking BOOK NOW.
For more information about all the emotional conditions we treat click EMOTIONAL CONDITIONS WE TREAT.
For a list of all conditions click ALL CONDITIONS WE TREAT WITH ACUPUNCTURE.
Holiday Stress Management with Acupuncture
Make holiday stress management your gift this seasons. We offer Gift Certificates that make perfect stocking stuffers!
Summary
Article Name
Holiday Stress Management - Three Step Process
Description
Holiday stress management - today's blog post discusses three ways you can keep your holiday stress levels low and stay healthy this holiday season.
Author
Publisher Name
Raleigh Acupuncture Associates
Publisher Logo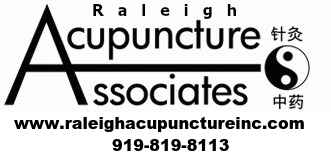 What our Clients are Saying
I was feeling depressed and stressed because I didn't like my job and didn't know what to do with my life.  I started taking Lexipro but it really affected my libido so I stopped taking it.  I tried acupuncture because my husband said it helped him when he was depressed years earlier (before he met me!)  I went to Raleigh Acupuncture and started treatments.  They were really knowledgeable about Chinese medicine and explained how the body gets stuck in depression, and how the acupuncture gets the body unstuck.  They really listened to me and helped me figure stuff out.  I started feeling less depressed.  Then I actually started getting more clear about what I wanted to do with my life career-wise.  I decided to go back to school and now I'm almost done with my degree.  I haven't felt depressed at all since I was treated and I'm really excited about my life.  I'm very grateful to them for being such great healers and such a great support to me when I really needed it.
Tracy B
Thank you for your gentle healing spirit. May God bless you as you help others in the healing methods of acupuncture.. My sessions for stress relief were very helpful. In gratitude.
Susie W
I just started acupuncture and I can really see the benefits. I've done massages and all the Western style treatments but this is amazing! It relaxes me in ways I didn't know could happen and I feel immediate results. I would recommend acupuncture as a treatment. The doctor was great in my initial meeting more thorough than my regular doctor. Highly recommend this!
Lynn S
Summary
Article Name
Holiday Stress Management - Three Step Process
Description
Holiday stress management - today's blog post discusses three ways you can keep your holiday stress levels low and stay healthy this holiday season.
Author
Publisher Name
Raleigh Acupuncture Associates
Publisher Logo