Are you planning to have IVF fertility treatment this year? If so, consider getting acupuncture to prepare your body for the experience. Research shows that acupuncture increases IVF success. This post describes IVF acupuncture support and how it can help you.
In Vitro Fertilization
In vitro fertilization is a popular and effective way for women to get pregnant when they are not able to conceive on their own. It is a medical procedure done at fertility clinics where an egg is combined with sperm outside the body (in vitro).
The process involves initiating a woman's ovulation, removing an egg from her ovaries and letting sperm fertilize it in a laboratory. The fertilized egg is then transferred back into the woman's uterus. Each year over 60,000 women successfully deliver healthy babies using IVF in the United States.
IVF and Acupuncture
A 2017 study concluded that "Based on an analysis of the studies, acupuncture improves the CPR among women undergoing IVF." Our own experience at Raleigh Acupuncture supports these findings. We have been treating women undergoing IVF with acupuncture for 15 years with great success.
Ideally, women will start acupuncture treatment a months or two before the IVF process begins. This time is used to strengthen a woman's body and help restore balance. Acupuncture works by identifying imbalances in the body, then applying specific acupuncture points to help restore that balance. Every person has their own unique physiology, and no two acupuncture treatments are the same.
For example, a recent patient came for acupuncture and her IVF process was schedule to begin in 10 weeks. During the intake we identified that she was having difficulty sleeping, had a great deal of anxiety, and was struggling with digestive issues (bloating, stomach pain and constipation). Over the next 10 weeks we addressed these imbalances, restoring good sleep, a calm mind and strong digestion. She began her IVF experience in a much healthier position, and ultimately got pregnant after just one round of IVF.
Another recent patient came just two weeks before starting her IVF. We focused on supporting her egg retrieval and her egg transfer a few weeks later. This is a critical time of support, and research shows that acupuncture at this time significantly increases the success of the IVF process.
So in ideal situations, start acupuncture a few months out from your IVF. If that's not an option, be sure to schedule acupuncture a the time of your retrieval and transfer.
What To Expect
All needles are sterile, single-use and hair thin. Treatments are relaxing. Many of our patients fall asleep during their sessions. IVF acupuncture support heals and strengthens a woman's body to prepare her for the IVF process. It also provides deep relaxation and stress reduction, with lasting effect.
Next Steps
BOOK NOW to schedule an appointment online.
WATCH VIDEO ABOUT OUR INFERTILITY TREATMENT.
LEARN ABOUT OTHER WOMEN'S HEALTH CONDITIONS WE TREAT.
IVF acupuncture support works! Book an appointment today to experience the powerful healing of acupuncture.
References
Arch Gynecol Obstet. 2017 Mar;295(3):543-558. doi: 10.1007/s00404-016-4255-y. Epub 2016 Dec 19.
Therapeutic effect of acupuncture on the outcomes of in vitro fertilization: a systematic review and meta-analysis.
Summary
Article Name
IVF Acupuncture Support - Raleigh Acupuncture Associates
Description
IVF acupuncture support - Raleigh Acupuncture Associates. Improve IVF success with acupuncture. Safe, natural treatments with proven results.
Author
Publisher Name
Raleigh Acupuncture Associates
Publisher Logo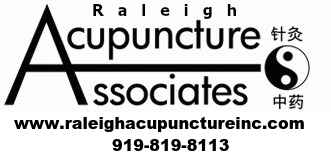 What our Clients are Saying
I was scheduled for IVF and they suggested I get acupuncture beforehand to increase my chances of success.  I went to Raleigh Acupuncture for a month before the procedure.  It was very relaxing and definitely reduced my stress levels.  My uterine lining also increased more than ever before.  The IVF was a success and I'm now pregnant.  It was definitely worth doing the acupuncture.  I did not want to have to repeat IVF for $25K a pop.  And when I got morning sickness, they cured that too!
Maria T
I sought Raleigh Acupuncture's help in 2010 following a miscarriage. Happily, in 2011, I had a very healthy little boy. My son is 11 months old. I tell everyone how much you got me back on track after my miscarriage – it was truly amazing. I had a great pregnancy too.
Jen D
My husband and I had been trying to get pregnant for the past two years.  I had undergone three rounds of Clomid with no success and the doctor was talking about IVF.  We didn't have the money for that, so we tried acupuncture.  They took a lot of time to explain what they were doing with the acupuncture and Chinese herbs.  I learned so much about my cycle and the reasons I was having trouble getting pregnant.  They said it would take 3 to 6 months to get pregnant, and sure enough, after 3 months I was pregnant!  It seems like a miracle to me.  I'm so grateful to Raleigh Acupuncture.  Thank you!!!
Sonya B
Summary
Article Name
IVF Acupuncture Support - Raleigh Acupuncture Associates
Description
IVF acupuncture support - Raleigh Acupuncture Associates. Improve IVF success with acupuncture. Safe, natural treatments with proven results.
Author
Publisher Name
Raleigh Acupuncture Associates
Publisher Logo