This morning I heard a story on the radio describing how pain may have emotional roots. They were interviewing a woman who had chronic pain all over her body. She had been diagnosed with fibromyalgia, which has no cure and is misunderstood. However, when she started journaling about her past emotional traumas, her pain decreased.
Pain and Emotions
At Raleigh Acupuncture we treat chronic pain associated with fibromyalgia. The news story was interesting. Some people with chronic pain may in fact have trauma in their past that triggers physical pain. On the other hand, our experience treating patients for 15 years shows us that chronic pain may not be associated with trauma or emotions.
There is no simple explanation for why some people have chronic pain. The key is to find out the root cause of each person's pain, and make sure their treatment correctly addresses it. For some it may be past emotional trauma. For others, it could be a physical trauma, like a car accident or surgery. Still others may have pain for no discernible reason.
Acupuncture and Pain Relief
Acupuncture treats pain from a holistic perspective. We believe that all pain comes from blocked Qi (energy). Qi moves through the body in channels. If a channel becomes blocked pain will result. Physical trauma, emotional trauma, sickness, and viruses can all cause qi stagnation leading to pain.
Acupuncture and Chinese medicine always focus on moving stuck qi, getting the channels open again. If a chronic pain patient also has anxiety, stress or depression, we treat the emotions as well. Depression can cause qi to stagnate, just as easily as a car accident. So as acupuncturists, we assess the patient based on their physical and emotional symptoms, and treat accordingly.
Holistic Healing Gives Better Results
This holistic approach to treating pain provides faster, more effective, and longer lasting results. We know that physical pain, even if caused by a purely physical trigger, can be made worse under stress. This is another reason we believe pain may have emotional roots. So there is no downside for treating stress at the same time as treating the physical pain.
There is even a spiritual aspect to healing. Some people are not in touch with their spiritual side. For such people, there may not be a need to boost spiritual clarity. However, many people do have a spiritual aspect of their life. Pain can easily disrupt a person's spiritual clarity.
For example, faith in God can be challenged when you are in pain. Acupuncture works on the physical, emotional and spiritual level, helping people strengthen all aspects of their life as they heal. Sometimes the best way to strengthen our faith is to ease our physical or emotional pain. Other times, getting the qi to circulate smoothly in the body helps us access our faith more strongly.
Keep An Open Mind Toward Healing
There is so much we do not understand about health, pain and healing. This puzzle will take the effort of both Western and alternative medicine to solve. In the meantime, let's be open to new ideas.
Next Steps
If you have chronic pain, consider acupuncture.
LEARN ABOUT THE PAIN CONDITIONS WE TREAT.
BOOK NOW to schedule an appointment online.
Chronic Pain May Have Emotional Roots
The news story on the radio talked about how pain may have emotional roots. Have you seen this in relation to your own pain? We would love to hear from you about your own experiences.
Summary
Article Name
Pain May Have Emotional Roots - Raleigh Acupuncture
Description
Pain may have emotional roots - Raleigh Acupuncture. New research shows how some chronic pain is rooted in past trauma. Other forms of pain are not.
Author
Publisher Name
Raleigh Acupuncture Associates
Publisher Logo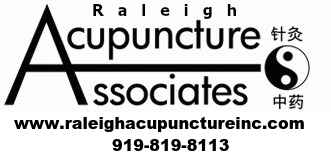 What our Clients are Saying
I'm a golfer and started having trouble with my left shoulder over a year ago. My doctor wanted to do surgery, but I wanted to try other alternatives first. So I tried acupuncture. The folks at Raleigh Acupuncture were very professional, reasonably priced and did excellent work. They resolved my shoulder pain completely. I use them now for other pains in my post-50 body! Thank you Raleigh Acupuncture.
Tony J
I'm a dentist and over the last 20 years the nature of my work and positions required by my work had resulted in chronic neck pain. It affected my sleep, limited my ability to exercise, and was just a real pain in the neck! A friend at church recommended Raleigh Acupuncture and I gave it a try. I have to say that I was a bit skeptical, but gave it a try because I had tried a number other therapies with no success. I'm glad I did. They resolved my neck pain completely!
Brent W
All of my joints were hurting. I've got fibromyalgia and it effects me by making my joints hurt. The pain would move around from place to place, first the hip, the next day the shoulder, then the knee, etc. The practitioner at Raleigh Acupuncture explained that the best way to treat my kind of moving joint pain was to treat me holistically. Instead of treating the hip one day, the shoulder the next, they treated the root of the pain. They said this type of treatment would also improve my mood and my sleep. Right on all counts. I started feeling better after the second treatment. It's like all of the joints just settled down and stopped giving me trouble. I had less flares and the intensity of the pain went way down. My sleep is better, not just because I have less pain. I'm more relaxed and less stressed. I've made this treatment a regular part of my life. I'm very grateful.
Beth C
I suffered from low back pain for years and tried many different remedies. When I came to Raleigh Acupuncture, they really listened to understand my issues. I can honestly say that they cured my chronic back pain. I didn't think it was possible, after all these years. I highly recommend this practice. The doctors take the time and do good work.
Jake P
Summary
Article Name
Pain May Have Emotional Roots - Raleigh Acupuncture
Description
Pain may have emotional roots - Raleigh Acupuncture. New research shows how some chronic pain is rooted in past trauma. Other forms of pain are not.
Author
Publisher Name
Raleigh Acupuncture Associates
Publisher Logo