We have been on quarantine "stay-at-home" orders for a long time, and it is stressing us out. We can't go to school, drive to work, eat out at restaurants or hang out at our favorite coffee shop. Many have lost their jobs, while others live in fear of losing theirs in the near future. Retirees are stressed about the stock market, and kids are going stir crazy stuck in their homes. In times like these, we need stress relievers. Acupuncture is a great form of quarantine stress relief. This blog post explains why.
What Is Stress?
Chinese medicine believes that stress is caused by Qi stagnation. Qi is energy that pulses through our bodies and gives us life. Stagnation means "stuckness". Stuck Qi results in two types of pain – physical and emotional.
When you physically injure your body, the pain is due to Qi stagnation at the site of injury. Elbow, hip and neck pain are triggered when the Qi gets stuck at this location. Similarly, when you have an emotional injury, the emotion triggers Qi stagnation. That stagnation manifests as stress, and in more severe situations, depression.
Unfulfilled Desires Lead To Stress
One of the classic ways we get stressed is when we can't do what we want. Chinese medicine calls this having "unfulfilled desires". When something stands between where we are and what we want, the result is Qi stagnation, leading directly to feelings of stress.
Sometimes you can do something about it and figure out a way to get what you want. But other times it is impossible. Right now, during the pandemic, you may want to reopen your business, but the law makes it impossible. Right now, your children may want to be back in school seeing their friends, but the schools are all closed for the year.
This pandemic has created a huge amount of unfulfilled desires in a very short time. And the result is stress like we have not seen in ages.
Quarantine Stress Relief with Acupuncture
So here we are, stuck and stressed, living at the mercy of an invisible disease. The situation seems hopeless, but it is not. There is something you can do to reduce the stress you are feeling. You can move your Qi. Quarantine stress relief comes from getting your Qi moving.
Acupuncture is the best way to move your qi. Specific acupuncture points on the body literally get your Qi flowing again, like jump starting a car. The results are guaranteed, just as flipping on a light switch results in lighting the room. If you needle points like LV3, Li4, GB34 or Li11, and activate the point with a specific needle technique, your body will kick into gear and start moving the stagnant Qi.
Other Ways to Move the Qi
There are other ways to get your Qi moving for quarantine stress relief. Exercise is one of the best ways. Go out for a run, or take a long walk. Watch a funny movie and laugh. Laughing is a great Qi mover. Do some stretching, call a friend on the phone, or cook your favorite meal. All of these activities stimulate the Qi.
The challenge is that when our Qi gets stuck, we often don't feel like doing the things that will help us feel better. Stress leads to deeper stress. When it gets real bad, Qi stagnation can lead to depression. And once depression sets in, it will be almost impossible to motivate yourself to go out for a run, or cook a favorite meal. If you get to this level of stuckness, you will need acupuncture for sure.
But don't despair. Your body is resilient. It won't take much to get your Qi flowing again. Even a single acupuncture treatment can work wonders for your mood.
Next Steps
If you are in need of some quarantine stress relief, come in for acupuncture. If that is not possible for you, then do the next best thing and go out for a long walk.
BOOK NOW to schedule an appointment online.
WATCH VIDEO ABOUT OUR STRESS RELIEF TREATMENT.
LEARN ABOUT ALL THE CONDITIONS WE TREAT.
Reduce Stress With Acupuncture
The Raleigh Acupuncture clinic has taken strict measures to ensure your health and safety during the pandemic. All staff and patients must wear masks or bandanas. No one can enter the office if they are displaying signs of cold or flu (no sniffles, sneezes, cough, fever, etc). Our patient load allows for very few people in the waiting room. Most patients are escorted right to their treatment rooms without having to wait.
So if you are struggling with stress, treat yourself to an acupuncture session. See you soon!
Summary
Article Name
Quarantine Stress Relief - Raleigh Acupuncture Associates
Description
Quarantine stress relief with acupuncture. Get your Qi moving with acupuncture to dramatically reduce stress. Safe, natural treatment.
Author
Publisher Name
Raleigh Acupuncture Associates
Publisher Logo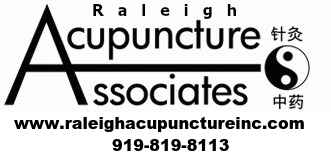 What our Clients are Saying
I was feeling depressed and stressed because I didn't like my job and didn't know what to do with my life.  I started taking Lexipro but it really affected my libido so I stopped taking it.  I tried acupuncture because my husband said it helped him when he was depressed years earlier (before he met me!)  I went to Raleigh Acupuncture and started treatments.  They were really knowledgeable about Chinese medicine and explained how the body gets stuck in depression, and how the acupuncture gets the body unstuck.  They really listened to me and helped me figure stuff out.  I started feeling less depressed.  Then I actually started getting more clear about what I wanted to do with my life career-wise.  I decided to go back to school and now I'm almost done with my degree.  I haven't felt depressed at all since I was treated and I'm really excited about my life.  I'm very grateful to them for being such great healers and such a great support to me when I really needed it.
Tracy B
Thank you for your gentle healing spirit. May God bless you as you help others in the healing methods of acupuncture.. My sessions for stress relief were very helpful. In gratitude.
Susie W
I just started acupuncture and I can really see the benefits. I've done massages and all the Western style treatments but this is amazing! It relaxes me in ways I didn't know could happen and I feel immediate results. I would recommend acupuncture as a treatment. The doctor was great in my initial meeting more thorough than my regular doctor. Highly recommend this!
Lynn S
Summary
Article Name
Quarantine Stress Relief - Raleigh Acupuncture Associates
Description
Quarantine stress relief with acupuncture. Get your Qi moving with acupuncture to dramatically reduce stress. Safe, natural treatment.
Author
Publisher Name
Raleigh Acupuncture Associates
Publisher Logo