Maybe you recently moved to Raleigh to start a new job. Or you have moved here and need to find a job. Possibly you have lived in the Raleigh area for a while but have recently left your job. Perhaps your relationship is in a rocky place, or you have experienced a break up. Whatever the situation, if you are feeling overwhelmed, acupuncture can help. The Raleigh Acupuncture Overwhelmed No Longer treatment is designed to help you gain control of your life again, no matter how "out of control" things may feel.
The Problem
Chinese medicine explains the feeling of overwhelm better than anything, and has a solution available to everyone. Let's say you just moved to Raleigh, started a new job, and are feeling completely overwhelmed. You know your stress levels are high. You are not sleeping well. You have started getting headaches again, or that lingering stomach pain, or chronic neck tightness. You know it will pass when things quiet down, but you don't know how long that will take. And you're worried that all this stress will run down your immune system. You can not afford to get sick now, with so much new stuff happening in your life.
The Solution
Acupuncture was designed just for this type of situation. The overwhelmed feeling you are having and all of the physical symptoms that go along with it are caused by a specific imbalance in your body. This imbalance is called Qi Stagnation, and it was triggered by the stress of your recent move, new job, relationship troubles or any other situation that is currently affecting you. If left untreated, Qi Stagnation will cause not only overwhelm, but depression, weakened immune system and worse. But don't worry. Acupuncture has the solution.
The Details
The Raleigh Acupuncture Overwhelmed No Longer treatment is specifically designed to get your stagnant Qi moving again, and keep it moving. Our treatment is not just a quick fix. It's a long term solution that primes your body to move Qi on its own again. When your Qi is moving freely through the body you will feel like a new person. Stress won't bother you as much. You will not feel overwhelmed, even through your situation is just as difficult. Your immune system will stay strong, your outlook will be more positive, and you will be able to enjoy your life even though it's a bit frantic and difficult.
Next Steps
See for yourself. It's easy to put off taking action, especially when you are feeling overwhelmed. Don't wait another moment. Try a few sessions of acupuncture and see if it makes a difference.
BOOK NOW to schedule an appointment online so you can start feeling less overwhelmed and more of your true self.
WATCH VIDEO ABOUT OUR STRESS REDUCTION TREATMENT.
OTHER EMOTIONAL CONDITIONS WE TREAT.
Raleigh Acupuncture Overwhelmed No Longer
January is a great time to reclaim your health. The holidays are over. Take this time now, during winter, to restore yourself. Spring is just around the corner (hey, this is North Carolina, remember!) Be ready to feel like your old self again. Try the Raleigh Acupuncture overwhelmed no longer treatment today.
Summary
Article Name
Raleigh Acupuncture Overwhelmed No Longer Treatment
Description
Raleigh Acupuncture overwhelmed no longer treatment. Safe, natural treatment to reduce stress and overwhelm and restore your health and well being.
Author
Publisher Name
Raleigh Acupuncture Associates
Publisher Logo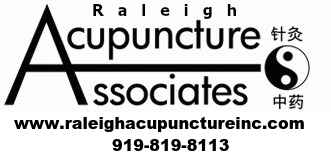 What our Clients are Saying
I was feeling depressed and stressed because I didn't like my job and didn't know what to do with my life.  I started taking Lexipro but it really affected my libido so I stopped taking it.  I tried acupuncture because my husband said it helped him when he was depressed years earlier (before he met me!)  I went to Raleigh Acupuncture and started treatments.  They were really knowledgeable about Chinese medicine and explained how the body gets stuck in depression, and how the acupuncture gets the body unstuck.  They really listened to me and helped me figure stuff out.  I started feeling less depressed.  Then I actually started getting more clear about what I wanted to do with my life career-wise.  I decided to go back to school and now I'm almost done with my degree.  I haven't felt depressed at all since I was treated and I'm really excited about my life.  I'm very grateful to them for being such great healers and such a great support to me when I really needed it.
Tracy B
Thank you for your gentle healing spirit. May God bless you as you help others in the healing methods of acupuncture.. My sessions for stress relief were very helpful. In gratitude.
Susie W
I just started acupuncture and I can really see the benefits. I've done massages and all the Western style treatments but this is amazing! It relaxes me in ways I didn't know could happen and I feel immediate results. I would recommend acupuncture as a treatment. The doctor was great in my initial meeting more thorough than my regular doctor. Highly recommend this!
Lynn S
I had very severe depression after my son was born.  The doctors put me on medication, which helped, but I still had no motivation and felt very sad.  I tried acupuncture and it really improved my mood.  I would say that within four weeks of starting treatment I was no longer depressed.  My motivation returned, I was able to get out of bed in the morning ready to go, and I started enjoying my son for the first time.  I think the combination of medications and acupuncture worked great for me.  I appreciate the caring and skill at Raleigh Acupuncture and recommend them highly for treating depression.
Ari S
Summary
Article Name
Raleigh Acupuncture Overwhelmed No Longer Treatment
Description
Raleigh Acupuncture overwhelmed no longer treatment. Safe, natural treatment to reduce stress and overwhelm and restore your health and well being.
Author
Publisher Name
Raleigh Acupuncture Associates
Publisher Logo