The Raleigh Acupuncture wrist pain treatment resolves pain due to carpal tunnel syndrome, arthritis and tendinitis. Treatments are safe, natural and relaxing. And best of all results are long lasting.
Raleigh Acupuncture Wrist Pain Treatment
Watch this video to learn more about our treatment.

The Problem
Wrist pain is a drag. It keeps you from doing almost everything because you use your hands (and therefore your wrists) for pretty much everything. This article will describe the different types of wrist pain that acupuncture can help.
Carpal Tunnel Syndrome
This condition comes from repetitive use. Classic triggers include typing, cutting hair, hammering, playing a musical instrument and any other movement of the hand and wrist that repeats over and over again. Symptoms include numbness and pain in the han, wrists and fingers, forearm pain, and numbing pain in the fingers that wakes you up during the night.
How Acupuncture Resolves Carpal Tunnel
In Chinese medicine pain comes from blockage in the channels. What are channels? There are 14 channels that run through our bodies. One of them is responsible for carpal tunnel syndrome, or wrist/hand/finger pain and numbness. Acupuncture opens blocked channels. We treat the channels and train them to remain open. When we do, pain is resolved.
Arthritis of the Wrist
Arthritis is joint dysfunction. The wrist is made up of 8 small bones and lots of little joints. This makes the wrist a prime target for arthritis pain. Arthritis of the wrist is caused by wear and tear – using our hands to do stuff over many years. The pain is achy and sometimes sharp. It makes it very difficult to lift things like heavy glassware, tools, pots and pans.
How Acupuncture Resolves Wrist Arthritis
Acupuncture resolves all types of arthritis by increasing Qi and blood circulation in the joint. Treating arthritis of the wrist is no different from resolving arthritis pain in the knee. Acupuncture opens channels that have become blocked from the arthritis. When the channels are open, the pain disappears. The National Institutes of Health have conducted double blind studies showing acupuncture as an effective treatment for osteoarthritis. SEE STUDY
Tendinitis of the Wrist
While not as common as tennis elbow, tendinitis of the wrist gives a lot of people trouble. It typically strikes around the thumb and makes any use of the hand difficult. This is called tendinosis. De Quervain's tendinosis occurs when the tendons around the base of the thumb are irritated or constricted. Swelling of the tendons, and the tendon sheath, will trigger pain and tenderness on the thumb side of the wrist.
Treating Tendinitis and Tendinosis with Acupuncture
When acupuncture needles are placed near an inflamed tendon something amazing happens. The inflammation is drawn off the tendon. What's happening is that acupuncture dramatically increases Qi and blood circulation in and around the tendon. This increased circulation extinguishing inflammation. The result is quick, long lasting healing and pain reduction.
What To Expect
All needles are sterile, single-use and hair thin. You will hardly feel them. Treatments are relaxing. Many of our patients fall asleep during their session.
Next Steps
BOOK NOW to schedule an appointment online. Or call us at 919-819-8113 and we will schedule an appointment for you. If you have any type of wrist pain, the Raleigh Acupuncture wrist pain treatment may be the answer.
To learn more about the different pain conditions we treat click PAIN CONDITIONS WE TREAT.
For a list of all the conditions we treat with acupuncture click ALL CONDITIONS WE TREAT WITH ACUPUNCTURE.
Summary
Article Name
Raleigh Acupuncture Wrist Pain Treatment Works Best!
Description
Raleigh Acupuncture wrist pain treatment works best! Carpal tunnel, arthritis, tendinitis resolved naturally and safely. Long lasting results.
Author
Publisher Name
Raleigh Acupuncture Associates
Publisher Logo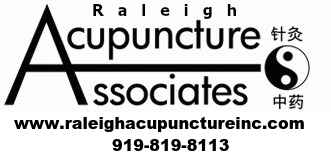 What our Clients are Saying
I'm a massage therapist and never had a problem with wrist or hand pain until last year. My whole hand (right worse than left) starting throbbing and going numb with searing pain through the wrist, thumb and pointer finger. It was waking me several nights a week and interfering with my work. I started getting treated at Raleigh Acupuncture. It has dramatically reduced my pain, to the point where I can work and am not waking up at night. I think the nature of my work puts alot of strain on my wrists, but I'm not ready to give up my profession. I'll need regular acupuncture for this, but I don't mind. It's the only thing that's helped.
Ted R
I'm a computer programmer and have been sitting at a desk working a mouse for years. It finally caught up with me a few months ago. I developed a terrible pain in my wrist that made my whole hand go numb, especially at night. The acupuncturist said the condition was easy to treat. My friend had surgery for the same thing. I figured I might as well try a few treatments. That's all it took. The pain went away and hasn't returned. Thank you Raleigh Acupuncture!
Kevin N
Raleigh Acupuncture cured my carpal tunnel syndrome for good! This has been plaguing me for years, waking me at night. My hands would go numb and shooting pains would go up my arms. I was nervous about the treatments beforehand, but they babied me! It wasn't bad at all. Anyway, the pain is gone, gone, gone! I'm hooked on acupuncture now.
Susie R
Summary
Article Name
Raleigh Acupuncture Wrist Pain Treatment Works Best!
Description
Raleigh Acupuncture wrist pain treatment works best! Carpal tunnel, arthritis, tendinitis resolved naturally and safely. Long lasting results.
Author
Publisher Name
Raleigh Acupuncture Associates
Publisher Logo