Rheumatoid Arthritis Treatment With Acupuncture
A number of research studies have found acupuncture treatment effective for rheumatoid arthritis. This summary of rheumatoid arthritis research was edited and produced by the Acupuncture Research Resource Centre, published by the British Acupuncture Council, June 1998. Eight papers were reviewed – three overview papers and five trial papers.
Rheumatoid Arthritis Research
Rheumatoid arthritis is a more complex disorder than osteoarthritis. Therefore, one can expect that treatment and demonstration of effectiveness are more difficult. The three overview articles on rheumatoid arthritis confirm this.
In 1985 Bhatt-Sanders concluded that, in view of the lack of high quality trials, acupuncture was not a treatment for rheumatoid arthritis, and this was probably the mainstream view in the UK for many years. However opinions are now changing.
Kenyon (1995) suggested that acupuncture could help with pain relief. MacPherson and Blackwell (1994) included evidence from China supporting acupuncture for both pain relief and inflammation control. This paper was helpful because it presented a treatment strategy for rheumatoid arthritis based on Chinese experience.
Review of Trials
Man and Baragar (1974), the single rheumatoid arthritis research study undertaken in the West, gives impressive results. It concluded that acupuncture provided pain relief sustained over 2-3 months from just one local treatment. They recorded no anti-inflammatory effect from the treatment. Alternatively, sham (fake) acupuncture gave only small and transient relief.
All four remaining uncontrolled outcome studies were from China. They specifically addressed the question of immune response and pain relief. Luo (1987) treated 65 patients with moxa (Chinese topical herb) and claimed an overall success rate of 86%, showing that ESR levels fell and negative rheumatoid factor (RF) increased. Sed rate, or erythrocyte sedimentation rate (ESR), is a blood test that reveals inflammatory activity in the body.
Wang (1993), was a rheumatoid arthritis research study reporting on 650 patients given long term acupuncture treatment for rheumatoid arthritis. They described a range of positive symptomatic changes, including significant reductions in ESR and RF levels.
Liu (1993) attributed changes in immune function of his 34 patients to the acupuncture treatment. All patients improved and his findings reflect those of the earlier authors in relation to RF and ESR. Guan (1995) focused upon measuring immunoglobulin (Ig) antibody levels in his small study and described a statistically significant change after a course of 15 acupuncture treatments. He also confirmed others' findings of positive changes in ESR and RF.
These were factors objectively recorded through serum tests and therefore are significantly different from most results recorded in rheumatoid arthritis research studies from China. However rheumatoid arthritis is a disease characterized by periodic flare-ups. Without more explanation of how immune system parameters might be expected to vary in such patients, this data must be considered as interesting and worthy of further research rather than categorical proof.
Discussion
It is common for Chinese research relating to the treatment of Western disease categories with acupuncture to claim success rates of well over 80% with little or no information being provided on outcome measures. However in this review the Chinese evidence includes changes in immunological function as well as pain alleviation. Furthermore, the numbers of patients involved in these studies make them difficult to ignore, especially in disorders where conventional treatment is limited.
Methodologically there are shortcomings from the point of view of what is scientifically acceptable. For example, one would need to have a far greater understanding of how the reported trials were carried out and assessed. However, they are more likely than many Western trials to use treatment protocols acceptable to practicing acupuncturists.
For example, Man & Baragar (1974) gave one treatment at 3 points, whereas Liu (1993) gave 30 treatments on 22 points in his rheumatoid arthritis research. If there is a mechanism where acupuncture can bring about an immune response it is hardly surprising that the Chinese treatments found the effect where the more limited Western studies did not.
Conclusion
Acupuncture has been shown to provide pain relief and an anti-inflammatory response in rheumatoid arthritis patients. Treatment early in the disease is preferable but age and duration of the disease should not be seen as barriers to treatment. The rheumatoid arthritis research to date is limited. Better trials are encouraged that will incorporate a diagnosis based on TCM differentiation along with pain scales and immune function measurements.
Acknowledgements to Leon Saunders, Alison Gould and Hugh MacPherson for their work in preparing this briefing paper.
Next Steps
If you have rheumatoid arthritis, come in for acupuncture. We have been successfully treating this condition for many years. Our results concur with the rheumatoid arthritis research above. Acupuncture helps reduce pain and inflammation in rheumatoid arthritis patients.
BOOK NOW to schedule an appointment online.
WATCH VIDEO ABOUT OUR RA TREATMENT.
LEARN ABOUT OTHER AUTOIMMUNE CONDITIONS WE TREAT.
Summary
Article Name
Rheumatoid Arthritis Research Shows Acupuncture Effective
Description
Rheumatoid arthritis research shows that acupuncture effective reducing pain and inflammation, resolving flares and controlling autoimmune condition safely.
Author
Publisher Name
Raleigh Acupuncture Associates
Publisher Logo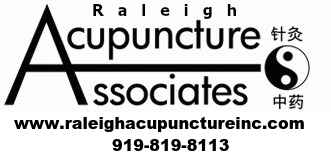 What our Clients are Saying
I'm an RA veteran, having been diagnosed over 20 years ago. So I know all about the treatments and what they can do. Somehow I had overlooked acupuncture. Maybe it was a bias against "alternative" medicine. In any case, my aunt pressured me into trying her acupuncturist. She goes for asthma treatments, but said that the acupuncture treatment for auto-immune disease was similar. My research was inconclusive, but I decided to give it a try. I knew it couldn't make my condition worse.
To my surprise the acupuncture has substantially reduce my daily pain levels. My flares are less frequent and intense, and pain does not move as quickly from place to place. The doc at Raleigh Acupuncture said there was indeed a connection between RA and other auto-immune diseases in the way Chinese medicine approached treatment. They said that the acupuncture slows the auto-immune response. I can actually feel that happening inside my body.
So I'm taking less medications, having less pain, and am able to be more active. Acupuncture is now an important component of my wellness plan for RA. I'm very grateful to Raleigh Acupuncture for their continued help.
Piedmont J
I am newly diagnosed with rheumatoid arthritis (six months ago). My pain was traveling from my hips to feet, with something hurting pretty much all the time. My doctor suggested I try acupuncture as part of my therapy. He had referred other patients to Raleigh Acupuncture and they reported success. I'm feeling much more optimistic since going there. Before the acupuncture, my pain was really bad. Since I've started acupuncture, my pain has decreased by half at least. The acupuncture doctor really understands what I'm going through.
Winston P
The doctor at Raleigh Acupuncture was brilliant at reducing my pain from RA. My wrists and ankles were so bad I could not walk. After a series of treatments the pain is 90% better and I'm living my life like normal. If you've got RA, you MUST try acupuncture. I shared my story with my RA support group. They were all queasy about the idea of acupuncture. I told them they were crazy not to make an appointment with my acupuncture doctor. The treatment doesn't even hurt. I wish I knew about this 5 years ago when I was first diagnosed!!
Sue C
Summary
Article Name
Rheumatoid Arthritis Research Shows Acupuncture Effective
Description
Rheumatoid arthritis research shows that acupuncture effective reducing pain and inflammation, resolving flares and controlling autoimmune condition safely.
Author
Publisher Name
Raleigh Acupuncture Associates
Publisher Logo