Today's blog post describes a simple meditation technique I've been sharing with patients for years. It reduces stress, increases Qi circulation, and boosts the immune system. You can learn this technique in no time at all and can start practicing it immediately.
Before we dive into this elegant, simple meditation technique, let's briefly discuss why meditation helps reduce stress, increase Qi circulation and boost the immune system.
How Does Meditation Work?
Meditation is "intentional breathing." The way we breathe all day is automatic. Our autonomic nervous system keeps our hearts beating and lungs breathing without us needing to do anything. Intentional breathing is what cigarette smokers do, inhaling and exhaling with a purpose. If cigarette smoke were not dangerous for our health, smoking would be my favorite form of meditation.
Think about it – smokers meditate every hour on the hour, outside in the sunshine. They disconnect from their work, taking time "to chill." Most importantly, they spend five minutes breathing in and out as they smoke their cigarette. The act of intentional breathing does fantastic things. It regulates our heart rate, smooths breathing, circulates Qi (energy) and improves blood flow. Smoking is a straightforward meditation technique.
The only problem is that smoking causes lung cancer and emphysema! So what other ways can we intentionally breathe? The two blockbuster methods are transcendental meditation and mindfulness meditation. They've been around for a long time and get the job done. Spoiler alert – I don't recommend them for people just starting on the meditation path. They might overwhelm you. Let's take a brief look at these two superstars.
Transcendental Meditation
I learned TM back in 1980 at college. I paid $150, attended three classes, and was initiated into what, at the time, felt like a secret society. It's been a delightful meditation technique for me over the years. The classes reviewed practical tips for training the mind to relax in a step-by-step fashion. Afterward, they gave me a mantra, a word that you repeat over and over again in your mind.
TM requires meditating for twenty minutes in the morning and evening, every day. Tens of thousands of people practice TM all over the world. They have a fantastic organization – very slick but sincere. The cost these days is about $500. The thing that makes TM work is intentionally breathing 40 minutes a day. Yes, the mantra helps focus your mind, but I believe it's the breathing that brings the most benefit.
Mindfulness Meditation
Another popular form of meditation is called mindfulness, which evolved from Buddhist meditation practices. Mindfulness focuses on maintaining a moment-by-moment awareness of your thoughts, feelings, body sensations and surroundings. It has two main parts: attention and acceptance. While you sit and breathe, you pay attention to your surroundings and accept without judgment any thoughts, feelings, or sensations.
The times I attended mindfulness meditation classes, we sat for thirty to forty minutes. There is no doubt that people can work their way up to meditating for that amount of time or longer. And they would benefit tremendously from their effort. However, I'm not motivated to do it, and most of my patients are not either.
These two Cadillacs of meditation style have one thing in common – intentional breathing. Wouldn't it be nice if we could find a way to practice intentional breathing in a simpler, less expensive, more time-efficient manner (that does not cause lung disease)?
Simple Meditation Technique
Several years ago, I came up with a simple meditation technique and dubbed it Bathroom Meditation. The name is meant to be cute and a bit provocative, but it conveys the technique's essence. Every time you go to the bathroom during the day, make sure to take five intentional breaths.
Why the bathroom? For many reasons. First, you find yourself there every day, without exception, multiple times. Second, there are few distractions in the can. No one is trying to talk to you, you're not on the phone (hopefully), and no television or radio is grabbing your attention.
The technique is simple – take five intentional breaths, in and out, consecutively. As you breathe, you will experience several positive reactions. First, you will feel calmer. Second, the muscles in your head and neck will ease. Third, your heart rate will slow down. And most importantly, your Qi and blood will start flowing better throughout your body, nourishing organs and boosting the immune system.
Meditation Reduces Anger
Have you ever seen a person smoking a cigarette while yelling at someone? Not likely. Smokers typically have a mellow, chill expression as they are taking a long drag. Oh, how I wish it were healthy to smoke. I would gladly pay the cigarettes' cost for the beautiful ritual surrounding this ancient form of intentional breathing.
My backup plan, bathroom meditation, while significantly less glamorous, gets the job done. Imagine that you're at work and someone ticks you off. Head to the bathroom and take five intentional breaths. As you do, observe the anger drain away. This is equally effective for reducing stress, frustration, worry, fear, and envy. Intentional breathing is the key to better health.
Next Steps
If you've been looking for a way to reduce stress and boost your immune system, try this simple meditation technique today. You can put up a sign in the bathroom that reads, "Remember Your Bathroom Meditation." Try it for a week and see how you feel. At that point, you will be an official member of the Bathroom Meditation Society. And it won't cost you a dime.
Meet Our Practitioners (Video)
Book Now To Schedule An Appointment Online.
Summary
Article Name
Simple Meditation Technique - Raleigh Acupuncture
Description
Simple meditation technique - Raleigh Acupuncture. Learn the world's most simple, effective way to reduce stress and improve health.
Author
Publisher Name
Raleigh Acupuncture Associates
Publisher Logo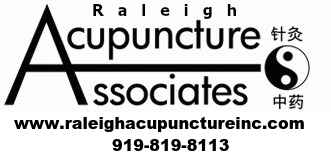 Summary
Article Name
Simple Meditation Technique - Raleigh Acupuncture
Description
Simple meditation technique - Raleigh Acupuncture. Learn the world's most simple, effective way to reduce stress and improve health.
Author
Publisher Name
Raleigh Acupuncture Associates
Publisher Logo