A 32-year-old woman came to our clinic stressed out and up to her ears with worry. She had a six-month-old baby girl, had just gone back to work, was trying to run a household, and still have quality time with her husband. She was tired, not sleeping well, struggling with feelings of overwhelm, anxiety, and exhaustion. This stress relief acupuncture case study describes how we helped get her back on her feet in six short weeks.
Having A Baby Is Exhausting
It's a lot of work having a baby. There's the pregnancy, delivery, nursing, sleepless nights, and caring for a newborn. And just when the mom feels like she's getting things under control, it's time to go back to work. That's when our patient hit the wall. She had a successful job in sales before starting a family. She was an extrovert, social, outgoing, a real go-getter. That's why it caught her off guard when she found herself stressed out and tired at the job after returning from maternity leave.
Before having her baby, our patient could work long hours with no problem. Now, however, she was overwhelmed at work. She did not feel like her usual vibrant self. Of course, she was not sleeping well. Her baby was keeping her up. She was still breastfeeding at home. We explained to her that breast milk was considered a precious resource in Chinese medicine, like blood. It took energy to produce breast milk, energy that taxed the mother. That meant it would deplete her in other ways – thus explaining her stress and fatigue.
Stress Relief Acupuncture Case Study
Our patient's stress was due to overtaxing herself following giving birth. She was pushing too hard, and her body was letting her know it. She needed to either slow down or provide more resources to manage the situation. Since she did not have the option to stop working, acupuncture would have to provide the nourishment she needed. Luckily, acupuncture was up to the job.
Acupuncture is a natural healing modality that taps into your body's ability to generate energy. It enables your body to run more efficiently and allows organs to work more effectively. Acupuncture reduced stress by circulating energy, like water flowing in a river.
We've all seen rivers congested with tree limbs and debris. The water is unable to move, causing stagnation. The same thing happens in our bodies. Stress causes our body's energy, called Qi (pronounced Chee), to stagnate, leading to pain and disease. Acupuncture activates our organs to circulate Qi again, allowing us to heal and overcome stress and disease.
Our Patient's Pattern Diagnosis
The root of our patient's problem was simple. She had lost a great deal of blood during her delivery. Breastfeeding had further depleted her of blood resources, since breast milk is considered similar to blood. She was managing reasonably well, taking care of herself and her baby at home. But when she went back to work, the additional strain pushed her over the edge. She did not have the extra Qi and blood reserved. This led to overtaxing her system and causing her to feel stressed out.
Her Chinese medicine pattern diagnosis was Spleen Qi and Blood deficiency and Liver Qi stagnation. The treatment goal was to boost her Spleen Qi, build blood, and smooth her Liver Qi to reduce stress.
Customized Treatment
We used the following points to treat our patient in this stress relief acupuncture case study: LV3, SP6, ST36, LV8, LI4, PC6, GV20, BL15, BL18, BL20, BL23, Si Shen Cong, Yin Tong and Ear Points including Shen Men, Point Zero, Liver and Kidney. We varied the points from treatment to treatment.
Each week when she came for her appointment she gave us an update on how she was feeling. We felt her pulse and looked at her tongue, recording the subtle changes from the previous week. As her pattern changed, so too did her presentation. This feedback was important because her pattern was constantly evolving and her acupuncture treatment needed to be adjusted to best meet her needs.
Excellent Results
After the first treatment, our patient had 20% less stress, improved sleep quality, and less overwhelm at work. After another two treatments, her stress levels were 50% reduced. She was amazed and asked us how these results were possible. We explained that the acupuncture points promoted her body to heal itself.
Specifically, the points boosted her Spleen Qi, promoted blood production, and smoothed her Liver function, resulting in more energy and less stress. And she felt the difference. After a total of six treatments, she felt completely restored. She was able to handle work better without feeling overwhelmed. Life was still full, but now it was manageable and even enjoyable.
Next Steps
If you are struggling with feelings of stress or overwhelm, try acupuncture. Treatments are safe, natural, and highly effective.
BOOK NOW to schedule an appointment online.
WATCH VIDEO ABOUT OUR STRESS RELIEF TREATMENT.
LEARN ABOUT ALL THE CONDITIONS WE TREAT.
Relax With Acupuncture
As this stress relief acupuncture case study demonstrated, just a few treatments will help you restore energy and balance. If a new mom can find peace after returning to work, you can too!
Summary
Article Name
Stress Relief Acupuncture Case Study - Raleigh Acupuncture
Description
Stress relief acupuncture case study. 32-year-old woman jugging a new baby, husband and job found better sleep, peace of mind with acupuncture
Author
Publisher Name
Raleigh Acupuncture Associates
Publisher Logo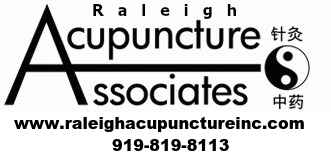 What our Clients are Saying
I was feeling depressed and stressed because I didn't like my job and didn't know what to do with my life.  I started taking Lexipro but it really affected my libido so I stopped taking it.  I tried acupuncture because my husband said it helped him when he was depressed years earlier (before he met me!)  I went to Raleigh Acupuncture and started treatments.  They were really knowledgeable about Chinese medicine and explained how the body gets stuck in depression, and how the acupuncture gets the body unstuck.  They really listened to me and helped me figure stuff out.  I started feeling less depressed.  Then I actually started getting more clear about what I wanted to do with my life career-wise.  I decided to go back to school and now I'm almost done with my degree.  I haven't felt depressed at all since I was treated and I'm really excited about my life.  I'm very grateful to them for being such great healers and such a great support to me when I really needed it.
Tracy B
Thank you for your gentle healing spirit. May God bless you as you help others in the healing methods of acupuncture.. My sessions for stress relief were very helpful. In gratitude.
Susie W
I just started acupuncture and I can really see the benefits. I've done massages and all the Western style treatments but this is amazing! It relaxes me in ways I didn't know could happen and I feel immediate results. I would recommend acupuncture as a treatment. The doctor was great in my initial meeting more thorough than my regular doctor. Highly recommend this!
Lynn S
Summary
Article Name
Stress Relief Acupuncture Case Study - Raleigh Acupuncture
Description
Stress relief acupuncture case study. 32-year-old woman jugging a new baby, husband and job found better sleep, peace of mind with acupuncture
Author
Publisher Name
Raleigh Acupuncture Associates
Publisher Logo