We are turning the corner from July to August and it's hot and humid outside. Some people like it, others hate it. Many of our patients are negatively affected by the high humidity of summer. For them, summer humidity brings fatigue and body pain. Today's blog post explains why this happens and what you can do about it.
Summer Humidity Brings Fatigue
Humid weather taxes our Spleen function. This is a Chinese medicine concept. Our spleen plays a very important role in a healthy metabolism. It's the Spleen's job to convert the food we eat into energy. When Spleen function is weak, two things tend to happen. First, people feel tired. They are not transforming food into energy. Second, they gain weight. Food that does not turn into energy turns into fat.
Summer Humidity Brings Body Pain
Another Chinese medicine concept is that certain factors in our external environment can invade our bodies and give us trouble. Cold invades the stomach, causing stomach and intestinal pain. Wind invades the body causing muscle spasms and twitching. Heat invades the body causing pathogenic fever. Dampness (humidity) invades the body causing muscle pain.
Dampness invasion is what many people are experiencing right now, at the height of summer. It's so humid outside that some people who are more vulnerable to this element are feeling more body pain. More vulnerable people include those who suffer from fibromyalgia and chronic pain.
How Acupuncture Helps Reverse Fatigue and Pain
Acupuncture strengthens the Spleen. When it does, the body becomes stronger, metabolism is improved, and we are less susceptible to the effect of dampness. Specific acupuncture points prompt the body to boost Spleen function. It's like recharging a battery. The result is feeling more energy and less body pain.
During the past week we have treated over 10 people presenting with more fatigue and pain, starting in July (when heat and humidity increased significantly). These patients received acupuncture to boost their Spleen's ability to transform food into energy and ward off dampness to reduce body pain. Within a day or two they will start feeling the benefit of this unique treatment.
How Much Treatment Will You Need?
Now that you know why summer humidity brings fatigue and body pain, how much treatment will you need to get relief? That depends on how weak your Spleen function is. Some people just need a tune up. Others have felt the effects of Spleen Qi deficiency (that's what we call it) for many years, and will need a series of treatments to restore proper Spleen health.
What To Expect
All needles are sterile, single-use and hair thin. You will hardly feel them. Many of our patients fall asleep during their treatment, and wake feeling relaxed. There are no negative side effects with acupuncture. And it is the most powerful treatment for your health because it treats at the root level.
Next Steps
BOOK NOW to schedule an appointment online.
WATCH VIDEO ABOUT OUR SUMMER HEAT FATIGUE TREATMENT.
LEARN ABOUT ALL THE CONDITIONS WE TREAT.
Summer Humidity Brings Fatigue and Body Pain
If you are feeling more tired lately, or have more body pain, try acupuncture. It may just provide the relief you've been longing for. Summer humidity brings fatigue and body pain, but acupuncture brings relief!
Summary
Article Name
Summer Humidity Brings Fatigue and Body Pain - Raleigh Acupuncture
Description
Summer humidity brings fatigue and body pain - Raleigh Acupuncture. Learn why and what you can do about it in today's blog post.
Author
Publisher Name
Raleigh Acupuncture Associates
Publisher Logo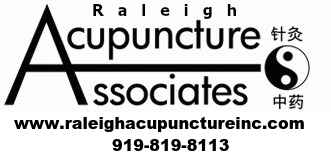 What our Clients are Saying
About six months ago I starting getting debilitating fatigue, to the point where I could not exercise and had to drag myself through the day at work.  The doctors said it must be stress, because there was nothing wrong with me.  But when I went to Raleigh Acupuncture, they said that my digestion was weak.  They said I was not getting proper energy from the food I was eating, so they treated my digestive system.  I was amazed to see my energy increase after the treatments.  Within 10 treatments I was back to my old self, exercising again and working through the day no problem.  And as a side benefit, I started losing weight.  They said this was related to my improved digestive function.  Now my friends want to go because they see my energy back and see me losing weight!
Hilary D
I am a long term patient of Raleigh Acupuncture. Prior to being under their care, I was disabled with terrible fatigue and pain all over my body. I was unable to drive, could only walk less than a block, and had numerous symptoms that mystified doctors. After countless lab work, x-rays, and MRI's, several doctors including my primary physician told me that there was nothing that could be done. According to them, it was either an illness that was undiagnosable or it was all in my head. When I came to Raleigh Acupuncture, it was a breath of fresh air. They took me very seriously and were not mystified by my condition. They assured me that my condition was treatable and manageable. They treat me with respect, dignity and care; something that I didn't receive at my primary care doctor. Thanks to their treatments I am now living a normal life. They have restored my health and taught me how to manage my condition. My family and friends can't believe how much improvement I have made. My son is grateful to have his mommy back! And I am eternally grateful to Raleigh Acupuncture! They truly have the gift of healing!
Rossina C
I'm a golfer and started having trouble with my left shoulder over a year ago. My doctor wanted to do surgery, but I wanted to try other alternatives first. So I tried acupuncture. The folks at Raleigh Acupuncture were very professional, reasonably priced and did excellent work. They resolved my shoulder pain completely. I use them now for other pains in my post-50 body! Thank you Raleigh Acupuncture.
Tony J
I'm a dentist and over the last 20 years the nature of my work and positions required by my work had resulted in chronic neck pain. It affected my sleep, limited my ability to exercise, and was just a real pain in the neck! A friend at church recommended Raleigh Acupuncture and I gave it a try. I have to say that I was a bit skeptical, but gave it a try because I had tried a number other therapies with no success. I'm glad I did. They resolved my neck pain completely!
Brent W
I still am forever in your debt for helping me through the Lymes recovery. My body pain and fatigue were overwhelming before getting acupuncture. I still tell everyone today that I am 100% positive that my recovery was a direct result of your expert care. Truly. I have very little residual effects from the disease that I can easily live with. So again,thank you not only for your amazing skills, but for the compassion and kindness that you showed me during that time.
Carol F
All of my joints were hurting. I've got fibromyalgia and it effects me by making my joints hurt. The pain would move around from place to place, first the hip, the next day the shoulder, then the knee, etc. The practitioner at Raleigh Acupuncture explained that the best way to treat my kind of moving joint pain was to treat me holistically. Instead of treating the hip one day, the shoulder the next, they treated the root of the pain. They said this type of treatment would also improve my mood and my sleep. Right on all counts. I started feeling better after the second treatment. It's like all of the joints just settled down and stopped giving me trouble. I had less flares and the intensity of the pain went way down. My sleep is better, not just because I have less pain. I'm more relaxed and less stressed. I've made this treatment a regular part of my life. I'm very grateful.
Beth C
I suffered from low back pain for years and tried many different remedies. When I came to Raleigh Acupuncture, they really listened to understand my issues. I can honestly say that they cured my chronic back pain. I didn't think it was possible, after all these years. I highly recommend this practice. The doctors take the time and do good work.
Jake P
Summary
Article Name
Summer Humidity Brings Fatigue and Body Pain - Raleigh Acupuncture
Description
Summer humidity brings fatigue and body pain - Raleigh Acupuncture. Learn why and what you can do about it in today's blog post.
Author
Publisher Name
Raleigh Acupuncture Associates
Publisher Logo