Are you feeling depressed? Do you lack motivation to get out of the house, call a friend or go to work? Do you feel like you're missing all the fun? You're not alone. Feelings of depression are shared by millions of people every day. Acupuncture can help. Research shows that acupuncture eases depression safely and naturally.
Acupuncture Eases Depression
Chinese medicine recognizes depression as a physical imbalance, not just an emotional problem. We all have different physical imbalances, leading to ailments like stomach pain, headaches, insomnia and knee pain. Depression is nothing more than an emotional symptoms triggered by a physical imbalance. And just as back pain or knee pain can be corrected, so too can depression.
How It Works
When you come for treatment we first identify the root cause of your depression. The imbalances are located at the organ level, and our treatments bring organs into proper balance. In Chinese medicine we see depression rooted in the Liver, Heart and Spleen. This will make no sense to a Western doctor. In Chinese medicine we see the function of organs like the Liver, Heart and Spleen in a completely different way.
We often will refer to the "Chinese Liver", "Chinese Heart" or "Chinese Spleen", to differentiate between the organs' Western medical function and their Chinese medical function. Regardless of how silly it may sound to treat the Liver for depression, treating based on these principals gets amazing results. And results are what count! Once your organs are balanced, the feelings of depression will ease.
What To Expect
You lay down during treatment on a comfortable table. Sterile, single-use, hair-thin needles are inserted painlessly in the correct points to influence organ function. Once in place, the needles send a constant message to your body and the healing begins.
You don't feel a thing, except relaxed and happy. You may fall asleep or just feel peaceful during the treatment. It's actually more relaxing than a massage. Afterwards you feel like you've had a deep, restful nap.
You will start sensing the difference in your emotions after the first few depression treatments. Treatment plans differ based on the individual's needs and condition. Mild cases resolve faster than moderate or severe ones. All levels of depression respond well to acupuncture. If appropriate, we will suggest taking Chinese herbs as part of your depression treatment. We have a full Chinese herbal medicine pharmacy at our clinic.
We are not opposed to working with Western medical doctors if you are currently on medications. Medications for emotional issues like depression and anxiety have their place. And acupuncture is safe to use concurrently with medications.
Next Steps
If you suffer from depression, try acupuncture. You will likely find that acupuncture eases depression for you.
BOOK NOW to schedule an appointment online. Or call us at 919-819-8113 and we will set up an appointment for you.
WATCH VIDEO ABOUT OUR DEPRESSION TREATMENT.
READ MORE ABOUT OTHER EMOTIONAL CONDITIONS WE TREAT.
Summary
Article Name
Acupuncture Eases Depression Safely and Naturally
Description
Acupuncture eases depression safely and naturally. Experience natural healing for depression and anxiety. Treatments are relaxing.
Author
Publisher Name
Raleigh Acupuncture Associates
Publisher Logo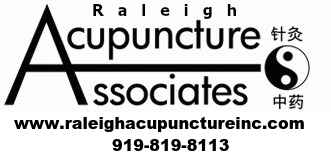 What our Clients are Saying
I was feeling depressed and stressed because I didn't like my job and didn't know what to do with my life.  I started taking Lexipro but it really affected my libido so I stopped taking it.  I tried acupuncture because my husband said it helped him when he was depressed years earlier (before he met me!)  I went to Raleigh Acupuncture and started treatments.  They were really knowledgeable about Chinese medicine and explained how the body gets stuck in depression, and how the acupuncture gets the body unstuck.  They really listened to me and helped me figure stuff out.  I started feeling less depressed.  Then I actually started getting more clear about what I wanted to do with my life career-wise.  I decided to go back to school and now I'm almost done with my degree.  I haven't felt depressed at all since I was treated and I'm really excited about my life.  I'm very grateful to them for being such great healers and such a great support to me when I really needed it.
Tracy B
I had very severe depression after my son was born.  The doctors put me on medication, which helped, but I still had no motivation and felt very sad.  I tried acupuncture and it really improved my mood.  I would say that within four weeks of starting treatment I was no longer depressed.  My motivation returned, I was able to get out of bed in the morning ready to go, and I started enjoying my son for the first time.  I think the combination of medications and acupuncture worked great for me.  I appreciate the caring and skill at Raleigh Acupuncture and recommend them highly for treating depression.
Ari S
Summary
Article Name
Acupuncture Eases Depression Safely and Naturally
Description
Acupuncture eases depression safely and naturally. Experience natural healing for depression and anxiety. Treatments are relaxing.
Author
Publisher Name
Raleigh Acupuncture Associates
Publisher Logo