Acupuncture helps rheumatoid arthritis by quieting the immune system. Autoimmune diseases like RA involve the "over-action" of the body's immune system, resulting in inflammation. In rheumatoid arthritis, the autoimmune response generates inflammation in the joints, resulting in pain. Acupuncture calms this autoimmune response, thereby reducing inflammation and pain.
Research Confirms Acupuncture Benefits For RA
CLICK HERE to read about a 2019 research study on the efficacy of acupuncture in the treatment of rheumatoid arthritis.
Understanding Rheumatoid Arthritis
The Center for Disease Control (CDC) has this to say about RA:
Rheumatoid arthritis, or RA, is an autoimmune and inflammatory disease, which means that your immune system attacks healthy cells in your body by mistake, causing inflammation (painful swelling) in the affected parts of the body.

RA mainly attacks the joints, usually many joints at once. RA commonly affects joints in the hands, wrists, and knees. In a joint with RA, the joint's lining becomes inflamed, causing damage to joint tissue. This tissue damage can cause long-lasting or chronic pain, unsteadiness (lack of balance), and deformity (misshapenness).

Source: https://www.cdc.gov/arthritis/basics/rheumatoid-arthritis.html
Acupuncture Helps Rheumatoid Arthritis
Acupuncture helps rheumatoid arthritis patients in three important ways.
First, as mentioned above, acupuncture calms the immune system by restoring balance throughout the body and reclaiming homeostasis. An autoimmune flare is an imbalance in the body, where the immune system is overacting on itself. Acupuncture acts to "quiet" the overaction, restoring normal immune function.
Second, acupuncture increases qi and blood circulation to the joints in the body. RA causes inflammation in the cartilage of joints, leading to stiffness and pain. By generating better blood circulation, acupuncture helps reduce and disperse local inflammation of the joints, restoring movement and reducing pain.
Third, acupuncture nourishes connective tissue, including the cartilage that coats the joints. Other forms of connective tissue that benefit from acupuncture include tendons and ligaments. Cartilage is non-vascular, which means it has poor blood circulation. Acupuncture promotes qi circulation, which in turn circulates the blood.
Qi infiltrates the entire body, nourishing organs, muscles, tendons, ligaments, bones, and cartilage. Qi reaches into the hardest-to-reach places in the body, infusing nutrients to promote proper function. In the case of joints, qi helps heal inflamed cartilage, restoring proper joint function.
RA Acupuncture Case Study
A patient with RA came to Raleigh Acupuncture complaining of joint pain that moved from joint to joint. The pain started in her wrists but soon moved to her hips and then to her ankles. Her doctor had done bloodwork which revealed elevated rheumatoid factor (RF), and he diagnosed her with rheumatoid arthritis. The following is an example of how acupuncture helps rheumatoid arthritis.
We treat RA with a whole-body approach instead of chasing the pain from wrists to hips to ankles. We select points to boost organ function, circulate qi and blood, and nourish connective tissue. Some of the acupuncture points we used in her treatment included: ST36, SP6, KD6, Li11, Li4, CV12, CV6, BL17, BL18, BL20, and BL23. Within three treatments, she started feeling better with less joint pain. We soon had her on a maintenance program where she came in once a month, which kept her RA at manageable levels.
What To Expect
All needles are sterile, single-use, and hair-thin – most patients hardly feel them! The treatments themselves are quite relaxing – acupuncture calms the body as well as the mind. You will feel refreshed and rejuvenated after your session.
To experience how acupuncture helps rheumatoid arthritis, we recommend getting four consecutive treatments (once a week or once every two weeks) and then evaluating your progress. Most patients respond positively to acupuncture, often after just one or two treatments. However, if you don't improve after the four initial sessions, we will help you find a different therapy to try. Happily, over 90 percent of our patients get good results.
Next Steps
BOOK NOW to schedule an appointment online.
Watch Video About Our RA Treatment.
Learn about all the conditions we treat.
Acupuncture helps rheumatoid arthritis by mobilizing your body's innate healing capacity. Medications have their place and are often instrumental in effective RA management, but you also want to maximize your body's ability to heal itself. Acupuncture excels in this department. Come in and experience acupuncture's powerful healing potential for yourself.
Summary
Article Name
Acupuncture Helps Rheumatoid Arthritis - Raleigh Acupuncture
Description
Acupuncture helps rheumatoid arthritis - Raleigh Acupuncture. Reduces inflammation and pain, with no adverse effects. Long-lasting relief.
Author
Publisher Name
Raleigh Acupuncture Associates
Publisher Logo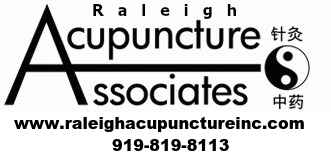 What our Clients are Saying
I'm an RA veteran, having been diagnosed over 20 years ago. So I know all about the treatments and what they can do. Somehow I had overlooked acupuncture. Maybe it was a bias against "alternative" medicine. In any case, my aunt pressured me into trying her acupuncturist. She goes for asthma treatments, but said that the acupuncture treatment for auto-immune disease was similar. My research was inconclusive, but I decided to give it a try. I knew it couldn't make my condition worse.
To my surprise the acupuncture has substantially reduce my daily pain levels. My flares are less frequent and intense, and pain does not move as quickly from place to place. The doc at Raleigh Acupuncture said there was indeed a connection between RA and other auto-immune diseases in the way Chinese medicine approached treatment. They said that the acupuncture slows the auto-immune response. I can actually feel that happening inside my body.
So I'm taking less medications, having less pain, and am able to be more active. Acupuncture is now an important component of my wellness plan for RA. I'm very grateful to Raleigh Acupuncture for their continued help.
Piedmont J
I am newly diagnosed with rheumatoid arthritis (six months ago). My pain was traveling from my hips to feet, with something hurting pretty much all the time. My doctor suggested I try acupuncture as part of my therapy. He had referred other patients to Raleigh Acupuncture and they reported success. I'm feeling much more optimistic since going there. Before the acupuncture, my pain was really bad. Since I've started acupuncture, my pain has decreased by half at least. The acupuncture doctor really understands what I'm going through.
Winston P
The doctor at Raleigh Acupuncture was brilliant at reducing my pain from RA. My wrists and ankles were so bad I could not walk. After a series of treatments the pain is 90% better and I'm living my life like normal. If you've got RA, you MUST try acupuncture. I shared my story with my RA support group. They were all queasy about the idea of acupuncture. I told them they were crazy not to make an appointment with my acupuncture doctor. The treatment doesn't even hurt. I wish I knew about this 5 years ago when I was first diagnosed!!
Sue C
Summary
Article Name
Acupuncture Helps Rheumatoid Arthritis - Raleigh Acupuncture
Description
Acupuncture helps rheumatoid arthritis - Raleigh Acupuncture. Reduces inflammation and pain, with no adverse effects. Long-lasting relief.
Author
Publisher Name
Raleigh Acupuncture Associates
Publisher Logo