What is preventive medicine? The goal of preventive medicine is to promote health and well-being while preventing disease, disability and death. Acupuncture is preventive medicine because it does just that. It promotes your health, enhances well-being, and prevents the onset of disease and disability. Acupuncture empowers your body's innate healing capacity.
How Does Acupuncture Prevent Disease?
Acupuncture addresses imbalances at the organ level before they turn into disease. Many people have experienced the phenomenon of going to the doctor complaining about an ailment. The doctor runs tests and looks at your bloodwork, and then concludes that there is nothing wrong with you. From their perspective, nothing is wrong. But that's not exactly accurate.
When you feel unwell, that feeling is most often due to an imbalance in your body, either at the organ level, or in the channels. It could be a pain somewhere, or a symptom like constipation, excess heat, sweating, headache, fatigue or dizziness. Our bodies are amazing at giving us feedback that something is wrong. We need to listen when our bodies communicate with us.
As acupuncturists, we are trained to listen to your body. During your intake exam we ask many questions about your symptoms. We then look carefully at your tongue and feel your pulse, both of which give us critical information about your organ function. From this information we can determine the pattern imbalances that exist in your body.
Armed with a Chinese medicine diagnosis, we create a treatment plan. The acupuncture treatment you receive corrects the imbalances, restoring your health – before major illness can set in. Acupuncture is preventive medicine.
Acupuncture Prevents Onset of Disease
By addressing issues when they are still small, acupuncture can prevent the onset of disease. Imagine a health continuum, from left to right. On the left are small health issues (imbalances). As you move to the right, the issues get more serious, until at the extreme right hand side they are diseases like cancer, heart disease and stroke. By addressing problems as they arise, they will not progress along the continuum to the right.
Western medicine is often unable to recognize early stage health issues. Lab and diagnostic tests are not sensitive enough to register slight imbalances. By the time lab tests identify a problem, it is a BIG problem. Acupuncture, on the other hand, is able to recognize issues when they are still small. Your symptoms (fatigue, headache, cramping, indigestion) in conjunction with your tongue and pulse, give us the clues we need to identify and treat these issues.
For example, patients often come to our clinic complaining of digestive problems like upset stomach, acid reflux or bloating. Acupuncture can quickly correct the underlying imbalances responsible for these symptoms. If left untreated, the patient could ultimately develop more serious health conditions like irritable bowel syndrome or inflammatory bowel disease.
Eastern and Western Medicine Together
We need Western medicine. It is one of modern civilization's greatest treasures. But Chinese medicine and acupuncture should be used to fill the gaps where Western medicine is not strong. Use the right tool for the job. Acupuncture is preventive medicine. Add it into your health arsenal. Address health issues early, and stay healthy longer.
Next Steps
BOOK NOW to schedule an acupuncture appointment online.
MEET OUR PRACTITIONERS (VIDEO)
LEARN ABOUT ALL THE CONDITIONS WE TREAT.
Consider monthly acupuncture "tune-ups". Acupuncture is preventive medicine. An ounce of prevention is worth a pound of cure.
Summary
Article Name
Acupuncture is Preventive Medicine - Raleigh Acupuncture
Description
Acupuncture is preventive medicine, promoting health and well-being while preventing disease, disability and death. Learn more in today's blog post.
Author
Publisher Name
Raleigh Acupuncture Associates
Publisher Logo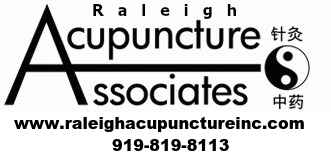 What our Clients are Saying
About six months ago I starting getting debilitating fatigue, to the point where I could not exercise and had to drag myself through the day at work.  The doctors said it must be stress, because there was nothing wrong with me.  But when I went to Raleigh Acupuncture, they said that my digestion was weak.  They said I was not getting proper energy from the food I was eating, so they treated my digestive system.  I was amazed to see my energy increase after the treatments.  Within 10 treatments I was back to my old self, exercising again and working through the day no problem.  And as a side benefit, I started losing weight.  They said this was related to my improved digestive function.  Now my friends want to go because they see my energy back and see me losing weight!
Hilary D
I am a long term patient of Raleigh Acupuncture. Prior to being under their care, I was disabled with terrible fatigue and pain all over my body. I was unable to drive, could only walk less than a block, and had numerous symptoms that mystified doctors. After countless lab work, x-rays, and MRI's, several doctors including my primary physician told me that there was nothing that could be done. According to them, it was either an illness that was undiagnosable or it was all in my head. When I came to Raleigh Acupuncture, it was a breath of fresh air. They took me very seriously and were not mystified by my condition. They assured me that my condition was treatable and manageable. They treat me with respect, dignity and care; something that I didn't receive at my primary care doctor. Thanks to their treatments I am now living a normal life. They have restored my health and taught me how to manage my condition. My family and friends can't believe how much improvement I have made. My son is grateful to have his mommy back! And I am eternally grateful to Raleigh Acupuncture! They truly have the gift of healing!
Rossina C
I still am forever in your debt for helping me through the Lymes recovery. My body pain and fatigue were overwhelming before getting acupuncture. I still tell everyone today that I am 100% positive that my recovery was a direct result of your expert care. Truly. I have very little residual effects from the disease that I can easily live with. So again,thank you not only for your amazing skills, but for the compassion and kindness that you showed me during that time.
Carol F
Summary
Article Name
Acupuncture is Preventive Medicine - Raleigh Acupuncture
Description
Acupuncture is preventive medicine, promoting health and well-being while preventing disease, disability and death. Learn more in today's blog post.
Author
Publisher Name
Raleigh Acupuncture Associates
Publisher Logo