So many women come to Raleigh Acupuncture for acupuncture IVF IUI support. The reason is simple. Our safe, natural treatments dramatically increase success for getting pregnant. Their success leads them to refer friends and family. The word spreads, people learn about acupuncture, and they come in for treatment.
Research Concludes Acupunctures Improves IVF Success
Researchers from the University of Maryland School of Medicine, Georgetown University School of Medicine, and the University of Amsterdam, Holland reported that IVF with acupuncture increased the odds of pregnancy by 65% (according to early evidence on ultrasound), increased the odds of ongoing pregnancy by 87% (based on ultrasound evidence of pregnancy at 12 weeks) and increased the odds of a live birth by 91% compared with IVF on its own.
How Acupuncture IVF IUI Support Works
Acupuncture restores balance to the body, both externally (muscles, joints) and internally (organs, blood circulation). A woman undergoing IUI or IVF will get better results if her body is healthy and strong. Acupuncture provides that "tune-up" safely and naturally.
Each woman presents with particular strengths and weaknesses. Acupuncture addresses the weaknesses to improve health and vitality, both physically and emotionally. When you come in for acupuncture IVF IUI support, we ask many questions about your health, ranging from sleep to digestion, stress levels to bowel function. We also examine your tongue and feel your pulse. Tongue and pulse analysis are ancient diagnostic tools that shed light on your internal organ function.
Reproduction and Kidney Function
In Chinese medicine, the kidneys rule reproduction. Strong kidneys result in healthy pregnancies. For this reason, acupuncture IVF IUI support always includes boosting kidney function. Specific acupuncture points on the body strengthen your kidneys.
Just because you are working with fertility doctors for IVF and IUI, your body still plays a critical role in pregnancy success. The more you do to enhance your overall health, the greater chance of a successful pregnancy and delivery.
Two Case Scenarios
Here are two examples of recent patients to help you better understand how acupuncture works to support women during the IVF and IUI process. Our first patient had undergone four rounds of IUI without success. Her doctor was recommending she move on to IVF. She and her husband decided to try acupuncture first, and then give IUI one final chance.
This patient had fairly good health. She was 37 years old, with no prior pregnancies. She had been on birth control for many years prior to her trying to get pregnant. Two notable health concerns were poor sleep (insomnia) and high stress (work stress). In addition to boosting her kidney function, acupuncture addressed her sleep and stress. After six treatments (coming once a week), she went for round five of IUI. And this time it worked! She got pregnant and had a successful pregnancy and delivery.
Our second patient receiving acupuncture IVF IUI support was a 38-year-old woman who had two unsuccessful rounds of IVF. She was taking a needed break before her third round. A cousin suggested she try acupuncture to improve her odds of success. This patient had a history of very painful menstrual periods with large clots and dark colored blood. Her acupuncture treatment focused on improving blood circulation in her uterus.
After four treatments she saw a dramatic improvement in her menstrual cycle. There was 50 percent less pain, many less clots and the blood was brighter. Four treatments later, her period was almost pain-free! Blood was bright red, with only a few small clots. It was time to try IVF again. Sure enough, her next round of IVF was successful. The key to her success was regulating her menstrual cycle and improve blood circulation in the uterus.
Next Steps
If you or someone you love is undergoing IUI or IVF without success, consider adding acupuncture into the mix.
BOOK NOW to schedule an appointment online.
WATCH VIDEO ABOUT OUR INFERTILITY TREATMENT.
LEARN ABOUT ALL THE CONDITIONS WE TREAT.
In Vitro Fertilization (IVF)
Join tens of thousands of women who have discovered the benefits of acupuncture IVF IUI support. Treatments are safe (sterile, single-use needles), relaxing (many women fall asleep during their sessions), and natural (acupuncture has been practiced for over two thousand years). We look forward to treating you.
References
Manheimer E, Zhang G, Udoff L, et al. Effects of acupuncture on rates of pregnancy and live birth among women undergoing in vitro fertilisation: systematic review and meta-analysis. BMJ 2008; Feb 7 [Epub ahead of print]
Summary
Article Name
Acupuncture IVF IUI Support - Raleigh Acupuncture
Description
Acupuncture IVF IUI support at Raleigh Acupuncture helps women improve success rates by optimizing their health and reproductive function.
Author
Publisher Name
Raleigh Acupuncture Associates
Publisher Logo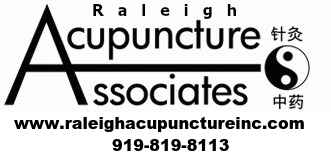 What our Clients are Saying
I was scheduled for IVF and they suggested I get acupuncture beforehand to increase my chances of success.  I went to Raleigh Acupuncture for a month before the procedure.  It was very relaxing and definitely reduced my stress levels.  My uterine lining also increased more than ever before.  The IVF was a success and I'm now pregnant.  It was definitely worth doing the acupuncture.  I did not want to have to repeat IVF for $25K a pop.  And when I got morning sickness, they cured that too!
Maria T
I sought Raleigh Acupuncture's help in 2010 following a miscarriage. Happily, in 2011, I had a very healthy little boy. My son is 11 months old. I tell everyone how much you got me back on track after my miscarriage – it was truly amazing. I had a great pregnancy too.
Jen D
My husband and I had been trying to get pregnant for the past two years.  I had undergone three rounds of Clomid with no success and the doctor was talking about IVF.  We didn't have the money for that, so we tried acupuncture.  They took a lot of time to explain what they were doing with the acupuncture and Chinese herbs.  I learned so much about my cycle and the reasons I was having trouble getting pregnant.  They said it would take 3 to 6 months to get pregnant, and sure enough, after 3 months I was pregnant!  It seems like a miracle to me.  I'm so grateful to Raleigh Acupuncture.  Thank you!!!
Sonya B
Summary
Article Name
Acupuncture IVF IUI Support - Raleigh Acupuncture
Description
Acupuncture IVF IUI support at Raleigh Acupuncture helps women improve success rates by optimizing their health and reproductive function.
Author
Publisher Name
Raleigh Acupuncture Associates
Publisher Logo