Brain fog is a common symptom triggered by numerous health conditions. These conditions include Covid-19, other lingering viruses, perimenopause and menopause, autoimmune diseases (i.e., chronic fatigue, chronic Lyme, Hashimoto's), anxiety, depression, and IBS (stomach and intestinal issues), to name just a few. Acupuncture reduces brain fog by improving the root condition and nourishing the brain, increasing blood circulation to the head, and easing emotional stress.
What Is Brain Fog?
Brain fog defines a group of symptoms: poor memory, inability to concentrate, difficulty processing information, fatigue, and scattered thoughts.
Here are four common signs of brain fog:
Lack of Concentration
About 30 percent of all COVID patients report brain fog lingering symptoms. Most patients with autoimmune disease complain of poor concentration as well. They typically have difficulty focusing on even the simplest of tasks, find it hard to gather their thoughts, and finish the task at hand with precision. As a result, they often feel confused and make silly mistakes.
Slow Thinking
When your brain is affected by an underlying health condition, COVID, or something else, your thinking power can slow down. A task that used to take 10 minutes to finish with minimal effort may now require 30 or 40 minutes of concerted effort. This situation leads to feelings of frustration and often fear – "How am I going to manage my life if I can't think?" Acupuncture reduces brain fog to speed up the thinking process.
Difficult Engaging in Conversation
Brain fog can also impact your conversations and writing skills. For example, it is often difficult to find the right word to use in a sentence when suffering from brain fog. You know the word but am unable to recall it. Brain fog, in some cases, even leads to short-term memory loss.
Trouble Multitasking
Poor concentration and labored thinking make it difficult to carry out multiple tasks at once. As a result, you may feel overwhelmed performing a simple task and see a drop in efficiency and performance levels because your brain finds it hard to concentrate on several tasks at one time.
Acupuncture Reduces Brain Fog
The primary way acupuncture reduces brain fog is to heal the underlying condition responsible for the problem. For example, someone with Hashimoto's disease may have fatigue, cold extremities, anxiety, and brain fog. Acupuncture strengthens the body, manages autoimmune disease, and improves digestion and intestinal permeability. This intervention, in turn, causes their symptoms to ease. They get more energy, feel warmer, have less anxiety, and experience better concentration and mental focus.
Someone experiencing severe anxiety may also have debilitating brain fog. There may or may not be an underlying condition responsible for the stress, but that challenging mental state often leads to difficulty thinking poor concentration, and challenges with multitasking. Acupuncture works wonders to ease anxiety by nourishing the heart, clearing excess heat from the body, calming the mind, reducing stress, and strengthening the digestive tract. The gut often plays a significant role in anxiety, and acupuncture wonders for gut function.
Natural Brain Fog Remedy
No matter what the underlying cause, acupuncture reduces brain fog. You can experience improved concentration, faster thinking, a greater ability to find words for communication, and enhanced multitasking abilities.
Practitioners evaluate patients to identify the root cause triggering their brain fog and then develop treatment plans to address their specific needs. You will know the treatments are working within the first few sessions. If we don't see improvement after four sessions, we'll help you figure out the next steps with a different therapy. Most of our patients, however, experience positive results.
Next Steps
BOOK NOW to schedule an appointment online.
Meet Our Practitioners (VIDEO).
Learn about all the conditions we treat.
Summary
Article Name
Acupuncture Reduces Brain Fog - Raleigh Acupuncture
Description
Acupuncture reduces brain fog - Raleigh Acupuncture. Safely improves concentration, memory, focus and ability to multitask.
Author
Publisher Name
Raleigh Acupuncture Associates
Publisher Logo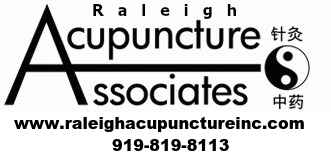 What our Clients are Saying
My wife made me come to acupuncture because I was always forgetting what she told me. Now I remember.  So is this supposed to be good for me?  I'm kidding!  Yes, it helped. I'm not sure how, but it did work.  I'm 90 years old, so I'm not supposed to remember everything, but I feel like my brain got a tune-up.  They put up with my jokes here.  And they fixed my neck pain too.
Joseph P
I suffered memory loss and inability to concentrate following a concussion several years ago.  I made slow progress, but was still struggling in this area.  Acupuncture has truly helped. I now have better recall and I don't get that foggy brain as much.  I'm less distracted as well.  I told my doctor about acupuncture for concussion patients.  I think everyone should get this done as part of their rehab.  I could have used this three years ago.
Melanie T
I'm 87 years old, in good health all things considered.  But my "senior moments" were starting to drive me crazy.  I found their website and read about what acupuncture could do for memory and decided to give it a try.  After several treatments I'm not ready to recite Shakespeare, but I'm not losing my car keys as frequently.  My mind is definitely retaining information better, and I'm grateful for that.  I will continue with the acupuncture and see what else it can do.
Bethany H
Summary
Article Name
Acupuncture Reduces Brain Fog - Raleigh Acupuncture
Description
Acupuncture reduces brain fog - Raleigh Acupuncture. Safely improves concentration, memory, focus and ability to multitask.
Author
Publisher Name
Raleigh Acupuncture Associates
Publisher Logo