According to Wikipedia, "anemia is the most common blood disorder, affecting about a third of the global population" (https://en.wikipedia.org/wiki/Anemia). Simply put, you are anemic when you don't have enough red blood cells, and your blood has a reduced ability to carry oxygen. The ancient Greek word "anaimia" means "lack of blood." Today's blog post describes how acupuncture relieves anemia safely and effectively.
Anemia Symptoms Include The Following:
Constant fatigue and weakness.
Feeling faint and dizzy.
Headaches.
Shortness of breath.
Irregular heartbeat.
Cold hands and feet.
Chest pain.
Feeling cold all the time.
Nausea.
Poor appetite.
Muscle weakness and poor stamina.
Anemia Treatment With Acupuncture
Acupuncturists can identify blood deficiency before it develops into full blown anemia, making it much easier to treat. The telltale signs of blood deficiency include:
Pale complexion.
Pale tongue and lips.
Thin or thready pulse.
Difficulty falling asleep.
Light menstrual period.
Dizziness when standing.
Acupuncture point combinations like ST36 coupled with SP6 or BL17 combined with BL20 effectively generate blood. In addition, Chinese herbal formulas like Si Wu Tang help build blood in deficient patients. We will often identify blood deficiency before patients are diagnosed with anemia or even realize they have a problem. The best medicine acts preventively, catching problems in the early stages before they fully develop.
Who Is Vulnerable to Blood Deficiency?
People prone to blood deficiency include:
Women who recently gave birth, especially if they are nursing.
Women who have heavy periods.
People with chronic constipation.
Vegetarians who are not mindful of nutritional needs.
People taking blood-thinning medications.
Seniors who are sedentary.
These people typically come to our clinic for another condition. So we end up treating them for their main complaint and blood deficiency simultaneously. Acupuncture is all about restoring balance, and healing often requires addressing imbalances of which the patient may be unaware.
Acupuncture Relieves Anemia
When patients come in with a diagnosis of anemia, we get right to work addressing the root causes of their condition. If their menstrual period is too heavy, we treat their liver and kidneys to regulate their cycle. Most women have five days of bleeding, with one to two heavy flow days. Anything more than that is not necessary and can tax their bodies. Acupuncture points like LV3, SP6, and BL23 can help regulate a woman's cycle to act more like the ideal.
Sedentary seniors often have a combination of blood deficiency and blood stagnation – the diminished blood they have is not circulating efficiently. Acupuncture points like SP10, SP6, ST36, BL17, and BL18 help circulate and build blood simultaneously. After a few treatments, patients will have more energy, feel less depressed, and be motivated to increase their activity levels. Acupuncture relieves anemia in different ways depending on the patient's presentation and circumstances.
Recent Anemia Case
A 32-year-old woman came to our clinic with a diagnosis of Chronic Fatigue Syndrome (CFS) and anemia. She was exhausted yet had difficulty falling asleep. In addition, she felt anxious, depressed, lacked motivation, and had chronic constipation. Her doctor had diagnosed her with CFS the previous year but had difficulty improving her condition with conventional Western medicine.
Her intake exam revealed that she had severe spleen qi and blood deficiency, impeding her ability to digest foods. As a result, she could not generate either energy or blood from the food she was eating. In addition, her tongue was pale and scalloped, and her pulse was weak, supporting our diagnosis. Many patients with autoimmune disease have a poor digestive function – what we call spleen qi deficiency – including CFS, chronic Lyme, and fibromyalgia. Her treatment included acupoints ST36, SP6, CV12, CV6, ST21, and ST25.
Within four sessions, her energy improved by 20 percent. After ten sessions, she felt 80 percent better, and blood work confirmed that she was no longer anemic. Her tongue was pink (normal), and her pulse was stronger. She had a better appetite, improved energy and mood, and better bowel function. Essentially, her spleen qi and blood were sufficient, so she felt good again. She still had CFS but was functioning significantly better.
Next Steps
Acupuncture relieves anemia. If you or a loved one suffer from anemia, try acupuncture. Treatments are safe, with no adverse side effects. All needles are sterile, single-use, and hair-thin.
BOOK NOW to schedule an appointment online.
Video – Meet Our Practitioners.
Learn about all the conditions we treat.
Focus Keyphrase: Acupuncture Relieves Anemia
Summary
Article Name
Acupuncture Relieves Anemia - Raleigh Acupuncture
Description
Acupuncture relieves anemia by safely and naturally promoting your body to build blood. Treats at the root level for long-lasting results.
Author
Publisher Name
Raleigh Acupuncture Associates
Publisher Logo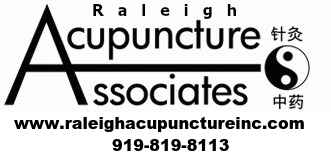 Summary
Article Name
Acupuncture Relieves Anemia - Raleigh Acupuncture
Description
Acupuncture relieves anemia by safely and naturally promoting your body to build blood. Treats at the root level for long-lasting results.
Author
Publisher Name
Raleigh Acupuncture Associates
Publisher Logo