You Don't Have To Live With Sadness
Are you spending too much of your time feeling sad? The acupuncture sadness relief treatment is safe, natural, and effective. It will help you let go of sadness and move into a place of contentment again.
There's Plenty To Be Sad About
Maybe you are getting along alright in your life. You have a decent job, friends, family you love, and a place to live. Your health is OK. Everything is OK, but you still find yourself feeling sad. Or you may be in a place where everything has been going wrong lately. You may have lost your job, a relationship may have failed, or a loved one has recently passed away. This sadness may feel deeper like it's taking over your ability to function in the world.
For some, the days are manageable if you are busy at work or focused on tasks. But when evening comes, or the weekend, then the sadness creeps in. For others, the sadness is there all the time, like the background hum of the interstate highway or crickets. It may not be enough to debilitate you completely, but it may make your life seem boring or pointless. Acupuncture sadness relief can help!
Acupuncture Sadness Relief – How It Works
In most cases, sadness has its roots in the physical, not the emotional. It is an emotion triggered by a physical imbalance. So unlike what we have grown up believing, sadness is not something that you need to overcome mentally or emotionally. On the contrary, it is something that you have to overcome physically. And acupuncture can make that happen.
For three thousand years, Chinese medicine has recognized that physical imbalances cause sadness. One such imbalance is called Qi Stagnation. When the energy in our bodies (pronounced Chi) becomes sluggish or stagnant and fails to flow freely, it can trigger sadness. Qi stagnation is responsible for many different symptoms, depending on the person and their predisposition. For some, Qi stagnation causes irritability and anger. In others, it creates a feeling of intense stress. And then some end up feeling sad.
Another physical imbalance that causes sadness is Heart or Lung deficiency. Like the death of a loved one or a relationship breakup, painful life experiences can trigger a weakness of the heart and lungs. The heart helps us feel joy, but also it's opposite sorrow. And our lungs take the brunt of the work when we grieve. Acupuncture strengthens and restores heart and lung function following traumatic events, helping us heal emotionally.
What To Expect
Stressful situations in our life may cause other physical imbalances. When you come in for acupuncture sadness relief, we will assess you. Our intake involves asking you lots of questions about your health (sleep, energy, digestion, etc.), looking at your tongue, and feeling your pulse. This information helps us understand the specific imbalances that are responsible for your sadness.
When you receive an acupuncture sadness relief treatment, your Qi will start flowing better. Acupuncture rejuvenates deficient organs and disperses excess stagnation. Most importantly, the treatments restore balance. When this happens, something amazing occurs – your sadness goes away. By restoring balance to your body and mind, sadness ceases to occur. It requires no therapy, medications, or self-help books. It's such a simple solution that you may find it hard to believe. We encourage you to come in and experience it for yourself.
The Details
The acupuncture sadness relief sessions are relaxing. You lie on a treatment table while we place single-use, sterile, super-thin needles on the body's surface. Most points are on the arms and legs from the elbows and knees down. The sessions are so relaxing that many of our patients fall asleep during their treatment. Afterward, you feel refreshed and rejuvenated. And most importantly, you feel less sad.
If you are struggling with sadness or depression, don't wait another day. Experience acupuncture sadness relief. Book an appointment online right from this website.
BOOK NOW to schedule an appointment online.
WATCH VIDEO ABOUT ACUPUNCTURE SADNESS RELIEF.
LEARN ABOUT ALL THE CONDITIONS WE TREAT.
Acupuncture Depression Relief
When sadness gets really bad, it can turn into depression. Acupuncture can help using the same principles described above. It's all a matter of degree. If you even suspect depression, don't wait. Seek medical help and relief from acupuncture.
Summary
Article Name
Acupuncture Sadness Relief - Raleigh Acupuncture
Description
Acupuncture sadness relief - Raleigh Acupuncture. Learn how to overcome sadness and depression naturally, with no side effects and long-lasting results.
Author
Publisher Name
Raleigh Acupuncture Associates
Publisher Logo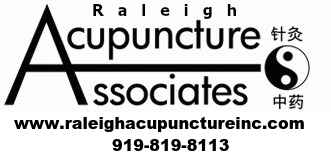 What our Clients are Saying
I was feeling depressed and stressed because I didn't like my job and didn't know what to do with my life.  I started taking Lexipro but it really affected my libido so I stopped taking it.  I tried acupuncture because my husband said it helped him when he was depressed years earlier (before he met me!)  I went to Raleigh Acupuncture and started treatments.  They were really knowledgeable about Chinese medicine and explained how the body gets stuck in depression, and how the acupuncture gets the body unstuck.  They really listened to me and helped me figure stuff out.  I started feeling less depressed.  Then I actually started getting more clear about what I wanted to do with my life career-wise.  I decided to go back to school and now I'm almost done with my degree.  I haven't felt depressed at all since I was treated and I'm really excited about my life.  I'm very grateful to them for being such great healers and such a great support to me when I really needed it.
Tracy B
I had very severe depression after my son was born.  The doctors put me on medication, which helped, but I still had no motivation and felt very sad.  I tried acupuncture and it really improved my mood.  I would say that within four weeks of starting treatment I was no longer depressed.  My motivation returned, I was able to get out of bed in the morning ready to go, and I started enjoying my son for the first time.  I think the combination of medications and acupuncture worked great for me.  I appreciate the caring and skill at Raleigh Acupuncture and recommend them highly for treating depression.
Ari S
Summary
Article Name
Acupuncture Sadness Relief - Raleigh Acupuncture
Description
Acupuncture sadness relief - Raleigh Acupuncture. Learn how to overcome sadness and depression naturally, with no side effects and long-lasting results.
Author
Publisher Name
Raleigh Acupuncture Associates
Publisher Logo