We just returned from a short holiday in the mountains, having spent three days hiking in North Carolina's beautiful state parks. Nature is so amazing – graceful, powerful and at the same time vulnerable. It struck me that our natural surroundings have found a balance that allows them to exist year after year. The same is true with our own health. Balanced life is essential.
Balanced Life Is Central In Chinese Medicine
Chinese medicine is founded on the principle of balance. When a patient comes to our office, regardless of their issue, we immediately start to identify the areas in their health that are out of balance. Our treatments strive to bring them back into balance. That usually is all that is needed to resolve their health issue. How is that possible?
Say, for instance, someone has chronic stomach pain. They might have gotten a diagnosed with IBS from their family practitioner. They have stomach pain after every meal, during work, and even on the weekends when they are with their family. The pain is debilitating, and keeps them from living the kind of life they want. Is there an imbalance responsible for this condition? And if so, how can acupuncture correct it?
Yes, there is an imbalance. In the case of IBS, there is any one of a dozen possibilities for what it going on. It may be that their stomach is weak (an imbalance of deficiency), or that their liver is not handling stress the way it's designed to (an imbalance of excess), or a combination of the two. It may be there is too much heat in the stomach, or too much cold, or too much dampness. These are all types of imbalances involving the stomach that lead to chronic stomach pain.
It's the same with migraines, insomnia, chronic back pain and infertility. Most of the ailments we suffer from derive from an imbalance in our bodies. And that imbalance, once identified, can be corrected with acupuncture. Acupuncture restores balanced life.
Another example of a health condition caused by imbalance is hot flashes. Women in their 40's often start experiencing perimenopause, with symptoms of hot flashes, night sweats, insomnia, irritability, dryness, cloudy thinking, poor concentration and memory loss. Most of these symptoms occur from a hormone imbalance. The body is not producing estrogen and progesterone like they used to.
Western medicine offers bio-identical hormones, to replace what is missing. Chinese medicine and acupuncture offer a different solution. We help the body adjust to the new hormone levels, restoring balance. Once the body accepts these new levels as normal the symptoms of hot flashes, etc, resolve themselves. Balanced life through acupuncture.
Good health is like nature. It requires balance. If you feel like there are aspects of your life that are not in balance, give us a call. We can talk with you about what acupuncture can do to help.
Next Steps
BOOK NOW to schedule an appointment online.
WATCH VIDEO ABOUT OUR IBS TREATMENT.
WATCH VIDEO ABOUT OUR HOT FLASHES TREATMENT.
LEARN MORE ABOUT THE CONDITIONS WE TREAT.
Summary
Article Name
Balanced Life Is Key To Good Health - Raleigh Acupuncture
Description
Balanced life is key to good health. Acupuncture provides balance to resolve health issues and to keep you feeling healthy, strong and happy. Safe and effective.
Author
Publisher Name
Raleigh Acupuncture Associates
Publisher Logo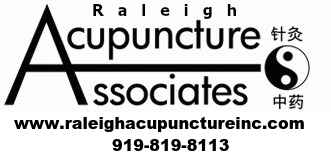 What our Clients are Saying
Jade is the best!! I went from having 10-15 hot flashes a day…. Now I might get one every now and then. I'm so happy.
Helen W
My husband used to be the furnace in bed every night and I was always freezing.  When I turned 50 I became the furnace, and I was not happy about it!  I was on my way to get hormone replacement when I got to reading about possible side effects.  With that option gone, I turned to acupuncture.  My niece had gone to Raleigh Acupuncture for migraines and raved about it, so I made an appointment.  Holy smoke!  This stuff really works!!  It didn't take but two visits before I started feeling cooler.  By the time they got done with me I was back to my normal "always cold" self!  Ladies, you owe it to yourselves to try this.
Sandi F
At 45 I started going through menopause. My periods became irregular for the first time in my life, with much more heavy bleeding and painful cramping.  I started getting hot flashes and night sweats, was more irritable, and generally did not feel well.  I read how acupuncture could treat menopausal syndrome (which I seemed to fit to the tee) and looked around for a practitioner.  Raleigh Acupuncture seemed to have a lot of experience in this area so I gave them a try.  They treated me for three months and dramatically reduced my symptoms.  They used the acupuncture and chinese herbs.  I am amazed at how good I feel, even better than before this trouble started in the first place.  I never would have thought that acupuncture could make such positive changes in my health.
Roberta H
I went through menopause 10 years ago and was still having hot flashes and night sweats.  I thought it would last the rest of my life.  Then I tried acupuncture and within two months they were gone.  Thank you Raleigh Acupuncture!
Beth V
My IBS triggered diarrhea every day, all day long, but especially in the mornings.  It would be triggered by the foods I ate, stress at work, or nothing at all.  I was getting to the point where I was going to give up my job and try to find a job where I could work out of the house.  As a last resort I went to Raleigh Acupuncture.  I started seeing changes right away, less attacks in the morning, less triggers during the day.  Over the duration of my treatments it seemed like my intestines were getting stronger and less sensitive.  After about a month of treatment I was just having problems in the morning, going about three times.  After about another month I was having normal bowel movements just once in the morning.  As far as I can tell, my IBS is completely healed.
Ian M
My husband Arthur and I have used Raleigh Acupuncture bi-weekly for at least 4 years, for a variety of treatments, including general well-being. Both of us felt our ailments healed with the treatment. I initially visited for Irritable Bowel Syndrome – and had immediate relief… the practitioners are very professional and learned, and we have every confidence in them. Even though we pay out of pocket, we obviously feel that the acupuncture is worth it. We both highly recommend Raleigh Acupuncture – you won't regret it!
Anya G
I have always had a nervous stomach.  Some people get headaches, I get stomach aches.  It's always worse with stress and eases up on the weekends when I can relax.  I did not think of getting treatment until I stumbled on an article saying how acupuncture was excellent for treating stomach pain.  I went to Raleigh Acupuncture and described my condition.  They explained why my stomach hurt.  It totally made sense to me.  It's all about internal balance.  So they went to work on me to get my stomach balanced.  And I'm pleased to say that it worked.  I no longer have a nervous stomach and stomach pain, even in stressful situations.  I've made some changes to my diet, based on their recommendations, and took chinese herbs for a while, but don't need to take them now.  I'm convinced that I would have lived with stomach pain for the rest of my life had it not been for acupuncture.
Polly B
I'm totally afraid of needles, but my wife convinced me to try acupuncture for my IBS.  It was really hampering my life.  I'd have to go to the bathroom 5 times before leaving for work.  Then at work I'd be sitting in a meeting and all of a sudden have to go again.  Any type of stress set me off.  At first they could only use 2 needles, that's all I would let them do.  But after a few treatments I started relaxing and felt more comfortable with the needles.  The effect has been amazing.  I'm so much better now.  Mornings are easy, no problems at work.  It's hard to believe, because I've had this for my entire adult life.  Now I just go in for maintenance and have some herbs I take when I need them.  Raleigh Acupuncture is a great outfit.
Samuel N
I've been going to Raleigh Acupuncture for 4+ years. I first went to them because I was having problems with my monthly period lasting two weeks or more, hot flashes that were extreme, and all over pain from fibromyalgia, which is a chronic pain condition. I was in a state of depression and despair, unable to work, or do things I love to do, like working in my yard. On a good day, I could perform simple household chores, perhaps a little yoga, and that was all. My first few visits brought relief from hot flashes, terrible neck pain, and wrap-around pain in my ribs that restricted my ability to breathe comfortably. I felt this was a miracle as I had suffered for many years, and had no idea it was so easily remedied. This miraculous ride continued as I took Chinese herbs for aiding my menopausal symptoms, sinus problems, anxiety, and general pain. As time went on I began to depend on Raleigh Acupuncture for psychological strengthening as well. Nowhere else have I found anyone that really listens to what I have to say without thinking I was crazy. Today, as I sit and reflect, I am about to graduate from an intense two year program for Landscape Architecture Technology. I took a huge leap when I signed up for full-time classes when I was 50 years old. I have enjoyed great success, making one B in 64 credit hours, the rest were A's! In February of 2011, I was in a car accident where I was sandwiched between a van and a school bus. I was able to continue school and finish the semester, I believe because of my acupuncture treatments. I contribute most of my academic success, emotional well-being, and diminished pain to Raleigh Acupuncture.
Patricia C
Summary
Article Name
Balanced Life Is Key To Good Health - Raleigh Acupuncture
Description
Balanced life is key to good health. Acupuncture provides balance to resolve health issues and to keep you feeling healthy, strong and happy. Safe and effective.
Author
Publisher Name
Raleigh Acupuncture Associates
Publisher Logo