What is bursitis, and how do you treat it? Today's blog post describes this common health condition and why the bursitis acupuncture solution works best.
What Is Bursitis?
The Mayo Clinic explains bursitis as "inflammation of the fluid-filled pads (bursae) that act as cushions at the joints. Bursitis occurs most often at joints that perform frequent repetitive motion. Symptoms include pain, swelling, and stiffness. Common areas include the knees, shoulders, elbows, and hips. Treatment includes rest, ice, and pain relievers. Surgery is rarely needed."*
At Raleigh Acupuncture, we commonly treat bursitis in all of these areas. Bursitis of the hip is often misdiagnosed as hip joint pain. Here's how you know if it's bursitis. Stand up and put your hands to your sides, with palms touching your legs. Notice where your wrist lines up with the side of your legs. Right above this area, you will feel a bump on the side of each leg. This part of your thigh bone is called the greater trochanter.
Bursae (think cushions) are located directly below the greater trochanter, and bursitis is simply the inflammation of these cushions. Patients often come to our clinic telling us they have hip joint pain. When we ask where it hurts, they press on their greater trochanter. That's when we know it's bursitis – and we have an excellent treatment for it.
Bursitis Acupuncture Solution
Acupuncture effectively resolves inflammation anywhere in the body. The insertion of sterile, single-use, hair-thin needles along particular channels causes the body to increase blood circulation in the affected area. This increased blood flow drains inflammation and promotes your body to heal, providing long-term relief.
In the case of hip bursitis, we select acupuncture points along the Gall Bladder channel and supporting points to increase blood circulation in the body. We then incorporate electroacupuncture at the right frequency to further enhance the treatment's effectiveness.
Our approach to treating bursitis of the shoulders, elbows, and knees is similar. The channels we select are distinct for each area, but the treatment strategy is the same. Patients typically start feeling the benefits after the first session. Remember that all inflammation conditions (bursitis, tendinitis, gastritis) involve inflammation, and acupuncture excels at resolving inflammation.
What If My Hip Hurts Too?
No worries! Acupuncture can treat your hip pain at the same time we are tacking bursitis. For example, your piriformis muscle in the hip may be tight or in spasm, causing shooting pain down your leg. Needling specific points in the low back, hip, and leg can resolve piriformis syndrome of the hip, while bursitis points are treating the inflammation of the bursa.
Similarly, acupuncture can treat a rotator cuff injury of the shoulder at the same time we are addressing bursitis of the shoulder. Often these two injuries exist simultaneously.
Treatments Are Safe
Unlike cortisone shots or surgery, acupuncture treatments have no adverse side effects. Remember, the needles we use do not contain medicine. Acupuncture works by activating your body's healing energy. While it sounds foreign to our Western ears, the proof is in our results – which most often are amazing.
The sessions are quite relaxing. Many of our patients fall asleep during their treatment.
Book Now to schedule an appointment online.
Watch Video About Our Bursitis Treatment.
Learn About All The Conditions We Treat.
References
* https://www.mayoclinic.org/diseases-conditions/bursitis/symptoms-causes/syc-20353242
Summary
Article Name
Bursitis Acupuncture Solution - Raleigh Acupuncture
Description
Bursitis acupuncture solution - Raleigh Acupuncture. Safe, natural treatment delivers long-lasting pain relief for bursitis.
Author
Publisher Name
Raleigh Acupuncture Associates
Publisher Logo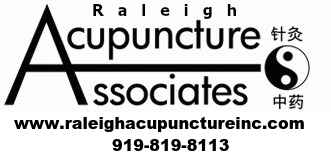 What our Clients are Saying
I had terrible hip pain for two years. Nothing helped. Finally I went to Raleigh Acupuncture. They treated the bursitis in my hip and the pain was completely gone. No one was able to figure out the problem until I came here. I am very grateful and strongly recommend them for hip pain and bursitis.
Lorna S
Summary
Article Name
Bursitis Acupuncture Solution - Raleigh Acupuncture
Description
Bursitis acupuncture solution - Raleigh Acupuncture. Safe, natural treatment delivers long-lasting pain relief for bursitis.
Author
Publisher Name
Raleigh Acupuncture Associates
Publisher Logo