We get frequent calls from people suffering from chronic migraines. Unfortunately, many have had a continuous migraine for a month or longer. Our chronic migraine acupuncture treatment breaks this cycle of pain safely and naturally.
What Causes Chronic Migraines?
There are over twenty causes of migraines in Chinese medicine. Stress, illness (flu, virus), anxiety, depression, poor digestion, poor blood circulation, trauma, and coexisting autoimmune disorders are just some of the factors that can lead to headaches and migraines.
Upon a new patient's arrival at Raleigh Acupuncture, the practitioner will conduct an intake exam to determine the root cause of their migraines. This process involves asking questions (medical history), feeling the pulse, and looking at the tongue. Tongue and pulse provide essential information regarding imbalances present in your body.
Chinese medicine's first rule of thumb is to identify the underlying root imbalance responsible for the pain. Once we know the root, we craft a treatment to restore balance in the body, leading to pain relief.
Case of the Month-Long Migraine
We recently had a high school student come in with her parents complaining of a persistent migraine for over a month, accompanied by severe anxiety and fatigue. Nothing helped – migraine and anxiety medicines made her condition worse. Finally, she felt miserable and was missing school due to pain.
Our intake exam revealed qi and blood stagnation in her upper back, neck, and head channels (tight, painful muscles) – a common cause of migraines. In addition, a thick white tongue coating and weak pulse indicated that her fatigue was primarily caused by stomach qi deficiency leading to poor digestion. The stomach needs to convert food into energy. Otherwise, you'll be tired. In addition, her heart pulse was thready due to the anxiety.
Her chronic migraine acupuncture treatment opened blocked channels and nourished her digestion and heart. After two treatments, she felt significantly better – her migraines became intermittent as opposed to continuous. Following her fourth treatment, she went five days without a headache. After a total of eight treatments, she was migraine-free.
The key to the success of this course of therapy lay in its multi-tiered approach:
The treatment addressed the patient's tight neck muscles by opening blocked channels to reduce muscle tension.
It resolved her debilitating fatigue by strengthening digestion, enabling her to get more energy from the food she ate.
The treatment eased her anxiety by nourishing her heart qi.
Autoimmune Disease and Migraines
Many of our patients with autoimmune conditions (Lyme, Crohn's, IBS, etc.) also get migraines. The inflammatory response in their bodies attacks both their digestive tract and head, leading to a host of debilitating symptoms. Acupuncture effectively reduces body-wide inflammation and calms an agitated immune system, resulting in reduced adverse symptoms.
The critical factor making acupuncture a good treatment for autoimmune conditions is its ability to quiet the immune system. This epidemic of autoimmune diseases in developed countries results from our body's immune system "overacting" on itself, causing flares of inflammation where they should not exist. For example, Hashimoto's disease comes from our immune system attacking the thyroid organ, while Crohn's disease involves our immune system attacking the colon.
The medical community doesn't know why this is happening or why it only appears in developed countries. Some theorize there is a link between autoimmune disease and the absence of parasites in our intestines. For millions of years, parasites have coexisted with humans in the gut. The advent of indoor plumbing in developed countries has all but eliminated this symbiotic relationship. Our immune system left without an opponent, now attacks itself.
Another hypothesis is that chemical agriculture, using pesticides and chemical fertilizers to grow our food, has damaged our digestive system, leading to small intestine impermeability and inflammation.
In time researchers will understand the root cause of autoimmune disease. But, until then, acupuncture is a powerful tool to heal our bodies and counteract these mysterious and dangerous forms of autoimmune self-flagellation.
Post-Covid & Post-Vaccine Migraines
Both Covid and its vaccine can trigger migraine headaches, and the chronic migraine acupuncture treatment can resolve the pain no matter what the trigger. That's because viruses (Covid) and antiviral medicines (vaccine) can induce imbalances in the body leading to migraines. Think of it this way – change causes imbalance.
The body autocorrects many imbalances. For example, you fall and hit your head, leading to a mild headache that resolves on its own in a few hours. Or you catch a terrible cold and get a migraine, but when the cold subsides, so does the pain. Yet, some imbalances are more stubborn and linger longer than they should. That's where acupuncture can help – quickly restoring balance to the body and knocking out the migraine in the process.
Chronic Migraine Acupuncture Treatment
If you have chronic migraines, check out acupuncture, especially if migraine medications are not working. Or, if you are relying on rescue migraine meds too much, let acupuncture ease your pain instead. The chronic migraine acupuncture treatment can tackle all types of head pain, no matter the source.
Next Steps
BOOK NOW to schedule an appointment online.
Watch Video About Our Migraine Treatment.
Learn about all the conditions we treat.
Summary
Article Name
Chronic Migraine Acupuncture Treatment - Raleigh Acupuncture
Description
Chronic migraine acupuncture treatment - Raleigh Acupuncture. Relieves migraines safely and naturally, with long-lasting results.
Author
Publisher Name
Raleigh Acupuncture Associates
Publisher Logo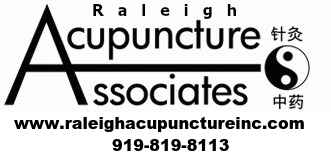 What our Clients are Saying
I saw Dr. Jade to treat my migraine headaches. I was a skeptic about acupuncture. But now, I'm a true believer in the treatment. Dr. Jade worked miracles in relieving my migraines!! She's worth her weight in gold!! Thank you Dr. Jade!
Maureen K
Raleigh Acupuncture was recommended by a friend after I mentioned my insomnia and dependency on a sleeping pill. My apprehension was short lived because of the results of my visits to Dr. Mark. With acupuncture treatments and Chinese herbs I was able to begin sleeping well and continue to do so. Dr. Mark is a good listener and encourages his patients in all health issues as well as the original purpose for treatment. Consequently, my knees are stronger and I'm walking better and with more confidence. I haven't had the need for a cortisone shot in a year and a half. Occasionally, I would use a cane and it's now somewhere gathering dust. Also, I had a persistent headache that my primary physician had no solution for, and after two acupuncture treatments it's a thing of the past. Hot flashes were another issue that was treated successfully. I am so grateful to have found a knowledgeable and caring person to treat my ailments, many of which I thought would only grow worse as I aged. Generally, I feel healthier.
Summary
Reviewer
Review Date
Reviewed Item
Acupuncture effectively treat knee pain, insomnia, headache, hot flashes
Author Rating
Rita W
I suffered a serious concussion last year riding my mountain bike. After the accident I was getting severe headaches every day. They were so bad I couldn't drive. I found Raleigh Acupuncture online. I liked their website and they said they treated post-concussion headaches. They got rid of the headaches and helped me with a number of other post-concussion issues like blurred vision, anxiety and insomnia. They really understood what was going on with me. I'm very grateful.
David M
I've gotten migraine headaches for the past thirty years. They started as a teenager and have come once or twice a week since then. Pain medication used to work for the first ten or fifteen years, but since then nothing seemed to help. I mentioned to my doctor that I wanted to try Acupuncture and he recommended Raleigh Acupuncture. That was the best decision I've ever made. They not only cured my migraines, but got rid of a chronic neck pain at the same time. They gave me Chinese herbs as well, which I took for the eight weeks that I received acupuncture. They were highly professional, easy to talk to, and very informative. They explained everything they were doing and how it was working. Once the headaches stopped, I didn't have to continue the herbs. It's been two years and they have not returned. I go back for maintenance once a month. I'll happily do that forever, not having to deal with migraines any more. I recommend this practice to anyone suffering from migraines.
Phyllis G
My 14 year old daughter started getting migraines when her period started last year. They were aweful. A friend of mine suggested we try acupuncture. She went to Raleigh Acupuncture, so we made an appointment. The doctors there were so kind to my daughter. They made her feel safe and comfortable during the treatments. They cured her migraines in just eight treatments! She does not get them anymore. And her periods are so much easier than before. Thank you Raleigh Acupuncture! We are very grateful to you!
Tonya's Mom
I still am forever in your debt for helping me through the Lymes recovery. My body pain and fatigue were overwhelming before getting acupuncture. I still tell everyone today that I am 100% positive that my recovery was a direct result of your expert care. Truly. I have very little residual effects from the disease that I can easily live with. So again,thank you not only for your amazing skills, but for the compassion and kindness that you showed me during that time.
Carol F
Summary
Article Name
Chronic Migraine Acupuncture Treatment - Raleigh Acupuncture
Description
Chronic migraine acupuncture treatment - Raleigh Acupuncture. Relieves migraines safely and naturally, with long-lasting results.
Author
Publisher Name
Raleigh Acupuncture Associates
Publisher Logo