Does faith ease pain? I often think about this question, given that I spend my days as an acupuncturist helping patients find relief from pain, both physical and emotional. Does believing in a higher power make it easier to manage pain?
Near Death Experiences
This morning I read accounts of near-death experiences (NDE) from the website "Near Death Experience Research Foundation". It has collected thousands of NDE stories from all over the world. The vast majority of experiencers describe an overwhelming sense of love, peace, and joy as they leave their physical bodies. But then something calls them back to life, leaving them with a profound memory.
I've always appreciated stories of near-death experiences because they help boost my faith that there is more to life than our physical bodies. It is comforting to think that our spirit continues to exist when we die, with memories of this current life and the possibility of reuniting with loved ones.
Could nurturing faith in God and the hereafter help manage the pains and hardships faced in our current lives? Does faith ease pain?
To Believe or Not To Believe
Most of the patients I've gotten to know over the past two decades believe in a higher power. They include Christians, Jews, Muslims, Hindus, Buddhists, and those Spiritual But Not Religious (SBNR). There is more to life than what we experience with our five senses if God is in charge. This fact opens up the possibility for continued existence after death – Heaven or some equivalent.
Alternatively, I've treated many patients who consider themselves either atheist (God does not exist) or agnostic (the existence of God, the origins of the universe, and the possibility of an afterlife are all unknowable). For them, there is no certainty for life after death because there is no way to prove such a claim scientifically.
A distinguishing trait of people with a strong faith in God is their certainty that Heaven is real. They don't need a website describing NDEs to help them validate their beliefs. They "know" God is in charge and that he is waiting for them in Heaven.
As a latecomer to faith, I appreciate the NDE website – it appeases my rational mind. The truth is that I am in a constant struggle, wrestling with my faith daily. I must choose to believe in God and commit myself to faith each day. Mature believers don't seem to choose – they "know" the truth.
The Benefit of Faith
The benefit of faith in God or a higher power, whether with solid faith or growing faith, is that it enables us to live in the comfort of knowing there is more to life than the physical world around us. But can this faith help us deal with the pains of chronic illness?
If two people face death, one a believer and the other an atheist, I would imagine that the one who believes in Heaven will most likely have less fear than the one who doesn't. The believer knows that what's coming is immensely better, an afterlife free from pain, plus a reunion with lost friends and family. For the non-believer, there is no future – death closes out his story, cutting his ties to loved ones and cherished memories – forever.
I'm not suggesting that all non-believers fear death, but rather, those with a certainty of Heaven will probably have less trepidation. So in this hypothetical situation, all other things being equal, the believer will fare better than the non-believer.
Managing Chronic Pain
Can this scenario be applied to lesser traumatic events – say, the ability to manage chronic pain? Can faith in God help someone handle the day-to-day struggles with illness better than an atheist or agnostic? Someone, for example, with Chronic Fatigue Syndrome (CFS) who is physically exhausted, unable to think or concentrate, burdened with painful joints, and unable to pursue their career?
I've had patients with CFS who believe in God and those who do not. Of course, the believers suffer physically from their condition just as much as the non-believers. But there is a noticeable difference. The believers have less anxiety about their situation, while the non-believers tend to worry more, displaying higher levels of anxiety and depression.
Anxiety and Depression
Any chronic health condition tends to cause secondary anxiety and depression symptoms. Pain wears us down and generates enormous amounts of frustration as it prevents us from living the life we've planned. Faith in God does not free us from the pain, but it seems to ease our fear because we know God is watching out for us. Faith reduces fear, eases anxiety and depression, and makes life more bearable.
The rational non-believers have no supernatural options, limited to the remedies and resources of the physical world. Once the doctors have said they have no treatment, and the medicines don't work, and friends drive back to their homes, the non-believers are left alone with themselves and their pain. The strong ones may be alright, tapping into their survival skills, determination, and willpower. But most of us are not that strong, and over time desperate situations lead to worry and fear.
However, just because you believe in Heaven doesn't make chronic pain easy. Faith takes work, and maintaining trust amid a health crisis takes a great deal of effort.
Does Faith Ease Pain?
What does faith look like when we're in pain? And what do we expect to receive from keeping the faith? Faith is trust that we're not alone no matter how bad we feel. In addition, faith assures us that there is something better awaiting us, either in this life or in the next. Furthermore, we can expect deliverance – maybe not from the pain itself but from the mental anguish that often accompanies it.
Faith breeds patience and peace of mind to handle challenges and navigate the rough waters with a certain amount of grace. In many ways, patience and peace of mind are the antidotes to anxiety and depression. Anxiety is the fear that there is not enough time and that catastrophe is looming. Depression is a restless agitation, feeling stuck in an uncomfortable place with no way of getting out.
Having faith in a higher power declares that our worldly troubles may be physically painful, but they cannot destroy us. We are burdened but not overwhelmed, weighed down but not sunk. Faith gives us strength to endure, tapping into a source greater than our own. Faith may not get rid of our pain, but it makes it more bearable.
The Cost of Keeping Faith
But there is a cost of keeping the faith. Nothing in this world comes free – there's always a price to pay. And the price of trust is having to surrender control, declaring and believing that we are not in charge. Such thinking goes against our modern, secular mindset, which teaches that good things happen when people take personal responsibility, work hard, and choose to do good.
Success for the secular humanist comes from taking charge, determining their truth, and living by a moral standard they believe to be right and proper. There is no room in this view for faith unless it is faith in themselves to rise above their base instincts and do the right thing.
When faced with a chronic illness, such a person relies on science, medicine, and discipline to manage their pain and frustration. But what happens when science and medicine come up short, as they often do when dealing with autoimmune diseases and complex pain syndromes?
Is Self-Discipline Enough?
These individuals must face their pain with self-discipline, personal strength, and willpower. The strong may succeed for a time, maintaining a positive attitude in their fight with chronic pain, but disease tends to wear down even the strongest men and women.
The secular humanist approach to life is easier to maintain when young and healthy. That's what I followed in my youth. I liked being in control, or at least the illusion of control. Then, as I got older, the path of faith became much more appealing. However, as a latecomer to faith, I find myself in the daily struggle to hold on to it.
Faith is like riding a bike. It comes naturally and with ease if you do it as a kid while learning as an adult requires more focus and discipline. For adult learners like me, having faith in a higher power will probably ease my pain, but I'll constantly have to work on it!
Where Do You Stand?
So, where do you stand? Are you a life-long believer in God? If so, you're in an excellent position to manage chronic pain if it raises its ugly head in the future. Or are you new to faith? Then like me, you have an excellent tool for managing the future challenges of life, but it's going to take work, every day, to keep your focus on what's most important.
If you are a non-believer, you're most likely kind, thoughtful, and giving. You take personal responsibility in your life, have a good education, believe in science and rational thought, and don't buy into the mystical beliefs of your religious friends.
But remember, if trouble comes your way, be open to trying on faith to see how it suits you. You may find that belief in God is not as silly as it once seemed to you. If chronic pain enters your life in the future, and you find yourself struggling, you can always explore a spiritual path. It may prove to be a welcome friend when your other options have run out.
PS. I just came across a powerful article by Whitney Woollard describing her health challenges and how faith in God has given her the strength to persevere. She is an inspiring writer addressing the question, "Does faith ease pain?"
Interested in Acupuncture?
BOOK NOW to schedule an appointment online.
Meet Our Practitioners (Video).
Learn about the conditions we treat.
Summary
Article Name
Description
Does faith ease pain? Could nurturing faith in God and the hereafter help manage the pains and hardships faced in our current lives?
Author
Publisher Name
Raleigh Acupuncture Associates
Publisher Logo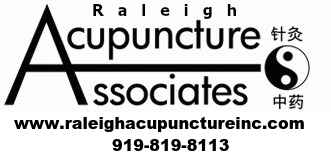 Summary
Article Name
Description
Does faith ease pain? Could nurturing faith in God and the hereafter help manage the pains and hardships faced in our current lives?
Author
Publisher Name
Raleigh Acupuncture Associates
Publisher Logo