The IBS acupuncture solution is safe, natural, and effective. Acupuncture relieves, and in many cases resolves, irritable bowel syndrome by strengthening the digestive system, reducing inflammation, calming the immune system, and regulating bowel function.
What Is IBS?
IBS stands for irritable bowel syndrome and is an umbrella diagnosis for a host of digestive and bowel disharmonies, including diarrhea with urgency, chronic constipation, stomach and abdominal pain, and chronic bloating. Other related medical conditions include IBD (inflammatory bowel disease) and Crohn's disease, which involve inflammation of the bowel and colon.
How Does Acupuncture Treat IBS?
When people arrive at our clinic with a primary complaint of IBS, we first have to identify the details of their condition. Do they have diarrhea, constipation, or a combination of both? Is their pain mainly in the stomach or abdomen, and what is the quality of pain? Sharp, stabbing, dull achy, or bloating? Do they have more pain before or after meals, and what makes the pain better and worse? We must answer these questions to develop an accurate Chinese medicine diagnosis for their IBS acupuncture solution.
We then feel their pulse and examine their tongue. Thirty-six pulse qualities help us understand the patient's organ function. The tongue mirrors the stomach, giving us valuable information about body temperature, digestive process, blood circulation, and stress. Armed with all of this information, the practitioner makes a Chinese medicine pattern diagnosis. For example, one person may have IBS due to Liver Qi stagnation while another could have IBS due to Spleen Qi deficiency with Dampness. The treatment plan will reflect their Chinese medicine diagnosis, not their Western diagnosis.
IBS Acupuncture Solution
Most patients will start feeling the beneficial effects of acupuncture within the first few treatments. We typically want to treat new patients four times and then evaluate their progress. Over 90 percent of our IBS patients feel that acupuncture helps them. For some, we can resolve most of their symptoms. For others, acupuncture improves their condition anywhere from 30 percent to 80 percent. Everyone responds differently, depending on their own body's healing capacity.
Acupuncture restores balance to the body at the organ level. IBS due to Liver Qi stagnation means that their IBS symptoms are due to stress lodging in the body, causing stagnation (blockage) with digestion and bowel function. The IBS acupuncture solution resolves that stagnation, allowing the body to function normally again. The following acupuncture points resolve Liver Qi stagnation for IBS patients: LV3, LV8, PC6, SP4, ST36, BL18, BL20, GV20, and Yintang. These are just a few examples – each patient will require a treatment plan to address their specific imbalance.
Custom Treatments Deliver Quality Healing
One of the reasons acupuncture works so well is because acupuncturists customize treatments for each patient. In Western medicine, each diagnosis is treated essentially the same, with a pill or procedure. Chinese medicine focuses more on individuals and their specific symptoms, crafting a treatment to address their particular needs. The results speak for themselves – research concludes acupuncture delivers great outcomes for IBS patients. (See Research Studies Here)
Next Steps
If you or a loved one has IBS, try acupuncture. This safe, natural treatment reduces IBS symptoms with long-lasting results.
BOOK NOW to schedule an appointment online.
Watch Video About Our IBS Treatment.
Learn about all the conditions we treat.
Come in today to experience the IBS acupuncture solution. Better than medications, acupuncture treats the underlying root issues to resolve digestive and bowel irregularity.
Summary
Article Name
IBS Acupuncture Solution - Raleigh Acupuncture Associates
Description
IBS acupuncture solution - Raleigh Acupuncture Associates. Safe, natural, effective treatment for digestive and bowel irregularity.
Author
Publisher Name
Raleigh Acupuncture Associates
Publisher Logo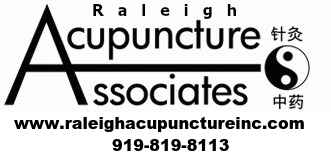 What our Clients are Saying
My IBS triggered diarrhea every day, all day long, but especially in the mornings.  It would be triggered by the foods I ate, stress at work, or nothing at all.  I was getting to the point where I was going to give up my job and try to find a job where I could work out of the house.  As a last resort I went to Raleigh Acupuncture.  I started seeing changes right away, less attacks in the morning, less triggers during the day.  Over the duration of my treatments it seemed like my intestines were getting stronger and less sensitive.  After about a month of treatment I was just having problems in the morning, going about three times.  After about another month I was having normal bowel movements just once in the morning.  As far as I can tell, my IBS is completely healed.
Ian M
My husband Arthur and I have used Raleigh Acupuncture bi-weekly for at least 4 years, for a variety of treatments, including general well-being. Both of us felt our ailments healed with the treatment. I initially visited for Irritable Bowel Syndrome – and had immediate relief… the practitioners are very professional and learned, and we have every confidence in them. Even though we pay out of pocket, we obviously feel that the acupuncture is worth it. We both highly recommend Raleigh Acupuncture – you won't regret it!
Anya G
I have always had a nervous stomach.  Some people get headaches, I get stomach aches.  It's always worse with stress and eases up on the weekends when I can relax.  I did not think of getting treatment until I stumbled on an article saying how acupuncture was excellent for treating stomach pain.  I went to Raleigh Acupuncture and described my condition.  They explained why my stomach hurt.  It totally made sense to me.  It's all about internal balance.  So they went to work on me to get my stomach balanced.  And I'm pleased to say that it worked.  I no longer have a nervous stomach and stomach pain, even in stressful situations.  I've made some changes to my diet, based on their recommendations, and took chinese herbs for a while, but don't need to take them now.  I'm convinced that I would have lived with stomach pain for the rest of my life had it not been for acupuncture.
Polly B
I'm totally afraid of needles, but my wife convinced me to try acupuncture for my IBS.  It was really hampering my life.  I'd have to go to the bathroom 5 times before leaving for work.  Then at work I'd be sitting in a meeting and all of a sudden have to go again.  Any type of stress set me off.  At first they could only use 2 needles, that's all I would let them do.  But after a few treatments I started relaxing and felt more comfortable with the needles.  The effect has been amazing.  I'm so much better now.  Mornings are easy, no problems at work.  It's hard to believe, because I've had this for my entire adult life.  Now I just go in for maintenance and have some herbs I take when I need them.  Raleigh Acupuncture is a great outfit.
Samuel N
Summary
Article Name
IBS Acupuncture Solution - Raleigh Acupuncture Associates
Description
IBS acupuncture solution - Raleigh Acupuncture Associates. Safe, natural, effective treatment for digestive and bowel irregularity.
Author
Publisher Name
Raleigh Acupuncture Associates
Publisher Logo