A 35-year-old woman came to our office suffering from debilitating migraines. She had them 3 to 5 times a week. In the past, her migraine medication had helped alleviate the pain, but it was no longer useful. This migraine acupuncture case study describes how we identified the root cause of her migraines and how the treatments reduced her pain by 90%.
Background
Our patient's migraines would come on at any time, sometimes in the morning, other times in the afternoon or evening. They typically started with an aura and her head feeling empty, with dizziness and nausea. Depression also accompanied her migraine headaches, which is a common but less well-known side effect of migraines. She had been getting migraine headaches since childhood. They were simply a part of her life, a part that she had been able to manage with the use of pain medications.
But in the last year, her "go-to" pain meds had stopped working well. She had to take them more frequently to achieve relief. This fact concerned her and her doctor. That is what prompted her to seek out acupuncture. She had read the articles on our website and watched the videos we've made about our migraine treatment. While she was skeptical, she was also desperate, and she booked an appointment to come to our clinic.
Migraine Acupuncture Case Study Assessment
On her first visit, we conducted a full intake. This process involved getting detailed information about her health history. We discovered that, in addition to getting headaches all her life, she also tended to wake up at night like clockwork at 2:00 am, with difficulty getting back to sleep. She also had chronic neck pain and a history of low back spasms that flared up every few months.
In addition to asking her questions about her health, we also looked at her tongue and felt her pulse. Her tongue had rough edges and was slightly red instead of pink. The rough edges indicated stress, and the redness reflected internal heat. Her pulse was wiry, showing that her body was holding on to a significant amount of stress.
Tongue and pulse give helpful clues to the imbalances we each have. Our patient was emotionally sensitive, more vulnerable to picking up the strains and stresses of people and the world around her. She carried this stress in her body, as reflected in the rough edges of her tongue and wiry pulse. Tension in the body tends to collect at weak links, which in her case were her neck, head, and low back.
Stress causes stagnation. In the neck, it affects the channels that flow from the back to the temples, causing pain in the head, what we call migraine headaches. Stress that lodges in the low back builds up over time, causing cyclical flares of muscle spasms. Our patient struggled with both of these patterns.
Treatment Plan
Our patient's treatment in this migraine acupuncture case study involved smoothing out her energy flow. We describe it as getting her qi (pronounced Chee) to flow, and we accomplish it by activating her liver function. In Chinese medicine, it is the job of the liver to keep the energy flowing smoothing through our bodies. When stressors hit, qi tends to stagnate. But if the liver is doing its job properly, it keeps the energy moving.
Good qi circulation results in open channels, just like free-flowing traffic keeps cars on the highway moving. No stagnation, no traffic jams, leads directly to fewer headaches and back spasms. The acupuncture points used to activate the liver included LV3, Li4, and BL18.
We also used points to unblock the channels in her neck that were responsible for both her neck pain and corresponding migraine headaches. These points included GB19, GB20, GB21, Bailao, GB8, and Si13. It is essential to train the channels to stay open. In this migraine acupuncture case study, the channels in our patient's neck had been shut down pretty much for her entire life. But miraculously, the body is open to healing, and channels blocked for years can be restored.
Amazing Results
Within the first few treatments, our patient felt the positive effects of acupuncture. After seven treatments (once a week), her migraines were 50% reduced, both in frequency and intensity. After another six treatments, she was 90% better. Now she has occasional migraines, which respond well with over-the-counter pain medicine. She has a new lease on life and is thrilled to be free from the chronic pain that she imagined would accompany her forever.
What To Expect
This migraine acupuncture case study is typical for the results we get at Raleigh Acupuncture. Some cases resolve faster, others slower. We encourage patients to come once a week for four weeks and then assess their progress. If they don't see any improvement after four treatments, we help them figure out what other therapy to try. But most of the time (over 90%), patients find that their acupuncture helps, and they continue treatment.
We want the best for our patients. If acupuncture is a good fit for them, we are happy to treat them. If not, there are many other health care modalities available, and we will guide them to another resource. In this world of uncertain healthcare, it is vital to fill your toolbox with the most effective tools to optimize your health. Acupuncture works for a lot of people. It may just work for you.
Next Steps
BOOK NOW to schedule an appointment online.
WATCH VIDEO ABOUT OUR MIGRAINE TREATMENT.
LEARN ABOUT ALL THE CONDITIONS WE TREAT.
Resolve Headaches Naturally
Chinese medicine restores balance to the body, resulting in less pain and better health. Try this all-natural, safe treatment for your health care needs.
Summary
Article Name
Migraine Acupuncture Case Study - Raleigh Acupuncture
Description
Migraine acupuncture case study - Raleigh Acupuncture. 35 year old woman suffering with migraines 5 days a week found long term relief with acupuncture.
Author
Publisher Name
Raleigh Acupuncture Associates
Publisher Logo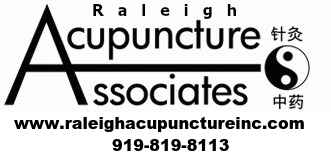 What our Clients are Saying
I saw Dr. Jade to treat my migraine headaches. I was a skeptic about acupuncture. But now, I'm a true believer in the treatment. Dr. Jade worked miracles in relieving my migraines!! She's worth her weight in gold!! Thank you Dr. Jade!
Maureen K
Raleigh Acupuncture was recommended by a friend after I mentioned my insomnia and dependency on a sleeping pill. My apprehension was short lived because of the results of my visits to Dr. Mark. With acupuncture treatments and Chinese herbs I was able to begin sleeping well and continue to do so. Dr. Mark is a good listener and encourages his patients in all health issues as well as the original purpose for treatment. Consequently, my knees are stronger and I'm walking better and with more confidence. I haven't had the need for a cortisone shot in a year and a half. Occasionally, I would use a cane and it's now somewhere gathering dust. Also, I had a persistent headache that my primary physician had no solution for, and after two acupuncture treatments it's a thing of the past. Hot flashes were another issue that was treated successfully. I am so grateful to have found a knowledgeable and caring person to treat my ailments, many of which I thought would only grow worse as I aged. Generally, I feel healthier.
Summary
Reviewer
Review Date
Reviewed Item
Acupuncture effectively treat knee pain, insomnia, headache, hot flashes
Author Rating
Rita W
I suffered a serious concussion last year riding my mountain bike. After the accident I was getting severe headaches every day. They were so bad I couldn't drive. I found Raleigh Acupuncture online. I liked their website and they said they treated post-concussion headaches. They got rid of the headaches and helped me with a number of other post-concussion issues like blurred vision, anxiety and insomnia. They really understood what was going on with me. I'm very grateful.
David M
I've gotten migraine headaches for the past thirty years. They started as a teenager and have come once or twice a week since then. Pain medication used to work for the first ten or fifteen years, but since then nothing seemed to help. I mentioned to my doctor that I wanted to try Acupuncture and he recommended Raleigh Acupuncture. That was the best decision I've ever made. They not only cured my migraines, but got rid of a chronic neck pain at the same time. They gave me Chinese herbs as well, which I took for the eight weeks that I received acupuncture. They were highly professional, easy to talk to, and very informative. They explained everything they were doing and how it was working. Once the headaches stopped, I didn't have to continue the herbs. It's been two years and they have not returned. I go back for maintenance once a month. I'll happily do that forever, not having to deal with migraines any more. I recommend this practice to anyone suffering from migraines.
Phyllis G
My 14 year old daughter started getting migraines when her period started last year. They were aweful. A friend of mine suggested we try acupuncture. She went to Raleigh Acupuncture, so we made an appointment. The doctors there were so kind to my daughter. They made her feel safe and comfortable during the treatments. They cured her migraines in just eight treatments! She does not get them anymore. And her periods are so much easier than before. Thank you Raleigh Acupuncture! We are very grateful to you!
Tonya's Mom
Summary
Article Name
Migraine Acupuncture Case Study - Raleigh Acupuncture
Description
Migraine acupuncture case study - Raleigh Acupuncture. 35 year old woman suffering with migraines 5 days a week found long term relief with acupuncture.
Author
Publisher Name
Raleigh Acupuncture Associates
Publisher Logo