At Raleigh Acupuncture we have developed a natural sinus infection solution. It is a combination of acupuncture and Chinese herbs. Patients come to us suffering from sinus infections that don't respond to antibiotics. Our treatment protocol resolves their infection quickly, safely and permanently.
The Chinese herbs that we use in the treatment of stubborn sinus infections is a proprietary formula, which we have developed over the last 15 years. It is completely safe, with no negative side effects. Unlike antibiotics, it will not damage your digestive system. It simply works to knock out the infection and build up your body's own healing power.
Problems Bring New Opportunities
Since the coronavirus, we have not been able to treat sinus infection patients with acupuncture. No one with these symptoms is allowed to come to the clinic, due to the risk they might have Covid-19. As a result, we have been using Chinese herbs as our main treatment for sinus infections. And happily, the treatment works like a charm.
Our patients are recovering from their sinus infections with the herbs alone, even though they are not receiving acupuncture. This natural sinus infection solution has been a tremendous success. It takes a bit longer for them to recover, but they are still getting better. Acupuncture and herbs together typically resolves sinus infections in 7 to 10 days. With the herbs alone it takes approximately 10 to 14 days. But it works!
Chinese Herbs Resolve Sinus Infections
Chinese medicine explains sinus infections differently than Western medicine. The Western perspective sees infections as bacteria that need to be killed off. But we know antibiotics don't work well anymore because bacteria have developed resistance to the treatment.
Chinese medicine has a different perspective. It looks at the symptoms of a sinus infection and addresses the toxic heat and phlegm accumulating in the sinus passages of the head. By resolving heat and phlegm, Chinese herbs are able to heal the patient at the root level. The herbs strengthen the patient's ability to fight off the infection naturally, from the inside out.
Antibiotic-Resistant Bacteria
Twenty years ago antibiotics would knock out a sinus infection in days, killing off the bacterial infection quickly and efficiently. Now that bacteria has become resistant to treatment, it takes multiple rounds of harsh antibiotics, and often that is still not enough. Chinese herbs may take a bit longer to kick in, but they work every time, with no adverse side effects. And they are a completely natural sinus infection solution.
A Word About Side Effects
Antibiotics work by killing off all the bacteria in the body – both the bad and the good. Specifically, these medications destroy billions of beneficial bacteria in the gut, which are necessary for proper digestion. As a result, people who take multiple rounds of antibiotics often develop secondary problems.
Such problems include stomach pain, bloating, gas, diarrhea, nausea, weakness and fatigue. Fatigue develops because a weakened stomach is not able to properly digest the food we eat, resulting in low energy.
Natural Sinus Infection Solution
The next time you get a sinus infection, try our Chinese herb solution. Take the herbs at the first sign of trouble. This includes feeling sinus pressure, sinus headache or congestion. You can always resort to antibiotics if you don't respond well to the herbs. You've got nothing to lose, and a great deal to gain.
Call us at 919-819-8113 to order herbs. If you don't live in the area we can ship you the herbs. Just email us using the Contact Us links on this page.
MEET THE PRACTITIONERS (VIDEO)
LEARN ABOUT ALL THE CONDITIONS WE TREAT.
Summary
Article Name
Natural Sinus Infection Solution - Raleigh Acupuncture
Description
Natural sinus infection solution using Chinese herbs. Safe, effective treatment works better than antibiotics, with no adverse effects.
Author
Publisher Name
Raleigh Acupuncture Associates
Publisher Logo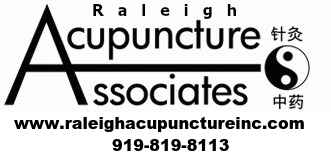 What our Clients are Saying
Excellent Chinese medicine at Raleigh Acupuncture. I had treatment for chronic sinusitis with great success. My husband also got excellent results for his sinusitis. Highest standards of care. This is real Chinese medicine as practiced in Beijing.
Li Z
I've struggled with sinus infections for my entire adult life, getting around two to three infections a year. In between episodes I would always have sinus congestion, a clogged nose and difficulty breathing, especially at night. I tried Raleigh Acupuncture and they completely changed my life. I came in with a particularly severe sinus infection that two rounds of antibiotics had not been able to clear. Within six sessions the infection was gone. I stayed on for another six treatments and now my chronic nasal congestion is gone as well. I'm thrilled with what they did and highly recommend their practice to anyone suffering from sinus problems.
Paul S
The practitioners at Raleigh Acupuncture are miracle workers! In early December I went through the conventional methods of going to Kaiser when struggling through a terrible sinus infection. After eight weeks of nonstop coughing and sinus congestion and going through two separate antibiotics I started to give up hope. I remembered I visited Raleigh Acupuncture the year before when I had a similar experience and was feeling better after two treatments. I hopped online and found an opening for the following day. They were extremely accommodating around my work schedule, and even made arrangements so I could receive my final treatment on a Friday night. After three treatments I was finally back to normal. From now on I will always contact Raleigh Acupuncture whenever I start to feel under the weather rather than relying on doctors and antibiotics.
Adrienne B.
Summary
Article Name
Natural Sinus Infection Solution - Raleigh Acupuncture
Description
Natural sinus infection solution using Chinese herbs. Safe, effective treatment works better than antibiotics, with no adverse effects.
Author
Publisher Name
Raleigh Acupuncture Associates
Publisher Logo