Do you suffer from nausea? It's very common with conditions like morning sickness, migraines, vertigo and chronic stomach pain. It's also a common side effect of chemotherapy. There are medications for nausea, but they have bad side effects and often don't help. Nausea resolved with acupuncture beats medications, lasts longer, and has absolutely no negative side effects.
Nausea Resolved With Acupuncture – How It Work
Chinese medicine recognizes nausea as a disharmony of the stomach. Therefore, our nausea treatment focuses on the stomach. Specifically, nausea is caused by "rebellious stomach Qi".
Let's break that down. Stomach Qi is basically the energy of the stomach. All organs in the body have energy to carry out their function. The stomach receives and digests food. Its normal energy has a downward movement. Food moves down from the stomach to the intestines. So when we say nausea is rebellious stomach Qi, we are describing stomach energy moving upward as opposed to downward.
Morning Sickness
Certain health conditions trigger rebellious stomach Qi. Early stage pregnancy is one of them. That's why so many women start getting nauseous between weeks 6 and 13 of their pregnancy. The Chinese medicine explanation is that as the fetus develops in the abdomen, the stomach gets confused. The stomach normally sends energy downward. But now there is this new thing growing below. The stomach responds by trying to accommodate it's new neighbor, sending its energy upward instead.
This rebellious stomach Qi results in morning sickness. Our nausea treatment focuses on helping the stomach "accept" the fetus and return to sending it's energy downward. Within three to six treatments the stomach Qi is flowing correctly again with nausea resolved.
Migraine Nausea
Another health condition that triggers nausea is migraine headaches. Chinese medical explains this as "Liver Qi stagnation" overacting on the stomach causing nausea. It's like steam building up in a tea kettle. At a certain point the steam must come out, and it does so forcefully. That's how Liver Qi stagnation works. To treat nausea triggered by migraines, we get the stagnant liver qi to move again, strengthen the stomach qi, and harmonize the liver/stomach energy. This resolves not only the nausea, but the head pain as well.
Chemotherapy
Chemotherapy triggers nausea as well. The medicine damages the stomach, causing it to rebel upwards. Acupuncture calms and strengthens the stomach, quickly easing nausea and stomach pain. Our patients undergoing chemotherapy come in for treatment after each round of medicine, getting quick relief and faster recovery.
Vertigo
One of the hallmark signs of vertigo is nausea. Acupuncture treats this type of nausea by correcting the root issue behind vertigo and dizziness. Vertigo is most often triggered by a pattern called Spleen Qi deficiency with dampness accumulation in the head. This affects the ears, balance and equilibrium leading to severe dizziness, nausea and debilitating fatigue. Acupuncture corrects this imbalance, and in the process resolves the nausea.
Next Steps

BOOK NOW to schedule a treatment to resolve nausea. Or call us at 919-819-8113.

WATCH VIDEO ON OUR NAUSEA TREATMENT.

READ TESTIMONIALS ABOUT OUR NAUSEA TREATMENT.

Nausea resolved best with acupuncture. Call for more information.

Summary
Article Name

Nausea Resolved Best With Acupuncture - Raleigh Acupuncture

Description

Nausea resolved best with acupuncture. Dramatically reduces nausea from morning sickness, chemotherapy, vertigo, migraines and stomach pain.

Author

Mark Molinoff, Lic. Ac.

Publisher Name

Raleigh Acupuncture Associates

Publisher Logo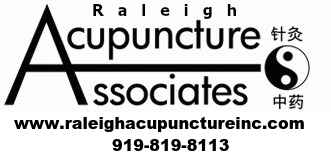 What our Clients are Saying
Single best thing for morning sickness!!  I've had four kids and used acupuncture every time.  This practice is the best!  They don't drag out treatments.  They get you better fast.
Sue S
My first pregnancy went so easy.  So I was surprised when I got so nauseous with my second one.  Every smell made me sick and I didn't want to eat anything.  My mom found Raleigh Acupuncture.  The practitioner told me it generally took 3 to 6 treatments to stop the nausea.  She was right.  After 6 treatments I wasn't nauseous anymore and could eat again without trouble.  I'm very pleased and would recommend them to any pregnant woman suffering from nausea.
Kimberly M
When I was pregnant 6 weeks I got terrible nausea and vomiting.  I could not hold anything down.  I started losing weight after two weeks and my doctor put me on medications.  But I was still vomiting every day and felt awful.  I found Raleigh Acupuncture and they treated me three times.  It totally stopped the nausea and vomiting.  I stopped my medications, and the rest of my pregnancy had no problems.  They said this was an easy thing to treat.  I wish I had known about it from the beginning of my pregnancy.
Clarissa T
I came back from a trip to the Caribbean with a terrible case of vertigo and nausea.  I couldn't sleep, couldn't work, couldn't walk straight.  I had this throbbing headache all day long.  It was driving me crazy.  I tried acupuncture and in three sessions was completely cured!  I was so impressed that I had them treat my back pain next.  I only wish insurance covered the treatments.
Pat M
I was diagnosed with dizziness and put on a medicine that made me more dizzy!  My chiropractor said it was from my neck, but the adjustments didn't help.  So I tried acupuncture.  Every time I bent down I would get so dizzy that I fell over.  The doctor at Raleigh Acupuncture didn't treat my neck.  He said he was treating my organs to balance them and correct my water levels.  I don't care what he called it – it stopped my dizziness!  I can bend over now without dizziness and can function like a normal person.  They also got rid of my toe pain at the same time!
Jenn W
I had vertigo and dizziness for years.  I run my own small business and it was starting to really affect my work.  I had difficulty driving, and was starting to get nervous about getting into an accident at work.  My vertigo was like the room spinning around, and the only way to make it stop was to close my eyes and lie down.  I was also burning up hot, but never had a fever.  My cousin went to Raleigh Acupuncture so I gave it a try.  They treated me with little needles and gave me chinese herbs.  I'm not kidding, this stuff really works.  My vertigo stopped happening for the first time in years, and I even stopped feeling so hot.  I get small bouts of vertigo now and then, but usually just a single treatment gets me better. I also understand why I get vertigo and what I can do to prevent it coming on.  They were really good explaining how it worked, in a way that totally makes sense to me.  Thank you Raleigh Acupuncture.
Donna B
Summary
Article Name
Nausea Resolved Best With Acupuncture - Raleigh Acupuncture
Description
Nausea resolved best with acupuncture. Dramatically reduces nausea from morning sickness, chemotherapy, vertigo, migraines and stomach pain.
Author
Publisher Name
Raleigh Acupuncture Associates
Publisher Logo