This new migraine acupuncture study (2019) compared propranolol with acupuncture in the prevention of migraine headaches. Acupuncture was found superior to the medication in all areas.
Background
Propranolol is a beta blocker frequently prescribed to prevent migraine headaches. It falls into the category of drugs that were originally created to treat other conditions but later found to prevent migraine headaches. Like most such medications, propranolol has potentially intolerable side effects.
Propranolol is recommended by physicians as a first-line treatment for preventing migraine attacks. Subsequent to this research study, acupuncture has never been compared with propranolol in a head-to-head trial.
Objective
The objective of this new migraine acupuncture study was to compare acupuncture with propranolol using indirect treatment comparison meta-analysis.
Method
Researchers searched a number of medical research databases including MEDLINE, EMBASE, and the Cochrane Central Register of Controlled Trials (CENTRAL).
Randomized controlled trials comparing acupuncture or propranolol with sham (fake) acupuncture, placebo, waiting-list control or usual care were included. Researchers extracted information from the included trials using a standardized extraction form.
The primary outcome was migraine episodes (how many migraine episodes the participants had during a given period of time). The secondary outcomes included migraine days, migraine frequency, and adverse events.
Headache Research Results
This new migraine acupuncture study reviewed 1078 scholarly articles, and from that group identified and included 19 randomly controlled trials (RCTs). A comprehensive, detailed analysis of these 19 trials concluded that acupuncture had a significant advantage over propranolol in reducing migraine episodes over a 4-week period.
Acupuncture also showed a significant advantage over waiting-list control (non-treatment) in decreasing migraine frequency. Acupuncture caused substantially fewer adverse side effects than propranolol.
Conclusions
Acupuncture had a better effect than propranolol in reducing migraine headaches in indirect comparison. As with all modern research studies, the researchers noted that these results should be confirmed in subsequent head-to-head studies.
Next Steps
BOOK NOW to schedule an appointment online.
WATCH VIDEO ABOUT OUR MIGRAINE TREATMENT.
LEARN ABOUT ALL THE CONDITIONS WE TREAT.
New Migraine Acupuncture Study Resources
Acupuncture versus propranolol in migraine prophylaxis: an indirect treatment comparison meta-analysis, Chen, YY., Li, J., Chen, M. et al. J Neurol (2019). https://doi.org/10.1007/s00415-019-09510-x
This new migraine acupuncture study is the third research study we have documented to date. Acupuncture is the best treatment for migraines, and the research confirms this fact. If you suffer from migraine headaches, come in for acupuncture today.
Summary
Article Name
New Migraine Acupuncture Study - Raleigh Acupuncture
Description
New migraine acupuncture study - Raleigh Acupuncture. Acupuncture found more effective than medication for reducing frequency and intensity of migraines.
Author
Publisher Name
Raleigh Acupuncture Associates
Publisher Logo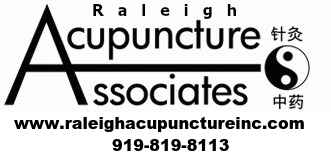 What our Clients are Saying
I saw Dr. Jade to treat my migraine headaches. I was a skeptic about acupuncture. But now, I'm a true believer in the treatment. Dr. Jade worked miracles in relieving my migraines!! She's worth her weight in gold!! Thank you Dr. Jade!
Maureen K
Raleigh Acupuncture was recommended by a friend after I mentioned my insomnia and dependency on a sleeping pill. My apprehension was short lived because of the results of my visits to Dr. Mark. With acupuncture treatments and Chinese herbs I was able to begin sleeping well and continue to do so. Dr. Mark is a good listener and encourages his patients in all health issues as well as the original purpose for treatment. Consequently, my knees are stronger and I'm walking better and with more confidence. I haven't had the need for a cortisone shot in a year and a half. Occasionally, I would use a cane and it's now somewhere gathering dust. Also, I had a persistent headache that my primary physician had no solution for, and after two acupuncture treatments it's a thing of the past. Hot flashes were another issue that was treated successfully. I am so grateful to have found a knowledgeable and caring person to treat my ailments, many of which I thought would only grow worse as I aged. Generally, I feel healthier.
Summary
Reviewer
Review Date
Reviewed Item
Acupuncture effectively treat knee pain, insomnia, headache, hot flashes
Author Rating
Rita W
I suffered a serious concussion last year riding my mountain bike. After the accident I was getting severe headaches every day. They were so bad I couldn't drive. I found Raleigh Acupuncture online. I liked their website and they said they treated post-concussion headaches. They got rid of the headaches and helped me with a number of other post-concussion issues like blurred vision, anxiety and insomnia. They really understood what was going on with me. I'm very grateful.
David M
I've gotten migraine headaches for the past thirty years. They started as a teenager and have come once or twice a week since then. Pain medication used to work for the first ten or fifteen years, but since then nothing seemed to help. I mentioned to my doctor that I wanted to try Acupuncture and he recommended Raleigh Acupuncture. That was the best decision I've ever made. They not only cured my migraines, but got rid of a chronic neck pain at the same time. They gave me Chinese herbs as well, which I took for the eight weeks that I received acupuncture. They were highly professional, easy to talk to, and very informative. They explained everything they were doing and how it was working. Once the headaches stopped, I didn't have to continue the herbs. It's been two years and they have not returned. I go back for maintenance once a month. I'll happily do that forever, not having to deal with migraines any more. I recommend this practice to anyone suffering from migraines.
Phyllis G
My 14 year old daughter started getting migraines when her period started last year. They were aweful. A friend of mine suggested we try acupuncture. She went to Raleigh Acupuncture, so we made an appointment. The doctors there were so kind to my daughter. They made her feel safe and comfortable during the treatments. They cured her migraines in just eight treatments! She does not get them anymore. And her periods are so much easier than before. Thank you Raleigh Acupuncture! We are very grateful to you!
Tonya's Mom
Summary
Article Name
New Migraine Acupuncture Study - Raleigh Acupuncture
Description
New migraine acupuncture study - Raleigh Acupuncture. Acupuncture found more effective than medication for reducing frequency and intensity of migraines.
Author
Publisher Name
Raleigh Acupuncture Associates
Publisher Logo