Below are the top ten obstacles to good health for young adults:
Stress – 29%
Anxiety – 22%
Sleep Difficulties – 19%
Depression – 15%
Cold, Flu, Sore Throat – 14%
Too much Internet Use/Computer Games – 12%
Overextended with activities – 11%
Job too demanding – 10%
Concern for a Troubled Friend or Family Member – 9%
Relationship Difficulties – 8%
As you can see, stress, anxiety, sleeping issues and depression account for 85% of all health-related challenges for people in their twenties and thirties. These same obstacles to good health also affect people in their forties, fifties and sixties. It's just that the older we get, things like computer games and overextended social life get replaced with doctor visits and chronic health conditions! The stress, anxiety, sleep issues and depression remain central to ALL Americans' health concerns.
Antidote To Obstacles
So, what can we do to improve our health? It's all well and good to point a finger at stress, but realistically, what can be done? We still have to work, drive through traffic, and live a fast-paced, frantic lifestyle.
If there ever were a magic pill, an antidote, to combat the stress and anxiety of life today, acupuncture fits the bill. That's because acupuncture tunes up your body, making you more resilient in the face of stressful situations. How does acupuncture do that? The secret is getting your Qi to flow. Qi is the energy inside all living things. It's what nourishes our organs, allows our brain to think, and powers our physical movements. Qi flows through our bodies just like blood.
Stress stagnates our Qi. If Qi were cars speeding down the interstate, stress is like a wreck that slows traffic to a crawl. When Qi stagnates, we feel anxious and uptight. At night, Qi stagnation makes it hard to unwind, resulting in sleeping problems. Stagnant Qi causes digestive problems like IBS, and bowel problems like constipation. It's the primary cause of most diseases, and one of the greatest obstacles to good health.
That's the bad news. The good news is that acupuncture tunes your internal organs to keep the Qi flowing, despite the stress we have to deal with every day. We call it "invigorating the Qi". Acupuncture points like LV3, LI4, BL18 and LI11 strengthen your Liver, the primary organ in your body for keeping Qi flowing smoothly. When your Qi flows, everything works better. Stress is dramatically reduced, anxiety lessens, and sleep quality improves.
Obstacles To Good Health
Stress, anxiety, sleep issues and depression are the four biggest obstacles to good health. They stagnate the Qi and blood, leading to distressed organs and poor circulation. To combat these four evils, we have a choice. Either we relocate to the nearest monastery or find another way to keep our Qi circulating in the midst of this battlefield we call life.
A monthly acupuncture treatment will keep your Qi flowing, reducing stress and anxiety. If you are suffering with severe anxiety, depression or insomnia, a course of acupuncture treatment will reduce or resolve the condition. Treatments are safe and relaxing. We use sterile, single-use, hair-thin needles. You will hardly know they are there. Afterwards, you will feel rejuvenated.
Next Steps
BOOK NOW to schedule an appointment online.
MEET THE PRACTITIONERS (VIDEO)
LEARN ABOUT ALL THE CONDITIONS WE TREAT.
Maintain Health With Acupuncture
No matter how stressed, anxious or depressed you are, acupuncture can boost your mood and keep you healthy. And if stress is affecting your sleep, acupuncture can help there too. We have great success resolving chronic insomnia. Acupuncture tackles the big obstacles to good health.
Summary
Article Name
Obstacles To Good Health - Raleigh Acupuncture Solution
Description
Obstacles to good health like stress, anxiety and sleeping issues can be resolved with acupuncture. Safe treatment with long-lasting results.
Author
Publisher Name
Raleigh Acupuncture Associates
Publisher Logo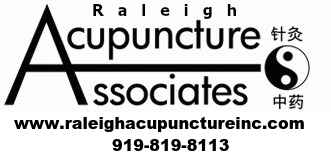 What our Clients are Saying
Acupuncture really helped my anxiety. I highly recommend Raleigh Acupuncture. Very professional, reasonably priced and focused on getting me better quickly. Thank you!
Sally T
I came in for acupuncture highly skeptical that it would be able to help me. I'm an A-type personality and very wired. I feel like I've been anxious my entire life. My wife must have been secretly researching treatments for anxiety because last month she announced that I WOULD be trying acupuncture! She did well picking the practice, as the doctors at Acupuncture Associates were top notch. They explained how acupuncture worked to deal with anxiety and then set about doing it. Well, I wouldn't be writing this letter if it didn't work. So you know the outcome. Highly satisfactory! I'm still an A-type guy, but with a fraction of the anxiety. The feelings of dread that were constantly lingering around me are gone. In it's place I feel a sense of peacefulness, albeit a wired peacefulness.
Roscoe P
Ever since we moved to Raleigh I was feeling a great deal more anxiety. It was probably a combination of factors including the stress of the move, looking for work and possibly the weather. My chest would get uncomfortably tight and my heart would race throughout the day. I had taken medications in the past but didn't want that again. Research on the web led me to Raleigh Acupuncture. They treated me for anxiety and after just one treatment I could feel the difference. I got 9 treatments and am completely better. I will continue coming because it makes me feel so good. I highly suggest acupuncture with them for the treatment of anxiety. It's much more effective than medications.
Christine B
I was feeling depressed and stressed because I didn't like my job and didn't know what to do with my life.  I started taking Lexipro but it really affected my libido so I stopped taking it.  I tried acupuncture because my husband said it helped him when he was depressed years earlier (before he met me!)  I went to Raleigh Acupuncture and started treatments.  They were really knowledgeable about Chinese medicine and explained how the body gets stuck in depression, and how the acupuncture gets the body unstuck.  They really listened to me and helped me figure stuff out.  I started feeling less depressed.  Then I actually started getting more clear about what I wanted to do with my life career-wise.  I decided to go back to school and now I'm almost done with my degree.  I haven't felt depressed at all since I was treated and I'm really excited about my life.  I'm very grateful to them for being such great healers and such a great support to me when I really needed it.
Tracy B
Thank you for your gentle healing spirit. May God bless you as you help others in the healing methods of acupuncture.. My sessions for stress relief were very helpful. In gratitude.
Susie W
I just started acupuncture and I can really see the benefits. I've done massages and all the Western style treatments but this is amazing! It relaxes me in ways I didn't know could happen and I feel immediate results. I would recommend acupuncture as a treatment. The doctor was great in my initial meeting more thorough than my regular doctor. Highly recommend this!
Lynn S
I've had generalized anxiety for years and had been managing it fairly well. But then I lost my job and the anxiety really escalated. I started getting panic attacks every day and dreaded even getting in my car to drive. My sister suggested that I try acupuncture, so I did. I went to Raleigh Acupuncture and explained my situation. They said they treated this condition all the time with excellent results. I was stressed about money too, but they had reasonable fees. They treated me with acupuncture and herbs for the next two months. I know it helped, because my unemployment situation didn't change but I stopped having panic attacks. Even my regular anxiety decreased – significantly. It's like my whole body relaxed and things didn't make me anxious as easily.
Peter T
Summary
Article Name
Obstacles To Good Health - Raleigh Acupuncture Solution
Description
Obstacles to good health like stress, anxiety and sleeping issues can be resolved with acupuncture. Safe treatment with long-lasting results.
Author
Publisher Name
Raleigh Acupuncture Associates
Publisher Logo