Shortness of breath is a common symptom triggered by different underlying conditions. Acupuncture provides an effective shortness of breath treatment in many instances, including:
Lung deficiency (asthma, lung disease)
Heart deficiency (anxiety)
Liver excess (stress, depression)
Hormones imbalance (perimenopause, menopause, thyroid)
Shortness of Breath Treatment
Chinese medicine views health as a state where the internal organs function in balance. Disease develops from imbalances that are not corrected. For example, shortness of breath is a common imbalance that affects breathing. Acupuncture can often relieve shortness of breath by restoring balance. Let's examine some of the triggers listed above.
Lung Disease and Breathing
Shortness of breath is a common symptom in asthma and lung disease patients. Chinese medicine explains this as disharmony between the lungs and kidneys. The kidneys need to draw lung energy downward, and when they fail, wheezing and shortness of breath result. Acupuncture's shortness of breath treatment nourishes the lungs and kidneys using acupuncture points like LU9, KD3, BL13, and BL23.
Anxiety and Shortness of Breath
The heart and lungs are integrally related to health. So it's no surprise that heart deficiency often leads to lung weakness and vice versa. Chinese medicine regards anxiety as a symptom of heart qi or yin deficiency. Common symptoms associated with anxiety include heart palpitations, tightness of the chest, and shortness of breath. Acupuncture's shortness of breath treatment utilizes points like PC6, HT7, CV17, and BL15 to reduce the shortness of breath associated with anxiety.
Liver Excess and Breathing
The liver is responsible for circulating qi energy through the body, which sustains our health, circulates the blood, and keeps us motivated and vibrant. When our qi stagnates, we lose motivation, are prone to stress and depression, and become susceptible to illness. Qi stagnation can also overtax the lungs, causing shortness of breath. Acupuncture points such as LV3, LV14, LI4, and BL18 invigorate stagnant liver qi, raising the mood, increasing motivation, and easing shortness of breath.
Hormone Imbalance and Shortness of Breath
It is common for women going through menopause to have anxiety and shortness of breath. The root imbalance is most often kidney yin deficiency, which we treat with acupoints KD6, PC6, and SP6. Similarly, people struggling with hypothyroidism (low thyroid) are prone to shortness of breath due to spleen qi deficiency. Acupuncture's shortness of breath treatment addresses this imbalance with points ST36, SP3, and BL20.
Acupuncture Relieves Shortness of Breath
As you can see, there are many different root causes for shortness of breath. A skilled acupuncturist will be able to determine the correct imbalance responsible for your particular condition. In addition, we will often offer Chinese herbal medicine to complement your acupuncture treatment – again, based on your presentation. Herbs typically speed up the healing process.
Next Steps
BOOK NOW to schedule an appointment online.
Video – Raleigh Acupuncture Asthma Treatment.
Learn about all the conditions we treat.
Focus Keyphrase: shortness of breath treatment
Summary
Article Name
Shortness of Breath Treatment - Raleigh Acupuncture
Description
Shortness of breath treatment with acupuncture strengthens the lungs and improves breathing. Safe, natural, long-lasting relief.
Author
Publisher Name
Raleigh Acupuncture Associates
Publisher Logo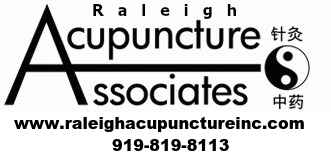 What our Clients are Saying
My treatments for asthma at Raleigh Acupuncture were successful. I've had asthma my whole life. It was typically triggered when I played sports or physically exerted myself. I was using an inhaler (Advair) for years, but wanted to try acupuncture to see if I could stop using it.
My research on acupuncture treating asthma showed mixed results, but the doctor at the acupuncture office encouraged me to try their treatment. I received 12 treatments total. After the first six treatments I was noticing a positive difference. I didn't have to use my inhaler as often. After the 12 visits I was needing the inhaler even less frequently.
I can tell that my lungs are stronger now. I get less winded, wheeze much less frequently, and have more stamina. I will continue the acupuncture on a maintenance basis to keep up the benefits. I recommend them for treating asthma.
Heather R
Acupuncture really helped my anxiety. I highly recommend Raleigh Acupuncture. Very professional, reasonably priced and focused on getting me better quickly. Thank you!
Sally T
I came in for acupuncture highly skeptical that it would be able to help me. I'm an A-type personality and very wired. I feel like I've been anxious my entire life. My wife must have been secretly researching treatments for anxiety because last month she announced that I WOULD be trying acupuncture! She did well picking the practice, as the doctors at Acupuncture Associates were top notch. They explained how acupuncture worked to deal with anxiety and then set about doing it. Well, I wouldn't be writing this letter if it didn't work. So you know the outcome. Highly satisfactory! I'm still an A-type guy, but with a fraction of the anxiety. The feelings of dread that were constantly lingering around me are gone. In it's place I feel a sense of peacefulness, albeit a wired peacefulness.
Roscoe P
Ever since we moved to Raleigh I was feeling a great deal more anxiety. It was probably a combination of factors including the stress of the move, looking for work and possibly the weather. My chest would get uncomfortably tight and my heart would race throughout the day. I had taken medications in the past but didn't want that again. Research on the web led me to Raleigh Acupuncture. They treated me for anxiety and after just one treatment I could feel the difference. I got 9 treatments and am completely better. I will continue coming because it makes me feel so good. I highly suggest acupuncture with them for the treatment of anxiety. It's much more effective than medications.
Christine B
I was feeling depressed and stressed because I didn't like my job and didn't know what to do with my life.  I started taking Lexipro but it really affected my libido so I stopped taking it.  I tried acupuncture because my husband said it helped him when he was depressed years earlier (before he met me!)  I went to Raleigh Acupuncture and started treatments.  They were really knowledgeable about Chinese medicine and explained how the body gets stuck in depression, and how the acupuncture gets the body unstuck.  They really listened to me and helped me figure stuff out.  I started feeling less depressed.  Then I actually started getting more clear about what I wanted to do with my life career-wise.  I decided to go back to school and now I'm almost done with my degree.  I haven't felt depressed at all since I was treated and I'm really excited about my life.  I'm very grateful to them for being such great healers and such a great support to me when I really needed it.
Tracy B
I've had generalized anxiety for years and had been managing it fairly well. But then I lost my job and the anxiety really escalated. I started getting panic attacks every day and dreaded even getting in my car to drive. My sister suggested that I try acupuncture, so I did. I went to Raleigh Acupuncture and explained my situation. They said they treated this condition all the time with excellent results. I was stressed about money too, but they had reasonable fees. They treated me with acupuncture and herbs for the next two months. I know it helped, because my unemployment situation didn't change but I stopped having panic attacks. Even my regular anxiety decreased – significantly. It's like my whole body relaxed and things didn't make me anxious as easily.
Peter T
Summary
Article Name
Shortness of Breath Treatment - Raleigh Acupuncture
Description
Shortness of breath treatment with acupuncture strengthens the lungs and improves breathing. Safe, natural, long-lasting relief.
Author
Publisher Name
Raleigh Acupuncture Associates
Publisher Logo